« An 'Angel of Bataan' Dies at 95 | Main | Jane Fonda's Friend Jodie Evans Met With Taliban ~ Code Pink Gives Terrorists Direct Line to Obama »
November 18, 2009
Stimulus Money Going to Districts That Do NOT Exist
John Stossel breaks down the ins and outs of the changes in government job creation numbers.

"Stimulus" Money Going to 10 Ohio Congressional Districts That Don't Exist

by Kevin Boland
A lot has been made of the non-existent congressional district in Arizona that the White House claimed received "stimulus" money. So today, we went to Recovery.gov to find out how the state of Ohio - a state with 18 congressional districts - fared. Guess what we found: TEN congressional districts in the Buckeye State that DO NOT exist received stimulus money. Take a look below: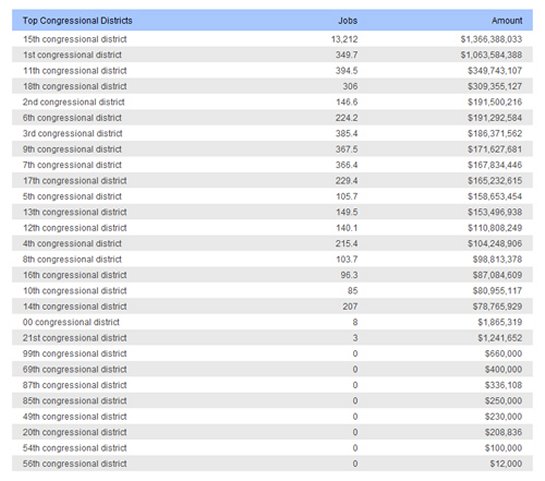 In fact, Ohio has never had more than 24 Members of Congress.
Not soon after the "stimulus" was signed into law in February of this year, stories about "stimulus" funds going to to Wisconsin for a bridge to Rusty's Backwater Saloon; to North Carolina where "stimulus" funds were reportedly used by one town to hire a new worker whose job is to apply for more "stimulus" funds from Washington; to pay for bonuses for AIG executives, a turtle crossing in northern Florida, install skylights in Montana's state-run liquor warehouse - and on and on and on.
House Republican Leader John Boehner said in a statement to the Cleveland Plain Dealer today:
"Not only has the 'stimulus' not produced jobs the Administration promised, but now we learn that the Administration's reports intended to track the effectiveness of government spending are riddled with errors and gross inaccuracies. How many more mistakes have been made? How are Ohioans supposed to take the Administration seriously on the economy when its own Web site credits jobs saved or created in districts that don't even exist?"
The latest example - claiming credit for creating jobs in Ohio Congressional districts that don't even exist - is just one more sign the "stimulus" isn't working.

Jobs 'Saved or Created' in Congressional Districts That Don't Exist
Here's a stimulus success story: In Arizona's 15th congressional district, 30 jobs have been saved or created with just $761,420 in federal stimulus spending. At least that's what the Web site set up by the Obama administration to track the $787 billion stimulus says.
There's one problem, though: There is no 15th congressional district in Arizona; the state has only eight districts.
And ABC News has found many more entries for projects like this in places that are incorrectly identified.
Late Monday, officials with the Recovery Board created to track the stimulus spending, said the mistakes in crediting nonexistent congressional districts were caused by human error.
"We report what the recipients submit to us," said Ed Pound, Communications Director for the Board.
Pound told ABC News the board receives declarations from the recipients - state governments, federal agencies and universities - of stimulus money about what program is being funded.
"Some recipients clearly don't know what congressional district they live in, so they appear to be just throwing in any number. We expected all along that recipients would make mistakes on their congressional districts, on jobs numbers, on award amounts, and so on. Human beings make mistakes," Pound said.
The issue has raised hackles on Capitol Hill.
Rep. David Obey, D-Wisc, who chairs the powerful House appropriations Committee, issued a paper statement demanding that the recovery.gov Web site be updated.
"The inaccuracies on recovery.gov that have come to light are outrageous and the Administration owes itself, the Congress, and every American a commitment to work night and day to correct the ludicrous mistakes."
.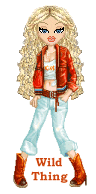 Wild Thing's comment..........
Hmmmm ....Maybe those districts are actually in Obama's States 51 through 57 they he spoke about.
Can you imagine if the Bush White House deliberately manipulated government data to support their policy agenda.
This is outrageous.
Wait until there are healthcare claims paid on members who don't exist. By the millions.

....Thank you Mark for sending this to me.


Mark
3rd Mar.Div. 1st Battalion 9th Marine Regiment
1/9 Marines aka The Walking Dead
VN 66-67


Posted by Wild Thing at November 18, 2009 05:49 AM
---
Comments
I read this. There is so much wrong in the reports it's not even funny. Even Biden admitted that some can't count. But lying is the way to go right now, so everyone is doing it. If everyone jumped off a bridge, would you jump too?
Come on, it's getting ridiculous and it's all coming from the White House.
Posted by: Lynn at November 18, 2009 08:23 AM
---
This should be a front page, top of the fold, embarrassment for this Administration. How many leaders of all those countries around the globe that Teh One is bowing to, are laughing their a$$es off at this narcissistic neophyte and all his pathetic mao and marxist "experts"?
What really irks me is that all these people are spending so many airwaves discussing and analyzing all these perfect examples of total ineptness instead of showing the ludicrousness of this administration. This is pathetic and should be shown as such. But no-o-o-o. They talk as if it is something rational and serious to be diced and thoroughly dissected. And that too is pathetic.
Posted by: yankeemom at November 18, 2009 08:41 AM
---
Not surprising. I wonder if ACORN is running the stimulus program and it's tracking.
Posted by: TomR at November 18, 2009 10:42 AM
---
obama was bragging about the jobs he saved or created. If you go by this list, that amounts to zero. These districts DO NOT exist, as the jobs probably don't either.
The 4th item down, in some 18th district created, 306 jobs, the cost in stimulus was: $309,299,127 dollars, thats more than one MILLION dollars per job. Those are some really pricey jobs.
But the first one says it created or saved 13,212 jobs at a cost of 1.366 Billion dollars that cost per job is over 10 Million dollars each.
This doesn't send a Red Flag up for somebody, then we got a real problem.
Posted by: Mark at November 18, 2009 01:33 PM
---
We didn't learn a thing under the debacle of Nawlin's during Katrina, I know it was Bush's fault and those damned Republicans in charge of Louisiana from the Nawlin's mayor to the Governor and all the way into the Senate.
All the Dems and the media are claiming this is only a clerical error, a typo, not to worry, move along nothing to see at this train wreck.
Posted by: Jack at November 18, 2009 03:29 PM
---
I suppose that those non-existant districts are where all the jobs are; the ones that barack HIMSELF obummer has caused to be created or saved.
The Cadets at the West Point Military Academy make a very simple pledge; one that I have offered to incumbant politicians as well as those who will run for the first time in 2010. The pledge says simply: "I will not lie, cheat or steal; or tolerate those who do." No incumbant has offered to make that pledge to me. Most of those that I have contacted, (Republican Conservatives), have said it is an easy pledge to make and that they will live up to it.
When Joe Wilson called a Liar, a liar; he was chastised, and nearly run out of DC. By the way, if a man calls out "You Lie" in a room full of Politicians, how do they know who he is talking about?
Readers, why don't you all copy and paste that West Point quote, (repeated again below), and e-mail it to some politicians for their consideration? And, if these politicians aren't from your district, just go to their web page, get their home office address and use it as your own so that the e-mail will get delivered. It is easy, and it is really gratifying to know that you have put them on the hot seat. The pledge again: "I will not lie, cheat or steal; or tolerate those who do."
If you'd like help, just e-mail me with "Wild Thing" in the subject line and I will be glad to assist. frankiecee at gmail dot com
Then, contact Wild Thing and let her know who you've contacted and she will share it with us.
Districts that don't exist cannot re-elect this POS!
"Never Forget Ft. Hood Texas 11/5/09!"
Posted by: Frankly Opinionated at November 18, 2009 07:05 PM
---
There is so much corruption it boggles the
mind. And the funny thing is, it is so much
easier to be honest and do things the right
but they can't it is impossible.
Posted by: Wild Thing at November 18, 2009 07:51 PM
---
"YOU LIE.... AGAIN!" Where's the outrage?
Posted by: darthcrUSAderworldtour07 at November 18, 2009 08:29 PM
---