« In Only A Few Weeks Another Obama Gitmo Official Resigns | Main | Entrepreneurs from Muslim World Sought for Washington Summit By Obama »
November 29, 2009
Sgt. Josh Revak Singing "Empty Boots," His Self Penned Memorial to Fallen Soldiers

Josh Revak had finished his five-year service — 22 of those months in Iraq —with the 1st Brigade, 37th Armor Regiment
I served in the active army from Jan 30, 2002 until Jul 1 2007. During my first deployment in November 2003, my friend Tim Hayslett was killed. All I could do was write a song for him. When the Command Sergeant Major heard the song, he asked us to play at the memorial. The soldiers grieved more then they had in the past memorials, as we made it very personal. We agreed to play every memorial service after that. Unfortunately, the memorial almost always was honoring a friend of mine. I would write a song for each memorial and play during the ceremony.
After I had written for several memorials and had been wounded myself, I learned that my friend and guitar teacher, Aaron Jagger, was killed. He had played at all those memorial services with me. The pain of losing him left me crushed. I recorded the album In the Hours of Darkness in memory of him. It is what he would have wanted me to do. I was awarded two Purple Hearts from wounds received in Ramadi, Iraq on June 26, 2006. All together, I spent 22 months in Iraq. Since the military, I have settled down in Ham Lake, Minnesota with my wife and daughter, and we have a child on the way. I am still recovering from wounds received in combat.
.
Song Description
The song "Empty Boots" was written after I had already been wounded and was recovering in Germany. Andrew Daul, a really good friend of mine, was killed. I had attended one too many memorial services, and was haunted by the memories of several friends' empty boots, helmets, dog tags and rifles--displayed as the last reminders of their voices and faces. The song derived from these haunting feelings. I recorded the song in Nashville, using the Grand Ole Opry band as the studio musicians and featuring Gene Chrisman on drums. Gene has a musical track record that is truly one of a kind: he has played with Elvis, Jerry Lee Louis, and the Highwaymen, just to name a few.
.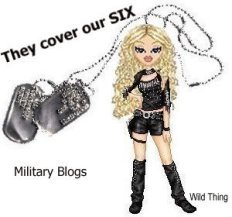 Wild Thing's comment......
Here is his MySpace Page
God bless you Josh and thank you!

....Thank you Mark for sending this to me.

Mark
3rd Mar.Div. 1st Battalion 9th Marine Regiment
1/9 Marines aka The Walking Dead
VN 66-67


Posted by Wild Thing at November 29, 2009 04:47 AM
---
Comments
Thank you Wild Thing, for a very nice and appropriate memorial here. Were it not for the Brave, there would be no Land of the Free!"
"Never Forget Ft. Hood Texas 11/5/09!"
Posted by: Frankly Opinionated at November 29, 2009 08:32 AM
---
Empty boots, if that doesn't move you nothing will. Thanks Chrissie and Mark.
Posted by: Jack at November 29, 2009 08:39 AM
---
What a wonderful song for my nephew, watched you on Huckabee, it was great! All I can say is thank you very much and wish I could give you a great big hug. I remember you from the memorial!
Thank you so much for all you have done!
Aunt Lesa
Posted by: Lesa Bachman at November 29, 2009 02:44 PM
---
Its a great tribute to our Troops. God bless Joshua Revak.
Posted by: Mark at November 29, 2009 07:37 PM
---
This was so special. Thank you again Mark.
Posted by: Wild Thing at November 29, 2009 11:44 PM
---
Hi Josh, Saw you on Huckabee's show. If it hasn't already happened, Sean Hanitty would probably like to have you on his show. Great song...God Bless!
Posted by: Phil at December 1, 2009 07:22 PM
---