« Palin Book Tour Draws Massive Michigan Crowd Including NBC's Andrea Mitchell Trying To Ask Questions | Main | Anti-Obama Billboard Stirs Controversy »
November 23, 2009
Checking in With Our Troops In Afghanistan
Along Afghanistans porous border with Pakistan, the U.S. Army is focused on reaching out to Afghan villagers and building local institutions. Immense Mountains and abject poverty stand out as obstacles to success, but it is the human terrain that presents the greatest challenge.
In this mini-documentary, Lt. Jake Kerr Combat Platoon out of a remote outpost in the Dangam District of eastern Afghanistans Kunar province,
.
More news of our troops..............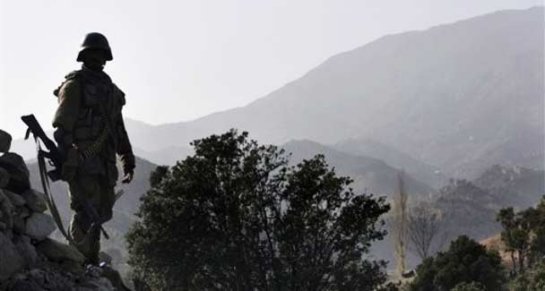 An army soldier keeps position on a hilltop post in Mamond assisting the aerial assault by fighter jets. – Photo by AP.
KHAR: At least 18 militants were killed and eight others wounded in air raids and clashes with troops in Mamond and Khar tehsils of Bajaur tribal region on Sunday.
Two soldiers were injured.
Officials said that jets bombed militants' hideouts in Spery, Kherkai and Sewai areas of Mamond tehsil.
Local people said that in two hours of bombing, five militants, including two foreigners, were killed and four others were injured.
Security forces fought pitched battle with militants in Khar, thwarting their plan to attack security posts in Lowi Sam, Enzari and Rashakai.
An official said that about 40 to 60 militants were to take part in the attack. He said 11 militants, including their leader named Rafiullah, were killed. Security forces brought the body of Rafiullah to a camp.
Militants have stepped up attacks on security forces in Mamond and other areas in Bajaur.
The house of a militant was destroyed in Terkhu area. Local people said that two militants hiding in the house were killed.
.
AH-1 Cobra helicopters patrol over Afghanistan assisting ground units with intelligence, surveillance and reconnaissance.
Posted by Wild Thing at November 23, 2009 02:48 AM
---
Comments
These troops have a rough, tough job to do. If the area commander says more troops are needed, then they should be sent. obama is dragging his heels and making the effort even more dangerous for these troops.
Posted by: TomR at November 23, 2009 07:46 PM
---