« 11 Congress Members Want to Pass a Tax to "Share the Sacrifice" of War | Main | Checking in With Our Troops In Afghanistan »
November 23, 2009
Palin Book Tour Draws Massive Michigan Crowd Including NBC's Andrea Mitchell Trying To Ask Questions
Sarah Palin Book Signing in Grand Rapids, MI
Sarah Palin at a book signing where she was asked some questions by NBC's Andrea Mitchell.
Andrea Mitchell was in the crowd of people and was being held back by police, but she still was able to ask a couple of questions. Later Andrea Mitchell had to acknowledged that there were 1500 people VERY early in line. Waiting outside the mall until they were allowed inside.
Palin book tour draws massive Michigan crowd
A crowd estimated at more than 1,500 already had lined up by mid-morning at a Grand Rapids, Mich., bookstore in advance of a 6 p.m. book signing by 2008 Republican vice presidential candidate Sarah Palin, whose book "Going Rogue" has already become a runaway bestseller -- one day after its release.
Die-hard fans of the former Alaska governor traveled from all over the state and began setting up outside a Barnes & Noble store in the city's Woodland Mall at around 9 p.m. last night, hunkering down in 30-degree overnight temperatures to camp out nearly a day ahead of Mrs. Palin's arrival.
The book store, located in the city's Kentwood area, had braced for massive crowds and handed out wristbands starting at 7 a.m. Wednesday on a first-come basis today for those hoping to see Mrs. Palin, who is slated to arrive by tour bus later this evening for a three-hour signing. Her book has sparked much interest and heavy dissection by media and political types as they feast on details from Mrs. Palin's early life and her personal account of her role in the 2008 presidential election.
Barnes & Noble spokeswoman Maddie Hjulstrom said the store has given out a limited number of wristbands based on how many books they think Mrs. Palin can reasonably sign, but said they have also created a standby line for those hoping that she will stay on and continue to sign for overflow fans, who she said are energized by her appearance.
"She has had a good history in Grand Rapids and the town is very excited to have her and to have this as the start of her book tour, " Ms. Hjulstrom said.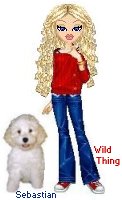 Wild Thing's comment..........
LOL the most powerful woman in America being a Conservative..it just kills them on the left. heh heh
Sometimes there is news that just makes one feel good. This is one little item that makes up for the deep disgust and sadness at the moronic attacks on Sarah Palin.
Go Sarah! Your energetic supporters love you!
I will never forget the look on Mitchell's face when she announced Sarah was the VP choice. I am no doctor, but I stayed at a Holiday Inn express last night, and if that wasn't the look of discomfort from some sort of "personal exam" I don't know what is.
Andrea Mitchell knows in her heart and soul this is the real deal, and it kills her.
Posted by Wild Thing at November 23, 2009 02:47 AM
---
Comments
Andrea Mitchell is a cold hearted bitch. She went after a teenage girl who just blew her out of the water! Andrea is one of the worst destort everything out of context journalists out there. She is rude, she is mean. And she perpetuates the lies told about Palin.
Posted by: Lynn at November 23, 2009 08:22 AM
---
Thanks so much for sharing this video. The press made it sound like she got off the bus with Trig then handed him off to someone else; they made it sound like she was using him and then got rid of him asap. I love the look Trig gave his Mom as they walked towards the platform! I appreciate how the gentleman had to get her attention that he would take Trig.
From the minute McCain handed her the stage that Friday morning there was encouragement America had a new hope, a sincere hope.
Posted by: Barb at November 23, 2009 09:09 AM
---
I like the way Sarah handled Mitchell. Sarah made her look unimportant and pesky. I think Sarah is doing the right thing. She is getting public attention, but doing so mostly at book signings which are like mini Tea Parties. Sarah is learning how to handle the biased MSM and I think soon she will be like Ronald Reagan in that regard.
Posted by: TomR at November 23, 2009 10:19 AM
---
Mitchell does look mean and weak; much like our
turncoat-in-chief.
Posted by: jan at November 23, 2009 10:42 AM
---
Yes I agree with all of you about Mitchell.
Thank you for your comments.
Posted by: Wild Thing at November 23, 2009 06:17 PM
---
Maybe at the next Republican Convention, Lindsey Gramnesty will be outside looking in and passing out
McCain buttons.
Posted by: Mark at November 23, 2009 07:47 PM
---