« Vietnam Veteran Gilberto Telles ~ Thank you | Main | Veteran's Day and Always ~ To Our Heroes »
November 11, 2009
FOX Sports NFL Crew Broadcasts From Afghanistan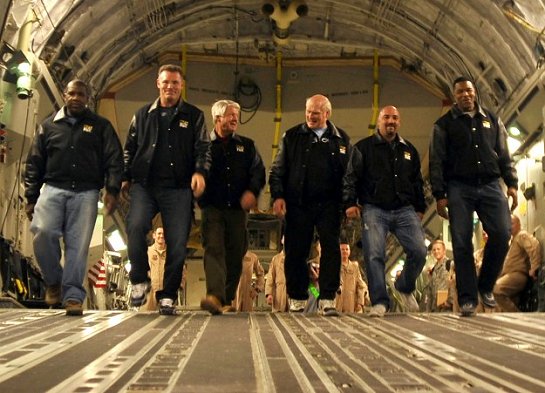 The Fox NFL Sunday team exits a Charleston Air Force Base C-17 Globemaster III at Bagram Air Base, Afghanistan
.

The friendly crowd was fired up today as the FOX Sports NFL crew broadcast their Sunday show in Afghanistan.
This was great.
The crew decided to air their show from Afghanistan in honor of Veterans Day.

.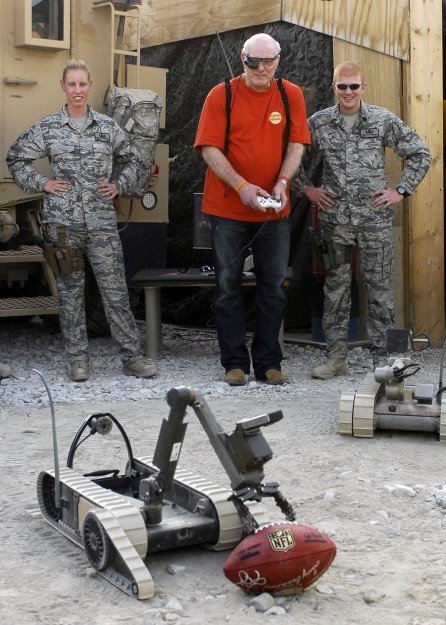 Terry Bradshaw operates an explosive ordnance disposal robot at Bagram Airfield, Afghanistan
FOX Sports NFL Crew Broadcasts From Afghanistan
C-17 Aircrew Scores Touchdown in Mission With NFL Greats
Story by Tech. Sgt. Joseph Kapinos
The lone figure was crouched in his uniform, scanning the field from under his helmet for his intended receivers. But this was no stadium; it was a C-17 Globemaster III flying over the harsh and dangerous terrain that is Afghanistan. And there was no football, but rather, 18 much-needed bundles of food, water and supplies for troops at a forward operating base. The quarterback, in this case a loadmaster, found his targets. Touchdown!
Former Pittsburgh Steelers QB Terry Bradshaw would be proud.
And he was; he was there.
Mr. Bradshaw and the rest of the team from "Fox NFL Sunday" is touring installations throughout Southwest Asia as part of an event with Armed Forces Entertainment. During the visit, they'll meet with deployed troops and sign autographs. The trip concludes with a two-hour broadcast of "Fox NFL Sunday" from Afghanistan, November 8th.
Visiting the Airmen, Soldiers, Sailors and Marines are:
- Terry Bradshaw, Pittsburgh Steelers QB, 1970-1983
- Jimmy Johnson, Dallas Cowboys, Miami Dolphins coach, 1989-1999
- Howie Long, Oakland Raiders, Los Angeles Raiders defensive end, 1981-1993
- Michael Strahan, New York Giants defensive end, 1993-2007
- Curt Menefee, sportscaster
- Jay Glazer, sportswriter
To get to Afghanistan, the NFL legends tagged along on an airdrop mission. For the aircrew, it was the chance of a lifetime to meet several NFL legends, but also an opportunity to showcase the efforts of the Air Force supporting the joint fight.
"Terry Bradshaw is a hero of mine and to be able to show him what the Air Force does is really awesome," said Staff Sgt. Matthew Gaffney, an instructor loadmaster with the 816th Expeditionary Airlift Squadron. "It's great to show them how we can take pretty much anything and drop it wherever we want."
According to Mr. Long, seeing the mission up close and personal brought a new sense of appreciation for today's military, something every American should be reminded of, he said.
"When you're on a trip like this, you truly get to see how remarkable this generation of Americans is," Mr. Long said.
Toward the end of the mission, the aircrew presented an American flag, along with a certificate, to the football legends to thank them for visiting the Soldiers, Sailors, Airmen and Marines.
The visit is a first for the Air Force. In December 2000, "Fox NFL Sunday" broadcast two shows from the flight deck of the USS Harry S. Truman, during a patrol in the Mediterranean Sea.
Armed Forces Entertainment is the lead Department of Defense agency for bringing entertainment to servicemembers overseas.
Senior Airman Nikita Canalin gives Howie Long, "Fox NFL Sunday" show host, a haircut while visiting the Airmen at Bagram Airfield, Afghanistan. The "Fox NFL Sunday" team of Curt Menefee, Terry Bradshaw, Howie Long, Michael Strahan, Jimmy Johnson and Jay Glazer is scheduled to broadcast live Nov. 8, 2009, from here. The team will do the special just three days before Veterans Day as a tribute to America's service men and women (U.S. Air Force photo/2nd Lt. Holly Hess)

.

Wild Thing's comment......
Excellent, brilliant, wonderful idea!!!
Thanks to Fox NFL for visiting our men and women that are serving this great nation.
Posted by Wild Thing at November 11, 2009 06:50 AM
---
Comments
This is what we all should be doing-giving back- a little here, a little there. It makes a BIG difference to the troops when they know we care about them. It's so good to see. I wish the media would show it. There should be specials on tv once a week about the travels of those of privilege giving back to the troops.
Posted by: Lynn at November 11, 2009 08:20 AM
---
You know the troops enjoyed that crew. Every GI likes football and knows who these guys are. I bet the Fox NFL team really enjoyed the adventure also.
Posted by: TomR at November 11, 2009 12:13 PM
---
Damn! damn! damn! The only damned FOX NFL Sunday show that I missed so far this season and it was this one! Oh well, it wasn't for me, but for MY military deployed in SW Asia.
Go USA. Go NFL. Go FOX.
"Never Forget Ft. Hood Texas 11/5/09!"
Posted by: Frankly Opinionated at November 11, 2009 01:08 PM
---
I hope sometime they show it again.
I missed it and only found out about it
yesterday.
It made me smile so big to see this.
Posted by: Wild Thing at November 11, 2009 07:18 PM
---