« Obama to Meet with Myanmar Rulers ( Tyrants ) | Main | Obama Will Remove Abortion Funding Ban From Health Care Bill »
November 15, 2009
Apache Takes Out IED Emplacement Team With A Hellfire Missile In Iraq
AH-64 Gunship Takes Out IED Emplacement Team With A Hellfire Missile In Iraq.

Checking in with our troops and various images from AFGHANISTAN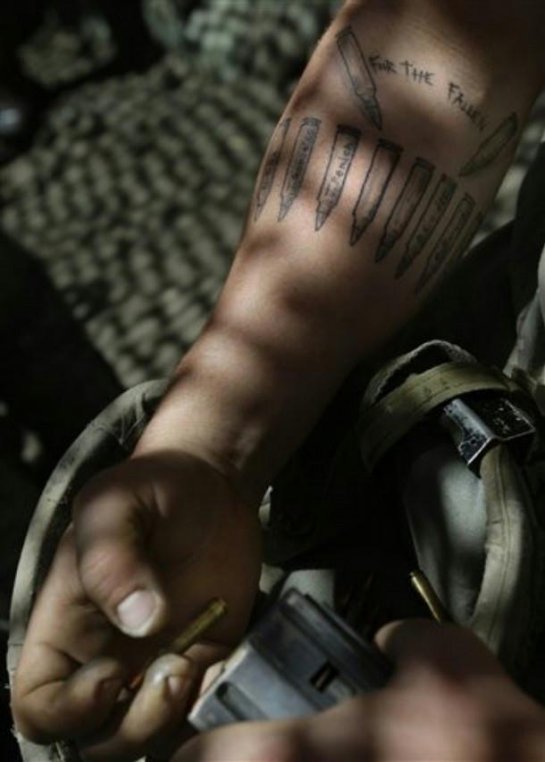 Staff Sgt. Steven Dubois of Remus, MI and the U.S. Army First Battalion, 26th Infantry loads a rifle magazine with ammunition at firebase Restrepo. Dubois' tattoo reads "For The Fallen" and lists the names of 17 of his friends who have died in combat during his tours to Iraq and Afghanistan.
.

Why Winning Matters
by Chuck Holton Boots on the Ground
I don't claim to be an expert on the war in Afghanistan. But for the last month or so, I've had the privilege of living with a bunch of people to whom I would give that classification - men and women who are in the war zone, putting their lives on the line every day.
And from my conversations with these experts, I've come to the conclusion that there are three main reasons why winning in Afghanistan is vital to our nation and to all those who claim the Christian faith. (Let me be clear that I don't count those two groups as one and the same, but neither are they mutually exclusive.)
Two of the reasons we need to win are practical, and one is philosophical.
1. The Taliban
If the world body were to abandon Afghanistan tomorrow, the country would revert to Taliban rule in very short order. This isn't because the Afghan people necessarily desire to live under extreme Sharia law. But without anyone to protect them from the Taliban, these brutal extremists will have free reign over much of the country, with the Panjshir valley a notable exception.
The opium trade would flourish, giving the Taliban millions in cash with which to extend their military reign of terror, and America's enemies like Al Qaeda would have won a vital strategic location from which to plot and execute attacks on our interests around the globe.
2. Opium
Ninety percent of the world's illegal opium comes from Afghanistan. Not only does every kilo of heroin produced there materially benefit those who have sworn to destroy us, every kilo actually DOES possibly destroy some small part of Western civilization by ruining lives that might otherwise be productive.
We need to be in Afghanistan for the same reason we need to be in Colombia - and have been for more than two decades. Heroin is an insidious weapon that poisons free societies. We need to be investing heavily in countering this threat around the world - not just in Afghanistan, but especially there.
3. Freedom
For some people in America, saying "we're over there fighting for freedom" has become a worn-out phrase since 9/11. But from a Christian standpoint, consider this: There isn't a single established Christian church in Afghanistan today. About 99 percent of all Afghans are Muslim.
And they should have every right to BE Muslim if that is what they choose, but that's the point - there is no choice in Afghanistan today. If an Afghan wants to be Buddhist, or gnostic, or Christian, or anything other than Muslim, he either hides his beliefs or potentially forfeits his life.
The last time I checked, our Declaration of Independence still reads,
We hold these truths to be self-evident, that all men are created equal, that they are endowed by their Creator with certain unalienable Rights, that among these are Life, Liberty and the pursuit of Happiness...
I see nothing in this assertion that excludes men who don't happen to be Americans. I'm not saying this war is some kind of religious crusade to spread Christendom to the uttermost parts of the earth - but I'm saying America was founded on the belief that every man deserves the right to control his own destiny. And that's not a right enjoyed by most Afghans today.
Why does this matter to our national security? America has always stood as a beacon of hope for the opressed around the world. It is this fact that has made our nation great - we stand for liberty. Many countries enjoy bountiful natural resources. Many cultures embody a strong work ethic. These traits don't set the United States apart - liberty does.
Once that light begins to fade - so too will America.
.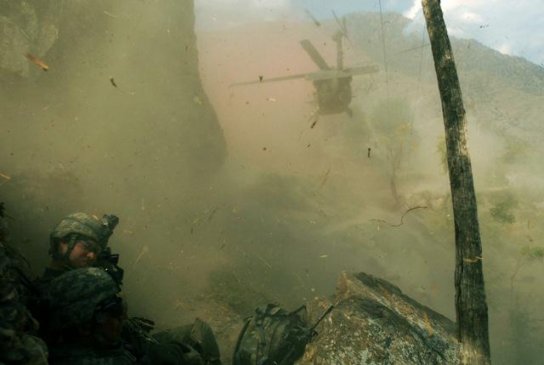 A U.S. Army Pilot flying a UH-61 Blackhawk helicopter, drops ammunition and water to U.S. Soldiers, from Charlie Company, 2nd Battalion, 12th Infantry Regiment, 4th Infantry Division, following a three hour gun battle, in Waterpur Valley, at Kunar province, Afghanistan, Nov. 3, 2009. (U.S. Army Sgt. Matthew Moeller/Released
.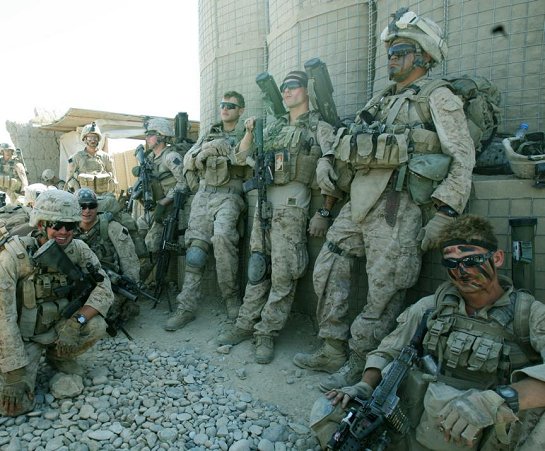 U.S. Marines with 2nd Battalion, 8th Marine Regiment and Afghan soldiers wait to leave Patrol Base Hasan Abad ,in the Garmsir district of Helmand province, Afghanistan
.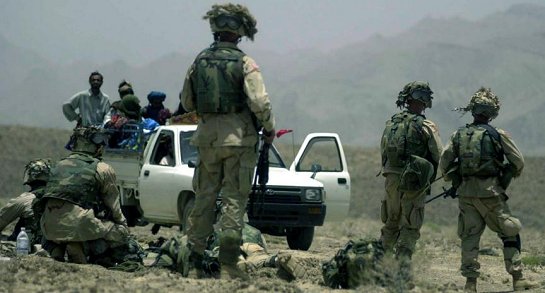 US Army (USA) Soldiers assigned to 3rd Battalion, 187th Infantry Regiment, 3rd Brigade, 101st Airborne Division (Assault), prepare to search a taxi truck, loaded with civilians, at a vehicle check point located near the village of Sulamain Khel, Afghanistan. USA Soldiers are operating 18-miles from the Afghanistan and Pakistan border
.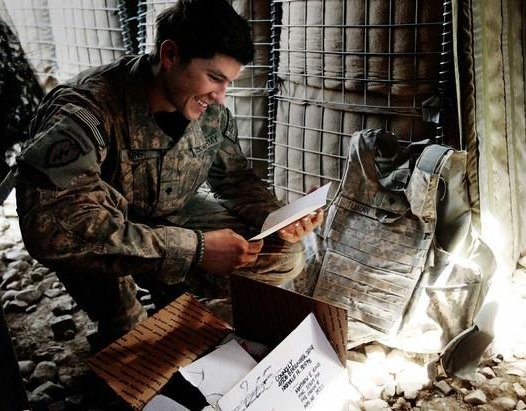 Spc. Matthew King of Lompoc, California reads a card from his mother during a rare mail call in Forward Operating Base Zerok in Paktika province, Afghanistan. Conditions are harsh for the soldiers of the 3-509 US Army's 25th Infantry Division and their Afghan Army counterparts at the Zerok field base near the border with Pakistan. The troops stationed at the base frequently patrol the adjacent mountains on foot and endure frequent attacks by militants, as well as living without showers or laundry for months.
.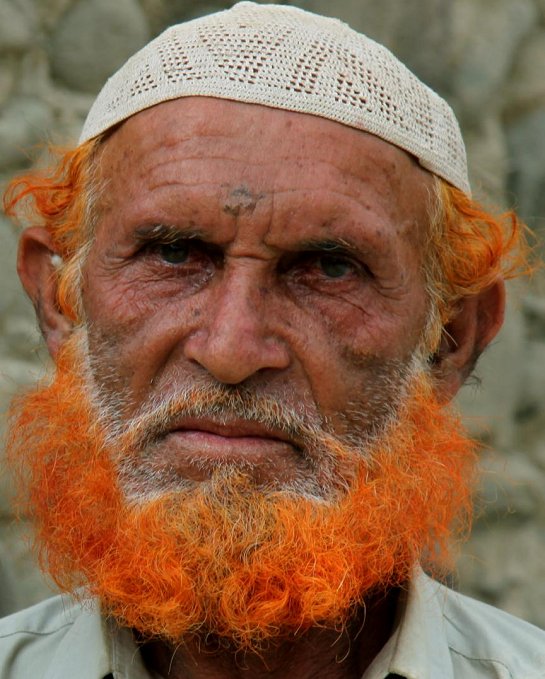 Afghan man poses in Sabari Afghanistan, July 28, 2009. (U.S. Army photo by Spc. Matthew Freire /Released

.
U.S. Army Soldiers awake, in their hasty fighting position, after a night patrol in the mountains, near Sar Howza, in Paktika province, Afghanistan, Sept. 2009. The Soldiers are deployed with Bulldog Troop, 1st Squadron, 40th Cavalry Regiment. (U.S. Army photo by Staff Sgt. Andrew Smith/Released
.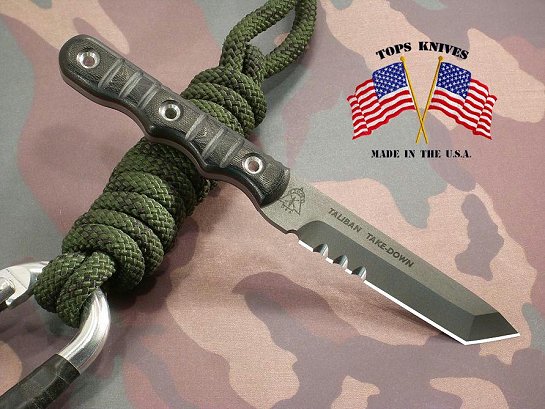 Source:
http://www.topsknives.com/product_info.php?products_id=292

HEY...MR. TALIBAN...

"SOMEBODY'S GOING TO HAVE A BAD DAY.....
...... A VERY BAD DAY....AND ITS NOT GOING TO BE THE INFIDEL"

THIS KNIFE IS SPECIFICALLY DEDICATED WITH RESPECT, HONOR AND GRATITUDE TO THOSE BRAVE INDIVIDUALS WHO DAILY BATTLE IN THE MOUNTAINS AND VALLEYS, WHICH HAVE BECOME THE HIDING AND STRIKING PLACES FOR THOSE KNOWN AS THE TALIBAN.

OVER 1000 YEARS OF FIGHTING IN AND AROUND PAKISTAN AND AFGANISTAN, WITH MANY WELL ARMED ARMIES, LOTS OF MODERN RESOURCES, AND A CONSTANT BATTERING OF THE INDIGENOUS PEOPLE, HAS ONLY RESULTED IN SMALL VICTORIES, AND LARGE LOSSES.

THE TALIBAN AFTER MANY YEARS OF RULE, REGROUPED AND SINCE 2004 REVIVED AS A STRONG INSURGENCY MOVEMENT,FIGHTING
A GUERILLA WAR AGAINST THE CURRENT GOVERNMENT
OF AFGHANISTAN AND THE NATO LEAD INTERNATIONAL SECURITY ASSISTANCE FORCES.
THE USA AND ITS ALLIES' TOUGHEST SOLDIERS VENTURE IN AND OUT OF THE VALLEYS ON 'SEARCH AND DESTROY MISSIONS', CONSTANTLY ON THE READY FOR AN AMBUSH OR ...............TO GIVE A LENDING HAND FOR DEMOCRACY.
SOLDIERS FROM VARIOUS EU UNITS, INCLUDING U.S. SPECIAL OPERATIONS FORCES, MARINES, AIR FORCE, STRYKER BDE'S,
82ND AIRBORNE, 10TH MOUNTAIN DIVISION, THE 101ST AND 1ST INFANTRY DIV, THE BIG RED ONE ARE BUT TO NAME A FEW OF THE WARRIORS WHO STAND READY, THEY ARE THE ONES,
BROTHER TO BROTHER WITH THE AFGHAN PEOPLE WHO PUSH HARD TO TAKE AND HOLD A FEW YARDS OF ROCK AND RUMBLE AT A TIME.

THE INPUT WE HAVE RECEIVED FROM NUMEROUS TROOPS IN THE FIELD, HELPED US TO DESIGN AN EASILY ACCESSIBLE, SIMPLE BLADE, SLIM LINED AND TOUGH, EASY TO HANDLE, WITH NEEDED PENETRATION POWER TO GO THROUGH LAYERS OF ROBES AND..... TAKE DOWN,
THE TALIBAN OR WHO EVER ELSE GETS IN THE WAY OF DEMOCRACY.
...LAY DOWN WITH SHEEP...AN YOU BECOME A SHEEP...RUN WITH THE WOLVES AND YOU BECOME A WOLF.
SO……..ARE YOU A WOLF OR A SHEEP?
THE TALIBAN TAKE-DOWN.
OJ Bailey II, SFC, USASF (Retired)
VP Marketing and Military Liaison
Tactical Operational Products
Specifications
O/A Length: 8 1/2"
Blade Length: 4 1/2"
Thickness: 3/16"
Handle: Micarta
Blade Color: Tactical Gray
Hollow Chisel Grind / STRONG - SINGLE SIDE GRIND
Sheath: Kydex
Posted by Wild Thing at November 15, 2009 05:55 AM
---
Comments
I believe that the IED's are made by the regime of Madinthehead AhMADinejad in Iran? Need I say anything more?
Posted by: darthcrUSAderworldtour07 at November 15, 2009 08:07 AM
---
I know this is a little off of the subject, but my eldest son, who is in the Marine Corp, just returned from the Philippines where he was given a knife from a Sgt in their army - there is still blood stains on the weapon. My son was proud to accept it because according to the Sgt he had killed 5 terrorists with it. My son told him that if he went to Afghanistan it would go with him! He may not go, but his younger brother (also a Marine) will be leaving in Oct. so he may pass it along or we will purchase this one. I didn't realize this but there are four major terrorist groups in the Philippines - the first 3 of which are Islamic groups.
I just pray that all of our young men and women do whatever necessary to come home alive!
Posted by: jada at November 15, 2009 03:20 PM
---
Hi jada. Thanks to your sons for their service to America. Our Special Ops troops have been in the Philippines since '01. Army and Marine units have also cycled through to trade methods with Phillipino forces. My guess is that that fourth large terrorist group is communist.
This knife appears to be a good one.
Posted by: TomR at November 15, 2009 03:53 PM
---
Darth, thanks and I bet so too. Iran is a problem
in both Iraq and Afghanistan.
Posted by: Wild Thing at November 15, 2009 03:58 PM
---
Jada thank you for sharing about your sons.
And please thank them for their service. It
means so much, more then words can say.
Love hearing about the knife too, thank you
for sharing about it.
Prayers always for your sons and all our
troops for their safe return.
Posted by: Wild Thing at November 15, 2009 04:01 PM
---
Tom thank you for your input about the knife
I was wondering about it. I think it looks
cool, but had not heard of it before.
Posted by: Wild Thing at November 15, 2009 04:02 PM
---
I like the video, just takes to long to make a decision to take these guys out---too much PC. In this case however the end results was great, but they all don't end this was. Great post Wild Thing.
Posted by: Ron Russell at November 15, 2009 05:14 PM
---
The old guy has dyed his beard red because Mohammed was said to have had a red beard. You will see this practice all over Afghanistan. It's pretty prevelent in Pakistan as well....and throughout the muslim world.
Posted by: Lynette in Australia at November 15, 2009 11:50 PM
---
In case anyone is interested, it is dyed with Henna. The same dye used to decorate the hands of Indian & Pakistani brides. Western girls use Henna if they want a redder look to their hair. There endith the history lesson.....:)
Posted by: Lynette in Australia at November 15, 2009 11:53 PM
---