« A Warning To All Americans by Naval Aviator, Commander Jerry Wilson | Main | Make Mine Freedom »
November 06, 2009
Afghanistan ~ The Soldiers Speak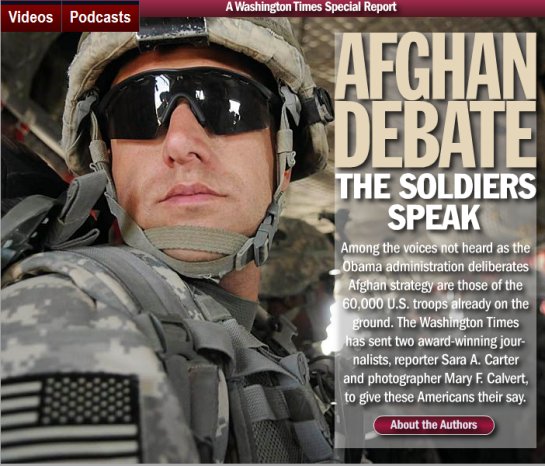 From The Washington Times
Special forces for special Afghan rescues
Dangerous missions to save severely wounded
KANDAHAR, Afghanistan | A cool wind rushed through the open back doors of the Black Hawk, rattling the ventilators, IV tubes and defibrillators as the rescue helicopter banked sharply and rose into the sky.
It was headed for a site on Kandahar's Highway 1, dubbed "Death Highway" by coalition troops, where a powerful improvised explosive device had just struck a U.S. convoy.
The mission - to pick up the dead and wounded - was all too familiar for the members of the Air Force's 55th Expeditionary Rescue Squadron, better known as the Guardian Angels, based at Kandahar Air Field.
"This is the toughest thing we do, but we bring everyone home and we leave no one behind," said Capt. Steve Colletti, director of operations, before donning his gear and boarding the HH 60G Pave Hawk, a modified Black Hawk helicopter.
"Every time we pick up injured troops, it hits us deep in the heart," he said. "We've become the 911 response for southern Afghanistan - whether that's our troops or Afghan citizens."
The past week has brought plenty of heartache for the medical combat specialists, considered the "special forces" of the Air Force. A day earlier, they had spent an afternoon airlifting 17 severely wounded members of the 5th Stryker Brigade Combat Team to the trauma center at Kandahar Air Field. One American and one Afghan soldier were killed in that IED attack.
For the nearly 68,000 already here, the debate is not academic.
It "was a pretty bad day," said Maj. Ben Conde, from Denver, who flew the missions to rescue the 17 injured troops and bring home the two killed in action. "It was a day we never wish would happen again."
"These aren't numbers, these are our family, our brothers, sisters, husbands, wives and children," said Pararescueman Vincent Eckert, from Tucson, Ariz. "We've kind of become a jack of all trades. These are the things we do so that others may live. We're not bomb droppers - our mission is to save lives."
The members of the squadron are called pararescuemen or parajumpers - PJs. All are trained trauma medical technicians who can perform battlefield surgery - including amputations - under enemy fire.
If necessary, the PJs parachute to their victims. Trained to work in almost any weather, they are physically fit enough to perform rescues deep underwater or high in the mountains.
During the Vietnam War, PJs recovered downed pilots in enemy territory and developed a tradition of getting two green feet tattooed on their bodies, representing the mark the helicopters leave on the ground.
In Afghanistan, the group rescues troops, brings sick Afghans from remote locations to big field hospitals and helps others in need of medical treatment.
On Saturday, members of one unit lingered after finishing a shift. Some worked out in a makeshift outdoor gym, while a second shift prepared for the long night ahead.
Staff Sgt. Matthew Schollard, 28, a pararescueman from Tuscon, played his guitar and joked with his buddy, Staff Sgt. Scott Dowd, 27, also a pararescueman from Tuscon.
Only 45 minutes after the second shift arrived, pagers went off.
Immediately the flight engineers, gunners and medics grabbed their M-4 carbines and medical gear and rushed to two helicopters.
On one Black Hawk, Capt. Colletti sat on one side and Senior Airman Lucas Ferrari sat across from him. They clutched their weapons closely to their chests and flung their feet out through the open doors as they watched the ground below, flying over Kandahar's mountains and above the red desert that would lead them to the casualties.
Kandahar city disappeared in the distance.
A billowing cloud of pink smoke rose into the sky from a road near a small farming compound.
Capt. Colletti and Airman Ferrari pointed below and put their thumbs up.
"We're here," Capt. Colletti wrote down on his notepad, which he kept in his ballistic vest. He pointed his weapon down toward the fields where insurgents were still firing on the Army convoy as the rescuers arrived.
The Black Hawk circled strategically, banking sharply, with the wreckage below framed through the open door. Smoke billowed from the site of the explosion.
The rescuers jumped off the second helicopter before it landed on a ravine, kicking up dust and dry grass.
Senior Master Sgt. David Swan, 42, from Corning, N.Y., and Staff Sgt. Joshua Keyes, 30, of Alturas, Calif., rushed to a wounded soldier without hesitation. The soldier, nestled in the litter, was stabilized on the helicopter by the medical team.
The helicopters flew back to Kandahar Air Field's trauma hospital.
The soldier, although severely wounded, survived. The Washington Times is withholding his name until his relatives can be notified.
A second flight was even more difficult. The rescue unit was flying back to retrieve the remains of a dead soldier, whose name The Times is also withholding.
The squadron placed the young man's remains in a small black bag, carried the bag on board the chopper and draped it with a U.S. flag, then lifted off from the highway where he had taken his last breath. There was silence on the flight back.
From the sky, the villages and farmland looked benign, even beautiful. Some Pashtun villagers circled the area where the convoy was struck. A small group cheered as the body was loaded onto the craft. Others watched silently.
"It never gets easy," said Master Sgt. Swan, after the group had returned back to base. "This past month has been hard on our troops. We do our job and we never leave anyone - not anyone behind."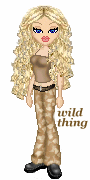 Wild Thing's comment.......
I don't understand how Obama and those like him can sleep at night, knowing their indecision is costing the lives of our warriors our heroes. There must be a special place in hell for people like that.
Prayers for the friends and families of the fallen and wounded.

....Thank you Mark for sending this to me.

Mark
3rd Mar.Div. 1st Battalion 9th Marine Regiment
1/9 Marines aka The Walking Dead
VN 66-67


Posted by Wild Thing at November 6, 2009 03:45 AM
---
Comments
These Air Force PJs and the rescue crews are good troops. They perform an admirable and heroic job.
WT, obama doesn't spend time worrying about anyone but himself and maybe his family. He is a real dictator type. He thinks everyone is expendable for his needs. Hence the big bus he has thrown so many under.
Posted by: TomR at November 6, 2009 11:41 AM
---
It never gets any better does it ? But these guys do a great job putting it on the line for their buddies everyday.
Posted by: Mark at November 6, 2009 06:13 PM
---