« Democrats Corruption List Hits The Fan | Main | Obama Loving His Koran and Islam »
October 31, 2009
Rush Limbaugh Will Be On "FOX News Sunday" with Chris Wallace Sunday ( Tomorrow )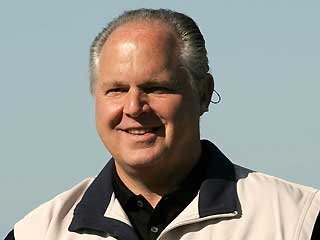 "FOX News Sunday" with Chris Wallace, airs Sunday on FOX News Channel. Check the list below for local airtimes of "FOX News Sunday."
Chris Wallace was on with the Friends yesterday reporting live from West Palm Beach where he was eagerly waiting to go to Rush's estate for the interview...he was really excited, too.

The democrat's health care bill will kill private insurance, will fund abortion, will cover illegal immigrants, will not be deficit neutral, will cost taxpayers over a trillion dollars and will even include death panels.
Here is a preview of Rush Limbaugh's appearance on "Fox News Sunday" where he warns that the Health Care bill is "going to be the biggest snatch of freedom and liberty that has yet occurred in this country."
Posted by Wild Thing at October 31, 2009 06:20 PM
---
Comments
Thank you Chrissie, Wallace is at the minimum, objective. This should be an interesting and informative interview. I did note my locale in Red Square wasn't on the list:) Don't forget your clocks!!!
Posted by: Jack at October 31, 2009 09:13 PM
---
Jack, thanks about the clocks. I put a post it note up just now we remember in the morning. haha
Posted by: Wild Thing at November 1, 2009 12:52 AM
---
Excellent interview. Rush as usual is on point and on target. And at the end of the 32 minute interview I think he almost had Chris Wallace convinced.
Posted by: Mark at November 1, 2009 09:41 PM
---
Worth the wait, good interview. What did you think of that play Mrs. Lincoln? What do you think of Joe Biden Mr. Limbaugh? Bushwhacked by Wallace, Rush didn't mince words describing that incompetent, I thought Chris Wallace was going to crack a smile there for a second, he was cool, funny I can't stand his dad, Mike Wallace, I believe in genetics and the acorns don't fall too far from the tree even when they pass through a wild hog.
Posted by: Jack at November 2, 2009 12:54 AM
---