« Obama ~ Taliban Can Be Part of Afghanistan's Government | Main | Illinois Democrat Sen. Roland Burris Defends ACORN, Blames Fox News »
October 10, 2009
Sergeant Jeremiah Workman ~ Thank You!
SSgt Workman Earned the Navy Cross
h/t WOT

His Book:
Shadow of the Sword: A Marine's Journey of War, Heroism, and Redemption
.
"Derek Sholl's new song, "When They Come Back" captures beautifully the experience of our returning combat veterans as they struggle to make the transition from warrior to civilian while dealing with the physical and mental wounds they've brought with them from the battlefield. Sholl avoids the ultra-patriotic tone of such songs as Toby Keith's American Soldier and Courtesy of the Red White and Blue for a much more honest and personal accounting of what it means to be an American warrior growing up and following in his father's footsteps.
With his powerful voice setting the emotional tone of the song, and the lyrics speaking honestly and with intensity rarely seen in the pop music scene, "When They Come Back" is destined to speak for a generation. This is a rare gem, one that will stand for years to come. And decades from now, when the veteran is asked by his son or grandson, "What was it like?" the answer will be, "Listen to this song. That's the way it was for all of us."
- John R. Bruning, Co-Author of "Shadow of the Sword"
.
Sergeant Jeremiah Workman shares his story at the American Veterans Center's 2008 conference. Workman received the Navy Cross for his actions during Operation Phantom Fury during the Second Battle of Fallujah.
According to the citation, he was awarded for extraordinary heroism, while serving as a squad leader for the Mortar Platoon, Weapons Company, 3rd Battalion, 5th Marine Regiment, Regimental Combat Team 1, 1st Marine Division, Marine Corps Base Camp Pendleton, Calif.
Workman, exemplifying the old adage "no man left behind," repeatedly exposed himself to a hail of enemy fire to retrieve isolated Marines trapped inside an insurgent-infested building.
Ignoring heavy enemy fire and a storm of grenades raining down on his position, Workman fearlessly laid down enough cover fire to allow the trapped Marines to escape.
After seeing the first group of wounded Marines safely to a neighboring yard, Workman rallied additional Marines to his side and provided more cover fire for an attack into the building to rescue other Marines still trapped. He continued to fire even after receiving numerous shrapnel wounds to his arms and legs after a grenade exploded in front of him, stated his citation.
Workman's efforts did not stop after the second rescue attack. Ignoring his wounds, Workman once again united his team for a final assault strike into the building to retrieve remaining Marines and to clear the building of insurgents.
"Basically, we got ambushed," he said. "There were insurgents on the second floor in a bedroom. We fought our way up the stairs. There were grenades going off around us (and) small arms fire everywhere."
During the course of the fight, Workman was responsible for the elimination of more than 20 insurgents.
While the citation states he "reflected great credit upon himself and upheld the highest traditions of the Marine Corps," Workman does not dwell on the fact that he is a Navy Cross recipient. All that matters in the long run are the lives lost and saved during the war, he said.
"The first thing I thought about was all the Marines we lost over there," Workman said, reflecting on that fateful day. "I don't look at myself as being any different. I did what any other Marine would have done. There are thousands of other Marines over there (in the Middle East) that deserve to be awarded, too."
Workman's modesty is evident to his fellow Marines here as well.
"I have a lot of respect for Sergeant Workman," said Staff Sgt. Jeff Moses, operations chief for Delta Company, 2nd Recruit Training Battalion. "He's been very humble about everything. (What he did) is just amazing."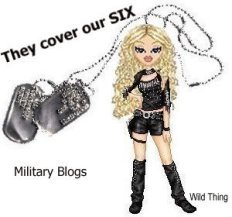 Wild Thing's comment........
Thank you Sergeant Jeremiah Workman! God bless you!
Posted by Wild Thing at October 10, 2009 05:45 AM
---
Comments
Magnificent! Thank you WT and Sergeant Jeremiah Workman! Well done, SSgt.
Posted by: SSgt Steve, USMC(PS) at October 10, 2009 08:12 AM
---
If you can endure SSGT. Workman's story without being moved then you either don't care or you haven't been shot at. It amazes me that Americans will face certain death, even die to extract their trapped and wounded, when one man is downed in the process there is always another volunteer in line willing to go into hell for their brothers, it's a characteristic that transcends all racial and ethnic barriers.
Common men doing uncommon Valor. Semper Fi Marine
Thank you Chrissie and Staff Sergeant Jeremiah Workman
Posted by: Jack at October 10, 2009 10:42 AM
---
Eight years at war and not one living recipient of the Medal of Honor yet. Reading the citation, Sgt Workman would have been an excellent candidate for our nations highest award.
Posted by: BobF at October 10, 2009 11:30 AM
---
I agree BobF.

"Loyalty to your comrades, when you come right down to it, has more to do with bravery in battle than even patriotism does. You may want to be brave, but your spirit can desert you when things really get rough. Only you find you can't let your comrades down and in the pinch they can't let you down either." ~ Audie Murphy
Posted by: Jack at October 10, 2009 01:13 PM
---
SSgt Workman's story sounds exactly like so many others from both the past and present. The US military does a good job teaching leadership, but leadership also requires some natural talent. Workman found out he has that talent. I hope he stays in the Corps and passes his experiences on to younger troops.
Posted by: TomR at October 10, 2009 01:16 PM
---
Great song! I'm going to send it to my family. We are still waiting on my nephew to hurry up and get home, but he's still over there, sitting in the blue room, barred from the motor pool, twiddling his thumbs and toes. I have to see him, hold him and just be his proud auntie!! I want to love on him like there's no tomorrow. He's an angel hero. He did his job, did it well and now he needs his break to come home and go to college (he's been accepted at Iowa State along with his step brother Larry, USN Seabee).
Posted by: Lynn at October 10, 2009 05:00 PM
---
There was a saying, that no MOH's are given out to live enlisted, all PH. In reality it's about 90 % are PH.
When it gets to that point, you depend on your buddies, and they depend on you. Nothing else matters. I've 'got cher' back, bro and you know he's got yours.
Posted by: Mark at October 10, 2009 07:09 PM
---
SSgt Steve, USMC(PS), I stay in awe of
those who serve and served. With a heart
full of so much appreciation.
Posted by: Wild Thing at October 11, 2009 03:53 AM
---
Jack, I agree so much. How anyone
can not be moved and read his story,
even watching these videos I was in
tears and pride and so many emotions.
Posted by: Wild Thing at October 11, 2009 03:57 AM
---
BobF., yes I agree as well.
Posted by: Wild Thing at October 11, 2009 03:58 AM
---
Tom, it has been such an honor to be
able to meet so many that have served
and to listen to their experiences.
I agree Tom, I hope so too.
Posted by: Wild Thing at October 11, 2009 04:00 AM
---
Lynn, I have been praying for your
nephew. This is so exciting that he
will be coming home.
That is great about Iowa State along
with his step brother Larry.

Posted by: Wild Thing at October 11, 2009 04:02 AM
---
Mark, thank you so much for sharing about
that.
Posted by: Wild Thing at October 11, 2009 04:05 AM
---