« Obama's $3M Chicago Olympics Pitch Falls Short of the Gold | Main | Obama Nation Billboard Draws Attention »
October 03, 2009
"Before You Go" to be Performed at the Vietnam War Memorial

.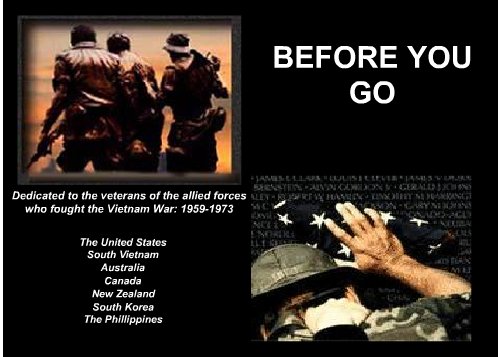 Before You Go - Veterans Tribute and Thank You
.
"Before You Go" to be Performed at the Vietnam War Memorial

Dr. Sam and John Melnick have been invited to Perform "Before You Go" for National Celebration of Veteran's Day, 2009 at the Vietnam War Memorial Wall in Washington, DC.
With the massive response and support for spreading "Before You Go's" message of thanks to our aging veterans (now more than 20 million downloads), the song's authors Dr. Sam Bierstock and John Melnick have received the honor of being asked to perform their song on Veteran's Day, November 11, 2009 in Washington DC at the Vietnam War Memorial Wall.
"John and I consider this to be an enormous honor", Dr. Sam says proudly. "We have actually lost the ability to track how many times our song has been played, but we know that even after 4 years, it is played between 1,500 and as many as 40,000 times every day. As we loss more and more of our WWII, and Korean War veterans to age and time, we are enormously proud to know that our message has reached so many of them and their families. We have taken special pride in our new release dedicated to the veterans of Vietnam and see it as a counter-balance to the painful reception so many of them returned to after putting their lives on the line for our country."
"Before You Go" Supports Today's Returning Veterans of the War on Terror

We are often asked if Dr. Sam and John Melnick plan a second song in tribute to the veterans of current conflicts. The "Before You Go" project now has a formal affiliation with "Veterans Helping Today's Returning Heroes", designed to directly benefit our returning heroes.
At the insistence of the authors, "Before You Go" continues to be made available for free listening and viewing in it's entirety on the internet. In early 2009, Dr. Sam was invited to join the Board of Directors of Veterans Helping Today's Returning Heroes, (VHH) a charitable 501(c)3 organization providing support dogs and guide dogs to wounded, blinded and disabled veterans returning from the global war on terror.
These dogs cost between $35,000.00 and $50,000.00 to raise and train, and are not funded by the government. To date, VHH has raised over $2,000,000.00 toward this worthy cause which allows our veterans disabled in war to enhance their quality of life with honor and the companionship of one of these wonderful dogs, each of which is trained to support the specific disability of each wounded veteran.
As of December 31, 2008, over 45,000 troops have been wounded in Iraq and Afghanistan since the start of operations.
Approximately 10% of our American heroes have returned with life-altering injuries: blind; with amputated limbs; spinal cord injuries; traumatic brain injuries; or suffering from post traumatic stress disorder.
Veterans in need of guide and assistance dogs have vastly exceeded original projections
Everyday we learn of more ways these precious dogs can help veterans live again with dignity and self-reliance.
It costs in excess of $30,000 to raise a guide, assistance dog or service dog for a disabled veteran.
The dog and training are provided at no cost to the veteran.
The federal government does not have a program in place to provide guide, assistance or service dogs to veterans in need.
Providing Vet Dogs is answering the call to serve the men and women who have sacrificed so much for our country.

Types of Dog Programs
Guide Dogs
A guide dog is an assistance dog trained to find and follow a clear path, maneuver around obstacles, and stop at curbs. A user with a guide dog gains enhanced mobility and independence.
Service Dogs
A service dog is specially trained to help people who have disabilities other than visual impairment. This dog may be trained to provide balance, fetch and retrieve dropped items, or carry a backpack.
Combat Stress Relief Dogs
These specially trained canines are deployed in theater for active duty personnel. They offer emotional support for servicemen and women dealing with combat stress, homefront issues, and sleep disorders.
Military Therapy Dogs
Dogs trained to provide physical therapy assistance at military or VA hospitals for wounded soldiers. They may also make visits to VA nursing homes or hospices.
.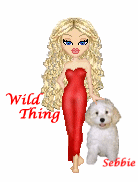 Wild Thing's comment.........
I have the CD " Before You Go". I am so glad they will be performing at the Vietnam War Memorial.
We owe so much to our Veterans and our troops returning today and ALL that have served our country. To all of them, thank you.
Posted by Wild Thing at October 3, 2009 05:47 AM
---
Comments
I'll be at a send off for the kid next door at 4 this evening, he's Afghanistan bound come Monday. Even though it's been over 40 years for me, the war is still there, in never ends, sights and sounds always bring it back. Society wants to forget them, put them out of sight and mind, even when they are deployed they are to be forgotten unless they can be used as anti-war propaganda, once hostilities are over they become human detritus , soiled toilet paper, to be buried and never seen again.
Thank you Chrissie, thank you Dr. Sam and John Melnick.
Posted by: Jack at October 3, 2009 01:47 PM
---
There is support now for the troops that was not there during Vietnam. This is good. Almost all of the support comes through the private sector. Whether it is songs, dogs, homes or whatever. At least a lot of Americans show they do care about our soldiers and there are so very few that show hostility. The only blemish is that so many other Americans don't seem to really care that we are at war. It is not part of their everyday thought process. They are victims of the MSM. They only know what they see on the news and the news ignores the war unless we have a setback. Some day there will be another attack on the homeland and then for a while all of America will be cognizant of reality. Again.
Posted by: TomR at October 3, 2009 02:12 PM
---
They call it PTSD, post traumatic stress syndrone. It is quiet here in the country, at night sometimes when I walk outside I can hear things that arn't there. It is much better than it was 42 years ago, but living with it day after day, year after year, the sounds, smells are always the same. It keeps playing over again in my head. You just can't get rid of it, it never goes away.
Maybe its the mind playing tricks. PTSD. ' patient that survived death.' that what it really means.
Wish your friend God Speed, Jack.
Posted by: Mark at October 3, 2009 04:46 PM
---
Posted by: Wild Thing at October 3, 2009 05:15 PM
---
Thank you Mark, yes I have it too,' patient that survived death.' For the first 10 years it was nightly reality shows in my own theater, even today I can feel the drumbeat of arty and grenades from Ft. Lewis and it is one hell of a long way off, once I recognize where it's from, the show ends. Wouldn't want to get yelled at now, it might harm my self esteem:)
Met that boy's step grandfather today, he was mechanized infantry at Dak To,'66-'67 an officer running armed escorts up QL 19 from An Khe to Pleiku plus infantry support for the Cav, that boy got a different perspective about things on the ground from both of us, especially 'don't be a hero'.
WT, he loved the knife, so did his grandpa:)
BTW, Chuck Dean of Point Man Ministries has a couple of self help books out that I've found helpful. Nam Vet - Making Peace With Your Past is a good beginner. Some of the best therapy around is right here. Courtesy of Chrissie and fellow vets. Thanks all and love.
Posted by: Jack at October 3, 2009 11:24 PM
---