« HBO Mini-Series ...."The Pacific" .....Coming in March 2010 | Main | Washington D.C. Sept. 12th More Photo's and a Great Video »
September 15, 2009
Wilson is admonished by House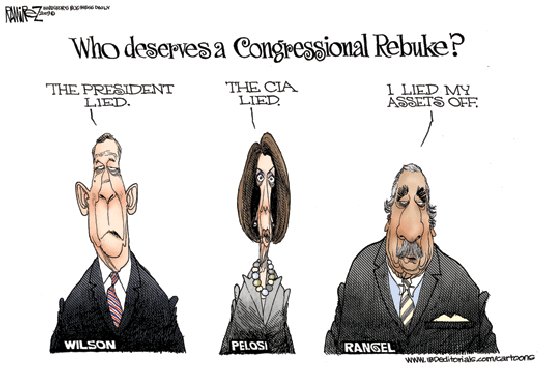 The House has voted to admonish Rep. Joe Wilson over his "You lie" outburst to President Barack Obama during the president's health care speech to Congress last week.
The 240-179 vote on the resolution of disapproval reflected the sharp partisan divide over the issue. Democrats insisted that the South Carolina Republican take responsibility for what they said was a serious breach of decorum. Republicans characterized the vote as a political stunt.
"It is clear to the American people that there are far more important issues than what we are dealing with now. . . . [Obama] graciously accepted my apology, and this issue is over," Wilson said in brief remarks.
Pence Speaks on House Resolution Regarding Rep. Joe Wilson
Here's the roll call vote.
The seven Republicans who voted for rebuke:
Cao
Emerson
Flake
Jones (NC)
Petri
Rohrabacher
Inglis
The twelve Democrats who opposed the rebuke:
Arcuri
Delahunt
Giffords
Hinchey
Hodes
Kucinich
Maffei
Massa
McDermott
Moore
Taylor
Teague
The Democrats voting present:
Engel
Foster
Frank (MA)
Shea-Porter
The members not voting:
Democrats…
Ackerman
Lynch
Sestak
Tanner
Republicans…
Barrett (SC)
Conaway
Hoekstra
McHugh
Sestak
Tanner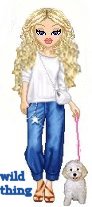 Wild Thing's comment.......
How's the investigations of Dem corruption going? ....anyone??...Bueller? .........Bueller?

Throughout his life, Joe Wilson has also had a tremendous passion to serve his country as a member of the United States Armed Forces. After serving in the United States Army Reserves from 1972-1975, he also served in the South Carolina Army National Guard. In the summer of 2003, Joe retired as a Colonel, having served as a Staff Judge Advocate assigned to the 218th Mechanized Infantry Brigade. At the time, he was the only active Guard member serving in Congress.
Joe is married to Roxanne Dusenbury McCrory, who continues to offer him strength and support in his every endeavor. They are the parents of four sons, all of whom serve in the U.S. military, and the proud grandparents of two boys and one girl. Alan, his oldest son, is a Major in the Army National Guard who proudly served for a year in Iraq; Addison is a graduate of the United States Naval Academy and a physician who recently returned from a tour of duty in Iraq; Julian is a Captain in the South Carolina Army National Guard who served on a peacekeeping tour in Egypt; and Hunter is enrolled in Army ROTC at Clemson University and is a Cadet in the South Carolina Army National Guard. Their four sons are all Eagle Scouts.
Posted by Wild Thing at September 15, 2009 07:55 PM
---
Comments
It now seems that worthless POS, Jimmy Carter, is saying Wilson's remark was racist. It's funny nobody called Carter a racist when he referred to Obama as a "Black Boy".
Posted by: BobF at September 15, 2009 10:40 PM
---
They do know we are laughing at them, right?
These lefties are caught in a perpetual Twilight Zone of reality.
Posted by: Eden at September 16, 2009 04:53 AM
---
Nutsy Pelosi can call us NAZIS and Murtha can refer to our US Marines as murderers? They called PRESIDENT George W. Bush dumb, stupid, and a LIAR?
The GAME is ON and BRING IT bear nation!
- DON'T TREAD ON US 2009!
Posted by: darthcrUSAderworldtour07 at September 16, 2009 12:30 PM
---