« Obama's 9/11 Prism | Main | Head CZAR Obama Ignoring Will of People on Healthcare Reform »
September 12, 2009
U.N. Lawyers Target U.S. Troops
"Mansions of the Lord"....This beautiful and haunting hymn was featured in "We Were Soldiers" and was played as President Reagan's casket was borne from National Cathedral
U.N. Lawyers Target U.S. Troops
Justice: As if fighting a war in Afghanistan isn't hard enough, ambitious global prosecutors have rolled into Kabul looking to charge U.S. troops. Intentional or not, such legalism will sap U.S. morale as it did in Vietnam.

At about the time NATO's new secretary-general, Anders Fogh Rasmussen, warned NATO's European members against an early pullout, Luis Moreno-Ocampo, the top prosecutor of the International Criminal Court, whose body is charged with looking for international war criminals, announced he was looking for new "clients" from anyone with a grievance in Afghanistan.
At a briefing Wednesday in The Hague, Moreno-Ocampo said he had launched a new war crimes inquiry, seeking information about "torture" especially — a European obsession — and had already mined the human rights groups for stories. He added he was also "very open" to more information from foreign governments.
Oh, he'd been evenhanded in his Monday-morning battlefield quarterbacking of course, promising he'd prosecute both Taliban and NATO troops as moral equals.
But it doesn't take a genius to know what the spotlight-loving attorney (who once launched his own reality TV show back in Argentina) is really after: Americans in the dock as war criminals.
The atmosphere that makes a prosecutor like Moreno-Ocampo ambitious enough to go after Americans instead of a real monster like, say, Fidel Castro, can only occur when the West's will has weakened, as Rasmussen warned.
After all, if a war to defend our civilization can be reduced to a series of police-brutality cases, then Afghanistan isn't about victory.
This is underscored by Washington's conflicting aims.
Though our president has rightly boosted the number of troops in Afghanistan, he's created a climate of doubt by declaring the war on terror an "overseas contingency operation" and stating he doesn't believe in "winning." It's poison for morale and gives momentum to the kind of bureaucratic, legalistic and defeatist thinking that preceded our bitter pullout in Vietnam.
Moreno-Ocampo's entry into Afghanistan is a sign that legalism has begun to overtake victory as a goal, at a time when our Taliban foes still believe in victory.
On the battlefield, our troops are increasingly constrained by legalistic rules of engagement.
Case in point: On Tuesday, four U.S. Marines and seven of their Afghani allies walked into a well-planned ambush and were killed in the Kunar province near the Pakistani border.
"We are pinned down. We are running low on ammo. We have no air. We've lost today," Marine Maj. Kevin Williams, 37, told his Afghan counterpart, responding to the latter's repeated demands for helicopters, McClatchy Newspapers reported.
Rules of engagement condemned them to die because they couldn't get air cover.
According to McClatchy: "U.S. commanders, citing new rules to avoid civilian casualties, rejected repeated calls to unleash artillery rounds at attackers dug into the slopes and tree lines — despite being told repeatedly that they weren't near the village."
Meanwhile, all pullout talk condemned those U.S. troops, too.
Ground intelligence sources who might have warned them were reportedly more fearful of Taliban retaliation than convinced that American troops would be able to defend them, given the weakening will of the West. They opted to survive.
Now, the latest legalistic block against winning is an international prosecutor looking for NATO troops to prosecute.
Back in 2002, President Bush told the ICC that there wouldn't be any of that, and he rescinded the U.S. signature from the Rome Statute that would have opened the door to that. Today, there's a legal battle going on at the ICC to make U.S. troops subject to doing it and there's no signal from the White House that it will stop it.
Don't think Moreno-Ocampo won't do it. His history as a prosecutor suggests an affinity for publicity over justice, which is just what the anti-American crowd wants.
Back in 2008, he ambitiously charged a sitting president, Omar Hassan Ahmad al Bashir of Sudan, with genocide, using a public application for an arrest warrant instead of a sealed warrant. The latter would have been more likely to bring justice to Darfur's victims. He went for the TV cameras instead.
Someone like that won't hesitate for a minute to make a big show of putting U.S. troops in the dock for "war crimes" no matter what the impact in Afghanistan. That's defeat.

.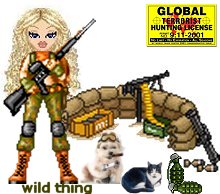 Wild Thing's comment......

"rejected repeated calls to unleash artillery rounds at attackers dug into the slopes and tree lines — despite being told repeatedly that they weren't near the village."
Obama's hate for America, hate for our military and his love for Muslims is literally getting our guys KILLED. There isn't a word in the English language or any other language for how mad I am!
Just a reminder to add to this John McCain's treachery in this it is from January 28, 2005.
Citizens for Global Solutions Applauds Senator McCain's Support of the International Criminal Court
In a BBC Worldservice televised debate before the World Economic Forum on Friday January 28th, Senator John McCain (R- AZ) declared his support for the United States joining the International Criminal Court (ICC), asserting: "I want us in the ICC."
McCain's comments drastically change the debate on the International Criminal Court, in part because the United Nations Commission of Inquiry report, expected to be released mid-next week, likely will recommend a UN Security Council referral of the Darfur situation to the ICC.
McCain, who chairs the Senate Armed Service Committee, did raise concerns. "I'm not satisfied that there are enough safeguards," he said. Nonetheless, his declaration at the World Economic Forum was the strongest indication to date that he would be in favor of the United States joining the ICC in the near future.
Speaking alongside McCain was Senator Joseph Biden (D- DE), ranking Democrat on the Senate Foreign Relations Committee. Like McCain, Biden stood in support of the United States inclusion in the ICC, and likewise, expressed a desire to have greater safeguards for U.S. officials. Noting that European Union (EU) states had rejected the safeguards when the ICC's statute was agreed in 1999, Biden declared, "that can change, should change, will change."
The BBC World Television debate, in which McCain made his comments, will be broadcast again on The BBC World on Saturday.
McCain's comments come at a critical time in the history of the International Criminal Court. The administration is debating internally and at the United Nations, the best method for justice and accountability in Darfur, western Sudan. Many observers expect a Security Council a debate over a referral of the situation in Darfur to the International Criminal Court.
Posted by Wild Thing at September 12, 2009 08:47 AM
---
Comments
Chrissie, I knew we were doomed in Vietnam when a cyclo driver and his passenger slammed into a 5000 gallon tanker as it tried to pass the tractor and trailer while leaving DaNang, that truck driver was arrested, charged with manslaughter and taken to Long Binh Jail. Somehow a dink disregarding all the warning signs was innocent and the driver found automatically guilty. At the time every tanker was labeled with 'Do Not Pass' signs in 3 languages in huge white on OD letters on both sides and on the rear.
Nothing has changed except that we have relinquished our sovereignty to the UN at every turn. We can expect that from successive Congresses and presidents who have absolved themselves of their Constitutional duties, who rely on NATO and UN resolutions and the unconstitutional war powers act. As a nation we are criticized by the UN member countries no matter the intentions, as they all did when the US sent that carrier to Indonesia during the Tsunami to provide aid.

Posted by: Jack at September 12, 2009 11:05 AM
---
Where is Murtha, to condemn this stupid behavior of Officers who denied the support requested. These sons of bitches should be courtmartialed. The courtmartial should go all the way up to the top. Obama should be held accountable for these 4 Marine deaths.
Where are all the self-righteous Senators who condemned the Military for Abu Ghraib, Awfully damn silent after this.
Pull 'em out, pull the troops out this is a waste of good American Soldiers for nothing. Obviously they are not taking this war seriously. Piss on this crap, Our Troops lives are not worth Obama's poll numbers.
Posted by: Mark at September 12, 2009 12:21 PM
---
Some more of the New World Order. Very easy for countries whose troops do not fight in the War on islamic Terror. Very easy for Americans who take their freedom for granted and are anti-military.
As Jack and Mark point out most of our politicians for decades have failed to stand tall for American sovereignty. We need to support our troops 100%. They are more important than our politicians and certainly more important than any international lawyers. The troops are fighting for Americas' freedom and sovereignty.
Posted by: TomR at September 12, 2009 02:35 PM
---
Jack, Mark and Tom, thank you, thank you
for your input on this and you know more
then anyone with the experiences you have
had.
Thank you for all each of you do and have
done.
Posted by: Wild Thing at September 12, 2009 05:59 PM
---