« We Don't Get Fooled Again!! | Main | Duck.... and Cover....Obama Ready to Slash US Nuclear Arsenal »
September 22, 2009
Thank you and Welcome Home Patrick!
.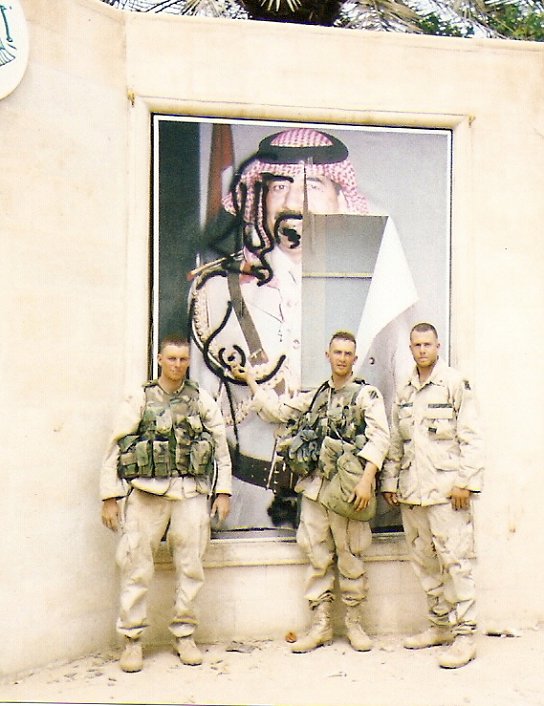 .
.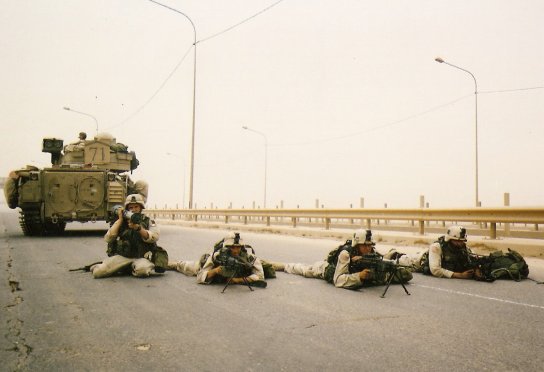 .

.

"Here are some pictures of myself and brothers while in Iraq 2003. Alpha Company 1-15 Infantry"
.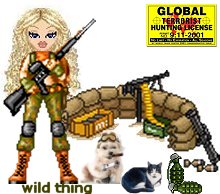 Wild Thing's comment.......
I am so pleased to show you these photo's of Patrick. HUGE thank you Patrick for serving our country!! I heard from him a couple of days ago and was so thrilled to meet him through his email and be able to thank him for all he has done to help keep us the land of the free and for his service to our country to keep us safe.
THANK YOU Patrick!!! And thank you to all the others in the photos as well.
God bless you!!!
Posted by Wild Thing at September 22, 2009 05:48 AM
---
Comments
I say Hooah. I hope to get me some. I just submitted my 368 and my 4187. Which means my Reserve Unit releases me and then I transfer over to the Regular Army. I've been volunteering for deployment pretty much since I got there. The problem is, they just don't have slots open for my MOS. I guess I'll just re-class and go Combat Arms. I might not have a choice either, from what I hear, a lot of guys are having to go Infantry 'cause I guess that's what the Army needs right now.
Posted by: John PFC U.S. Army at September 22, 2009 07:19 AM
---
Thank you, Patrick and all who are with you!!
You do us PROUD!
and PFC John, it's people like you who give me hope for this country during this most troubling time. Stay safe ~
Posted by: yankeemom at September 22, 2009 08:48 AM
---
Thank you Patrick and all those who served with you.
Best of luck and hope you find what you are seeking John, it's a big decision but you won't have to wait for some forced deployment, it will be of your choice. You are inspiring to us all.
we're working on getting you a real CIC.
Posted by: Jack at September 22, 2009 01:07 PM
---
Thank you very much Patrick. You guys have done a great job.
Good Luck John. Guess you will have to do what the Army wants. If you go you will have some great experiences and meet some friends for life. And thanks for being part of that 1% that serves all the rest of us. Keep us informed.
Posted by: TomR at September 22, 2009 02:18 PM
---
God love you and John 15:13 says "Greater no love than this, than a man who lays down his life for a friend." FREEDOM IS NOT FREE!
Posted by: darthcrUSAderworldtour07 at September 22, 2009 04:02 PM
---
Welcome Home Patrick, and thank you for your service.
John is your MOS critical, they may not want to lose you to the 'Grunts.'
Posted by: Mark at September 22, 2009 07:41 PM
---
WELCOME HOME and thank you Patrick.
Posted by: Rac at September 22, 2009 07:47 PM
---
Mark, unfortunately no, I'm a generator mechanic (52D) and they have a lot of contractors out there, so I'll most likely get slotted for Infantry or some other Combat MOS.
Posted by: JohnE PFC U.S. Army at September 22, 2009 08:54 PM
---
John PFC U.S. Army, keep us updated
how it is going.
Thank you JohnE for serving and for what
you plan on doing it means a lot.
Posted by: Wild Thing at September 23, 2009 12:26 AM
---
Think positive JohnE. I do wish you the very best too. Infantry uses generators for their radios and such, you might parlay that MOS into a communications slot. Back in '68 one of my fellow soldiers was working for National Cash Register before going over as a 5 ton driver, once in country someone found out about his civie background at Americal, the lucky stiff spent the last 6 months at battalion inside an air conditioned NCR 500 van on a mainframe computer plotting trajectories of the backtracking radars instead of being a physical minesweeper. Uncle has a nasty habit of putting someone in a different MOS if they want to. As a hard striper for my last 22 months, I worked my MOS and then some, as the old man said, when I questioned Top about the sudden responsibility promotion, nobody asked you what you wanted to do:) I have no regrets as the leadership role stretched my capabilities and made me privy to missions, it was extra duty and I attended every NCO briefing I could so I could better prepare the men and equipment for it.
Posted by: Jack at September 23, 2009 01:00 AM
---