« Army Sgt. 1st Class Jared Monti Medal of Honor Operation Enduring Freedom Citation | Main | Obama's Twisted ACORN Roots »
September 18, 2009
National POW/MIA Recognition Day ~ 2009
A Pentagon ceremony for National POW/MIA Recognition Day will be held on Friday, Sept.18, 2009. This ceremony will feature troops from each of the military services. The President is expected to issue a proclamation commemorating the observances and reminding the nation of those Americans who have sacrificed so much for their country.
Observances of National POW/MIA Recognition Day are held across the country on military installations, ships at sea, state capitols, schools and veterans' facilities. This observance is one of six days throughout the year that Congress has mandated the flying of the National League of Families' POW/MIA flag. The others are Armed Forces Day, Memorial Day, Flag Day, Independence Day and Veterans Day. The flag is to be flown at major military installations, national cemeteries, all post offices, VA medical facilities, the World War II Memorial, Korean War Veterans Memorial, the Vietnam Veterans Memorial, the official offices of the secretaries of state, defense and veterans affairs, the director of the selective service system and the White House.
.
MISSING MAN TABLE & HONORS CEREMONY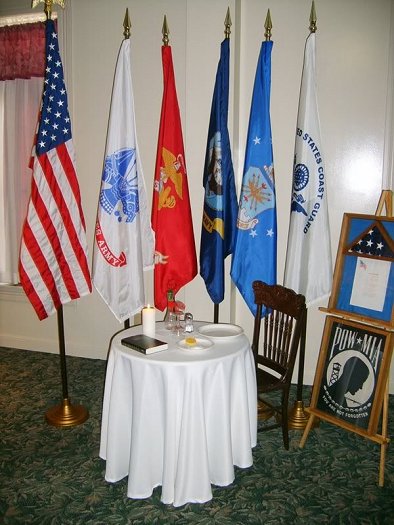 I would like to explain the meaning of the items on this special table.
The table is round -- to show our everlasting concern for our missing men.
The tablecloth is white -- symbolizing the purity of their motives when answering the call to duty.
The single red rose, displayed in a vase, reminds us of the life of each of the missing, and the[ir] loved ones and friends of these Americans who keep the faith, awaiting answers.
The vase is tied with a red ribbon, symbol of our continued determination to account for our missing.
A slice of lemon on the bread plate is to remind us of the bitter fate of those captured and missing in a foreign land.
A pinch of salt symbolizes the tears endured by those missing and their families who seek answers.
The Bible represents the strength gained through faith to sustain those lost from our country, founded as one nation under God.
The glass is inverted -- to symbolize their inability to share this evening's [morning's/day's] toast.
The chairs are empty -- they are missing.
Let us now raise our water glasses in a toast to honor America's POW/MIAs and to the success of our efforts to account for them.
Posted by Wild Thing at September 18, 2009 06:55 AM
---
Comments
Perfect! We must never forget those who were left behind and those who never returned. May God bless them and their families forever more.
Posted by: Lynn at September 18, 2009 08:07 AM
---
The POW/MIAs must always be remembered. Many times they were left behind for political purposes. May those politicians rot in hell forever.
Posted by: TomR at September 18, 2009 12:10 PM
---
Many thanks WT.
Today I remember Jim Thompson, the longest held prisoner of war, whose life was destroyed by the war. Frank Anton who was held from 1967 -1973, for 3 years in 4 jungle camps, where 3 prisoners were released, 9 died , before the remaining 12 being marched to Hanoi. The US knew where Anton was most of the time. Then there are those who we left behind, never to return. Let's not forget why either, the Case-Church Amendment halted all funds for Vietnam at a time Nixon and Kissinger had negotiated the release of additional prisoners based on a compensation scheme. This sealed their fate and with the help of John Kerry and John McCain these POW's and MIA were written off as dead. Interestingly one of Frank Anton's guards was Robert Russell Garwood, this man was an armed guard of some 24 or more Americans. Often cited as the last American POW from the Vietnam War, Garwood was reportedly released in 1973 along with all other American POWs, but did not return to the United States until 1979. In 1998, the Department of Defense officially changed his status from RETURNEE to AWOL/Deserter/Collaborator. Shame on you politicians, the only reason we don't have more POW's in Iraq and Afghanistan is because the enemy murders them, their blood and loss of life is on your duplicitous hands. The Communist lovers and facilitators have a long history of leaving behind Americans they have duped into serving and believing they will be repatriated. A nation where it's politicians prefer traitors like the Honorable Senator John Kerry, Jane Fonda profits with impunity from fraternizing with the NVA and Robert Garwood yet goes unpunished. Who controlled congress in all these events? No I didn't forget that honorable John Murtha either!!!
Posted by: Jack at September 18, 2009 01:14 PM
---
Jack - I met Col. Thompson at a Vietnam Vet/POW rally held in Dallas(in the Cotton Bowl) in April of 73. Ross Perot threw the rally which included a parade through downtown Dallas. Thompson was very unassuming and reserved. He introduced himself to me. My picture had been on the front page of the Dallas Morning News as a parade viewer and former Special Forces. We had a short but nice conversation and I did not know until a year later that he was the longest held POW.
I met quite a number of POWs that day and some of their family members later over the years. Another POW I remember well was Mike Benge, a civilian agriculture advisor who was catured during Tet 68. All that I met seemed like normal military guys, but some of them suffered mental stress after their release. Their divorce rate was high.
The actions of many of our politicians aainst our POW/MIAs should be capital offense issues. McCain and Kerry really took the public wind out of the MIA issue. Damn!
Posted by: TomR at September 18, 2009 06:09 PM
---
My Uncle Joe was a POW during the Korean War. He NEVER talks about it or his being in the military and neither does any of the family. The only way I knew about it was that my father told me some of what happened and he didn't do this until about 15 years ago. He said when my uncle was being held, the North Koreans gave every POW a date and time that they would be executed. When the time arrived, they would come in, take the man out, and shoot him. When my uncle's time came, they came in but took another POW instead and killed him. My uncle lives with the thought that another man died in his place. That's a private hell to live though and no wonder he never speaks of it. This summer I visited Uncle Joe and he was complaining that it was too cold outside for his liking…it was 75 degrees. I mentioned this to my other uncle and he said Uncle Joe has always been like that and he believes it goes back to his being a POW when they kept them in freezing temperatures with basically no clothes to wear. He then told me my uncle spent 6 months in a VA Hospital after his release from captivity. I grew up with an uncle who sacrificed so much and I never knew it. The true hero's never talk or brag about it.
Posted by: BobF at September 18, 2009 06:46 PM
---
Thanks Tom. But for the grace of God it could have been any one of us. Most former POW's I've met are very unassuming and reserved, one a Marine from WWII drank himself to death. Another was from WWI, he'd been gassed in the trenches, even at 40 below he kept the windows open for 'fresh air', otherwise he felt suffocated. There was one from the Bataan Death March he married a Filipino and always had a hard time holding down a job. They'd all disappear inside themselves, it's the mental scars that never heal.
Poor Jim Thompson never reconciled with the children he had, that was what had kept his hopes up during his imprisonment. "Glory Denied" is the story about him. Imagine being released from that hell and not getting proper treatment. It was bad enough for most of us who arrived home in jungle fatigues and 48 hours later were dumped on the street, no decompression time and admonished not to talk about it and for damned sure unwelcome.
Personally I was flown home on a C141, at McCord AFB after a 45 minute debriefing we loaded on to buses to Ft. Lewis. We were isolated from everyone but the out processing personnel, not allowed to speak to any of the gawking soldiers who knew by our dress that we were 'not right', still isolated from those green soldiers, we were issued dress greens, then we loaded on the Grey Dog and we were dumped back amongst the civilians. I arrived on the 11th, was out on the street on the 13th. Adrift and out of place, like a turd in a punchbowl.

Posted by: Jack at September 18, 2009 07:24 PM
---
Lynn, yes so much. I pray our government
never again leaves anyone behind.
Posted by: Wild Thing at September 19, 2009 12:28 AM
---
Tom, AMEN

"May those politicians rot in hell forever."
I will never forgvie our government for
leaving men behind...never.
Posted by: Wild Thing at September 19, 2009 12:30 AM
---
Jack, thank you for sharing about
Col. Thompson.
I agree too about Iraq and Afghanistan.
It sickens me about our government and
will always be an anger too.
Posted by: Wild Thing at September 19, 2009 12:33 AM
---
Tom, thank you for telling about
meeting Col. Thompson and Mike Benge.
It breaks my heart how our politicans
have been about our POW/MIA's there
is no excuse and no reason they can
give for what our government has done
to them.
Posted by: Wild Thing at September 19, 2009 12:35 AM
---
BobF.,thank you for sharing about your
Uncle Joe. How horrible to go through what
he went through.
Posted by: Wild Thing at September 19, 2009 12:40 AM
---