« U.S. Commander in Afghanistan Talked with Obama Only ONCE! | Main | Taliban to Germany: Leave Afghanistan or Lose Oktoberfest »
September 29, 2009
Michelle Obama Vows to Strike Olympic Gold for Chicago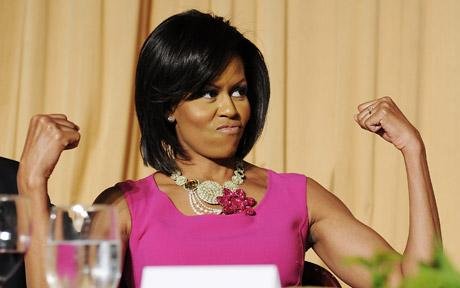 Michelle Obama vows to strike Olympic gold for Chicago
Michelle Obama vowed Monday to "take no prisoners" as she and her husband launch an unprecedented bid for Chicago's 2016 Olympic bid.
"It's a battle -- we're going to win -- take no prisoners," the first lady said with a smile at a roundtable discussion with reporters in the White House State Dining Room.
She compared the intense lobbying effort to the 2008 presidential campaign, noting that in the election campaign, a lot of voters made their decision in the final days. She said members of the International Olympic Committee may do the same
.
"And our view is, we're not taking a chance," she said. "We're just not going to assume that the bids -- that the decisions are made, and so that no matter what the outcome is, we'll feel as a country, as a team, that we've done everything that we can to bring it home."
The White House confirmed Monday that President Obama will fly on Thursday to Copenhagen, Denmark, where the International Olympic Committee will be reviewing bids from several countries on Friday. It will be the first time that an American president has lobbied the IOC in this manner.
Mrs. Obama arrives in Copenhagen on Wednesday with White House senior adviser Valerie Jarrett and other top aides.
"What a dynamic duo they will be," Jarrett said. "I think it will be high impact, I think their presentation will be both very personal, given that they know and love Chicago so well."
Mrs. Obama said she and Vice President Joe Biden have been lobbying IOC members by telephone in recent days, and that she plans a packed schedule once she lands in Denmark.
"I think I'm talking to everybody," she said of the dozens of IOC members who will decide the victor.
She will also make a formal presentation to the IOC, before the president makes his own pitch on Friday.
"We're each going to do our own proposal," she said. "I think we have as good a chance as any country."
She joked, however, that there are limits to how far they will work together.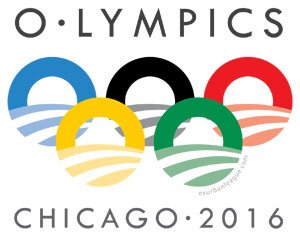 ObamaLympics .....Satire -the kind that may just come true

To sweeten the pot, Obama has redesigned the Olympics brand to better reflect his image. Not only will the Olympics rings be replaced with Obama's ubiquitous campaign iconography, several new sporting events will be added to provide a more "Chicago" feel.
Track and field events will include Bail Jumping, Legal Hurdles, Blame Throwing and the always popular Graftathalon. Secondary competitions include such Chicago favorites as Freestyle Corruption, Under-the-Table Tennis, Greco-Roman Racketeering and Fencing. (Due to the recent ineligibility of ACORN, Ballot Boxing and Synchronized Vote Fraud have been cut from the program.)
Once the quadrennial games have been granted to The Second City, Chicago Olympics Committee Chairman Rob Blagojevich will ensure that all multibillion-dollar construction contracts are managed in a fair, ethical manner.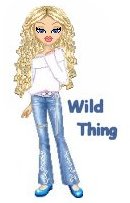 Wild Thing's comment.......
So all the world's problems have been solved? Iran has been neutralized? The depression/recession is over? Unemployment is back down to 5%? No more bailouts or forclosures? Why else would Dear Leader and Aunt Esther feel that they could spare the time to fly (on our dime) to Copenhagen as lobbyists for Boss Daley? Can you imagine the hue and cry if President Bush had done the same thing for Dallas/Fort Worth or Houston? WTH?!

"It's a battle -- we're going to win -- take no prisoners," the first lady said with a smile....
Michelle, you POS, American troops are dying in afghanistan to defend our freedoms that people like you would love to see taken away and your stupid metaphor for your childish little game is both insensitive to the families of those troops and just plain stupid.
I have a sneaking suspicion this is going to go over like a lead balloon in Europe and will backfire completely. As much as they "claim" to like to Obamas, I haven't seen very much that indicates that Europeans are willing to lay down and let them walk all over them.
In fact, I would be seriously surprised if they weren't getting more than a bit tired of him and his loud-mouthed uncouth wife.
When it comes to class, Michelle is right up there with Suha Arafat, Winnie Mandela and Grace Mugabe.
Shouldn't the first lady have to submit to gender testing before she competes in battle????
Posted by Wild Thing at September 29, 2009 06:49 AM
---
Comments
I think Barackoli should be working on more pressing matters. The 2016 Olympics might not even get here the way Iran is acting up these days. Remember, the Mayan calendar ends on 12-21-2012! We might not ever see 2016. He is not the person in charge of making sure athletes from around the world run from gang bangers in downtown Chicago or get put up in crappy hotels with scratchy towels and ring around the tub! His job is here, dealing with our enemies and figuring out his next logical step. He went to Copenhagen for a vacation, plain and simple. And the dums used to get on Bush for going to Camp David or Crawford. Sheesh.
Posted by: Lynn at September 29, 2009 08:15 AM
---
Oh, Pleasssse... So is so full of hate... WT, you may be more correct than you think; on the subject of gender testing.
Posted by: SSgt Steve, USMC(PS) at September 29, 2009 09:42 AM
---
Gen. McChrystal's comments on 60 Minutes set the news wires on fire. And Barry leaves town. When faced with tough questions, best to try a PR stunt off-topic. This guy is unbelieveable! I tried to watch Beck Friday and Saturday. Both shows were pre-empted with Obama speeches. By now, he must have logged more camera time than 8 years of President Bush. I'm starting to see that we are doing nothing more in Afghanistan now than filling body bags. Obama couldn't care less and Gates is a yes-man.
Posted by: Jim at September 29, 2009 11:19 AM
---
If Chicago gets the Olympics, it will mean millions for the pockets of Obama's political and union friends in Chicago.
A commenter from Chicago on Vilmar's blog said she didn't want the Olympics coming to Chicago because of the problems associated with it. A liberal troll said she was "racist" because of her opinion. So now, not wanting the Olympics in Chicago is racist too.
Posted by: BobF at September 29, 2009 11:43 AM
---
The obamas seem to think that the office of the president is for their personal use. They blew decorum out of the water from the start. Their pet projects take priority over affairs of state.
Do you think obama is planning on still being prez in 2016? If anything of note comes to Chicago in 2016 I hope it is an exiled ex president and not the Olympics.
Posted by: TomR at September 29, 2009 12:59 PM
---
It came bounding out of the dark, lept onto my shoulder and rammed it's nasty hands into my shirt pocket, searching for gum, candy or cigaretttes, all before I could react and grab my rifle. Michelle is like that uncouth monkey that some Americal Division soldier had as a loose running pet, just another ill trained ape turned loose on the unsuspecting public with the same intentions. We know this is a CNN red herring to divert OsamaObama's flagging popularity. Back in late '69 I lived amongst them until 1972, it was a bad 'hood' to be in, I got a dog for security, he was the meanest thing on the block and they knew it, I'd take 'Snooopy' to the local coffee shop, back the pickup into the angle parking space and open the canopy hatch before going inside. Once inside the fun began, the owner would say 'baitin' again I see'. Yep it was entertaining, old Snoopy would be lying up front out of sight on a platform, every time one of them cruised by they'd look then they'd ease up to take a closer look for something to grab, many a white one left after meeting Snoopy, it was a ritual on Sunday mornings and the old farts inside loved it, I never had to pay for my coffee either. I ended up having to get rid of Snoopy, he left a lot of scars on me too, Michelle is a lot like that dog, rotten, ugly and mean to the core.
Posted by: Jack at September 29, 2009 01:10 PM
---
If New York had won the 2012 Olympics, instead of London for a second time, then Chicago in 2016 would be off limits for Obama, and "the Chicago Way."
Posted by: Anon at September 29, 2009 10:10 PM
---
BobF., that always amazes me how they keep
using the race card for every single thing
and so far as never had anything to do with
anything we don't like about obama or his
agenda.
Posted by: Wild Thing at September 30, 2009 12:18 AM
---
While those two low road cheaters are away working their unethical smoke and mirrors someone should remove all the furniture from the Oval Office. I bet mr. pansy would never even notice!! :)...maybe fill it with smoke and mirrors :)
Posted by: jan at September 30, 2009 10:29 AM
---