« The Mojave Desert Memorial Cross Update | Main | Wilson is admonished by House »
September 15, 2009
HBO Mini-Series ...."The Pacific" .....Coming in March 2010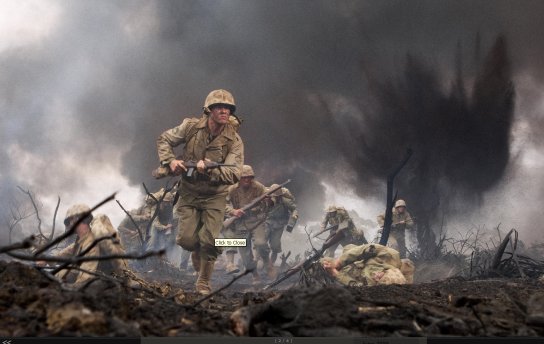 K CO - 3rd Battalion - 5th Marines - Finest Division
" The Pacific" is a TV series, it is not a prequel or a sequel but the complete story of 3 U.S. Marines in the Pacific during WW11. The experiences of these omen and their Marines buddies take them from training to their baptism of fire with the Japanese on Guadalcanal, through the jungle of Cape Gloucester, across Peleliu, Iwo Jima, Okinawa.....the Island hopping invasions of the USMC, till they get home after VJ-Day.

"The Pacific" is adapted from the memoir book of Eugene Sledge, "With the Old Breed" which was first published in 1981. The memoir is based on notes Sledge kept tucked away in a pocket-sized Bible he carried with him during battle.

.
Trailer #1 (Released June 2009
HBO Presents an epic mini-series from the creators of "Band Of Brothers"......they bring us "The Pacific".

"The Pacific telling the intertwined stories of three Marines during America's battle with the Japanese in the Pacific during World War II. "


Trailer #2 (Released: September 2009)
Please click the link below...thank you....
http://www.hbo.com/events/pacific/video.html
.
Fan site......this site has a lot of information.
Other source of information from HERE.

.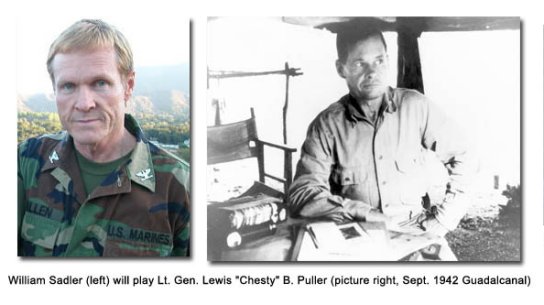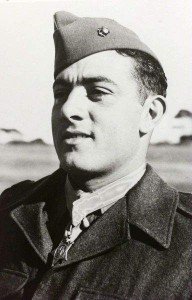 Jon Seda, the actor portraying John Basilone in the upcoming Pacific miniseries, will attend this year's World War II festivities being held in Raritan Borough, New Jersey. HBO is sponsoring a portion of the festival which will include World War II-era music and a military parade.
Some of the cast and parts they play:
William Sadler……Gen. Lewis "Chesty" Burwell Puller
Jon Seda………………………………John 'Manila' Basilone
Joseph Mazzello……………………Eugene Sledge
James Badge Dale…………………Robert Leckie
Ashton Holmes……………………..Sid Phillips
Rami Malek………………………….Merriell 'Snafu' Shelton
Akos Armont………………………..O Crumpton
Joshua Bitton………………………..J.P. Morgan
Jon Bernthal……………………….Manual Rodriguez
Tom Budge………………………….Ronnie Gibson
Joshua Close……………………….Edward Sledge
Matt Craven……………………….Dr. Grant
Brenden Fletcher…………………Bill Leyden
Eamon Ferren…………………..W.E. Powell
Joshua Helman……………….Lou 'Chuckler' Juergens
Damon Herriman…………….Merrin
Isabel Lucas……………………Gwen
Martin McCann……………….Robert Burgin
Ian Meadows………………..R.E. Evans
Henry Nixon………………G.B. Corrigan
Keith Nobbs…………………Runner
Annie Parisse……………….Lena Basilone
Jacob Pitts………………….Bill 'Hoosier' Smith


.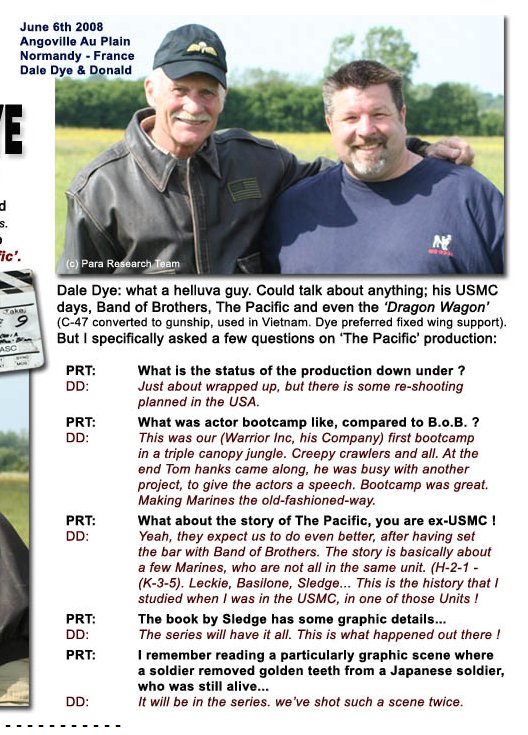 .
Leckie: God created everything, right? The Heavens, The Seven Seas, the Marine Corps...God created Japs too, right?
Sledge: So what do you believe in?
Leckie: I believe in Ammunition
.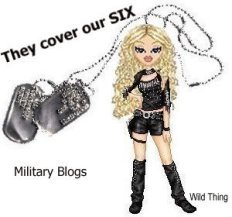 Wild Thing's comment......
My first post about this was June 25 of this year. I have been waiting for some updates and they just came out with the second trailer you see the link for above .
I wanted to let you all know the lastes on this what promises to be an awesome mini-series.

Trailer of Steven Spielberg's HBO Miniseries 'The Pacific'
Based on a true story, 'The Pacific' will chronicle the journey of three U.S. Marines who battle the Japanese during World War II. The series is expected to be released in March 2010 "The Pacific" is adapted from the
A total of 10 episodes at 60minutes each will be shown on all the major networks ranging from the UK, to Germany, Asia, Austria, Switzerland and beyond. HBO billed the production as, "the biggest thing HBO has ever done" but also "the biggest production in the history of television," given the scale and scope of the miniseries. It's like making 10 major movies at once.
There is some restoration of an LVT "Alligator" that is being restored for "The Pacific" HBO series .

This was in Leatherneck Magazine awhile back: ( thank you Mark..I took this from your comment in my first post about this)
In 1942, on a black October night in the steaming jungles of Guadalcanal, Basilone had single-handedly wiped out a company of Japanese trying to overrun his position on the Tenaru River. With a Colt .45 pistol and two machine guns - one cradled in his arms after the other was knocked out - he stopped a screaming banzai attack and held out until dawn, when reinforcements came up. Nearly a hundred sprawled enemy dead were around his cut-off outpost.
.
Posted by Wild Thing at September 15, 2009 05:55 AM
---
Comments
God bless the USMC 'Island Hoppers'... Devil Dog flame throwers and Zippo tanks were not politically correct, eh? SEMPER FI!
Posted by: darthcrUSAderworldtour07 at September 15, 2009 02:35 PM
---
Thank you so much for the updates. I didn't see any of the big name pretty boys in the actor line up so I have confidence that Dale Dye will not let us down in accuracy or realism. It's the rifleman on the ground that gets the dirty job done. I remember an uncle relating a story of a single Japanese soldier assaulting his tank with a bayonet tied on a stick they wasted him, but that's the fanatical tenacity of the enemy, no different than our enemies from the 7 century.
Posted by: Jack at September 15, 2009 05:29 PM
---
Darth, it should be a really great series.
Thanks Darth
Posted by: Wild Thing at September 15, 2009 06:43 PM
---
Jack,I agree, I don't recognize any names.
Actually only one, the guy to play
Chesty I have seen before. I am glad
that way they are not connected to a lot
of other shows.
Thanks for the link, that was great.
Posted by: Wild Thing at September 15, 2009 06:45 PM
---
I am hoping they do as good a job as they did with 'Band of Brothers'. I read "Helmet for my Pillow" by Robert Lecke, I think it was 1964, it was an excellant book.
In Boot Camp these were the guys we were supposed to emulate, it was part of History and Tradition class, lots of 'Gung-ho' movies. All Marine of course.
But even the movies can only give a glimpse of what it's like. They leave out the Fear, the Noise, and the Smell and the speed at which everything is happening around you and its probably a good thing.
Sounds like it will be a good series.
Posted by: Mark at September 15, 2009 07:33 PM
---
Mark, thanks. Band of Brothers was really
well done. I remember hearing from a lot
of Veterans during and after it aired.
I agree I hope this one will have the
same care taken in making it. It look
like it so far.
Posted by: Wild Thing at September 15, 2009 11:13 PM
---