« Thank you and Welcome Home Patrick! | Main | Vietistan by Bruce Walker »
September 22, 2009
Duck.... and Cover....Obama Ready to Slash US Nuclear Arsenal
Video we saw during the campaign last year.....IN 52 SECS BARACK OBAMA SAID HE WOULD CUT AMERICA'S MILITARY DEFENSE SYSTEMS
Barack Obama ready to slash US nuclear arsenal .....for complete article

Pentagon told to map out radical cuts as president prepares to chair UN talks
Barack Obama has demanded the Pentagon conduct a radical review of US nuclear weapons doctrine to prepare the way for deep cuts in the country's arsenal, the Guardian can reveal.
Obama has rejected the Pentagon's first draft of the "nuclear posture review" as being too timid, and has called for a range of more far-reaching options consistent with his goal of eventually abolishing nuclear weapons altogether, according to European officials.
Those options include:
• Reconfiguring the US nuclear force to allow for an arsenal measured in hundreds rather than thousands of deployed strategic warheads.
• Redrafting nuclear doctrine to narrow the range of conditions under which the US would use nuclear weapons.
• Exploring ways of guaranteeing the future reliability of nuclear weapons without testing or producing a new generation of warheads.
The review is due to be completed by the end of this year, and European officials say the outcome is not yet clear. But one official said: "Obama is now driving this process. He is saying these are the president's weapons, and he wants to look again at the doctrine and their role."
The move comes as Obama prepares to take the rare step of chairing a watershed session of the UN security council on Thursday. It is aimed at winning consensus on a new grand bargain: exchanging more radical disarmament by nuclear powers in return for wider global efforts to prevent further proliferation.
That bargain is at the heart of the nuclear non-proliferation treaty, which is up for review next year amid signs it is unravelling in the face of Iranian and North Korean nuclear ambitions.


Our military know the threat Obama is imposing upon our country!!!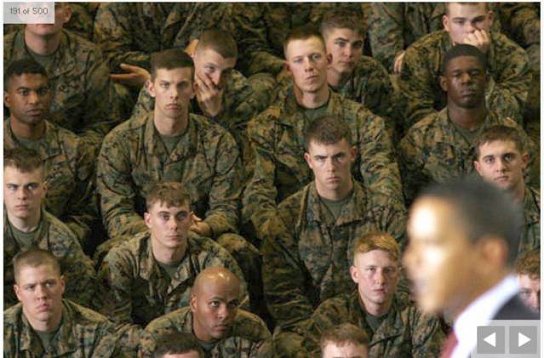 .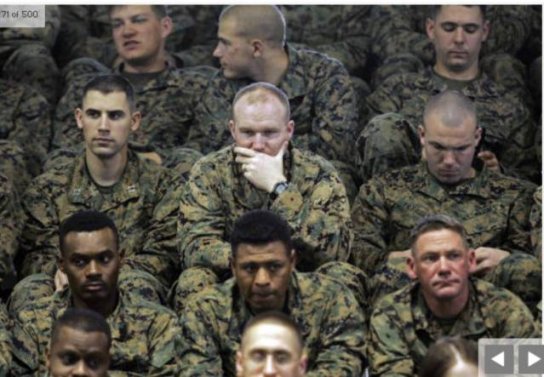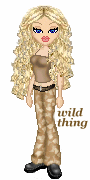 Wild Thing's comment.........
He sure is trying to get us killed. Obama is the enemy within. I wonder at what point will it be considered treason?
He wants us to defend Iran with our weaponry and wants us NOT to be able to defend ourselves or our real allies.
He bows and kow tows to the Communistic/fascistic totalitarians to beg them to let him into their club. He is such a useful idiot that he doesn't realize that his "heroes" will in the end eat him. The one world powers will squash him when they are through with him. Being bought and paid for by them, they owe him nothing. He owes them his soul.

....Thank you Mark for sending this to me.

Mark
3rd Mar.Div. 1st Battalion 9th Marine Regiment
1/9 Marines aka The Walking Dead
VN 66-67


Posted by Wild Thing at September 22, 2009 05:49 AM
---
Comments
The looks on their faces says it all. They have no respect for this man and neither do I! He is spitting in the faces of all those courageous men and women who fought to keep this nation safe from harm. He just has to meddle in everything and all he does is make big messes out of it and then wonders how it got so fouled up. Sometimes it's better to have a good offense to have a good defense. It's like playing football. You gotta keep the ball and make those 1st downs-you gotta score. Don't let your guard down cause if you do, you're likely to get annihilated.
Posted by: Lynn at September 22, 2009 08:14 AM
---
What Lynn said.
I'd like a Gold Star parent to ask him why he's trying to get other soldiers killed unnecessarily. Also, why he has a hard time using the word "victory", invalidating their sacrifice.
I can respect the office, but not the man holding it now.
Posted by: yankeemom at September 22, 2009 08:32 AM
---
I pray everyday that the true enemy of America has a fatal aortic aneurism.
Posted by: cuchieddie(former Army Infantry) at September 22, 2009 10:25 AM
---
Getting rid of nuclear weapons is like trying to un-ring a bell. Just like second guessing his general in Afghanistan, here he is again making moves in a situation he knows nothing about. And it affects our security directly.
Posted by: Jim at September 22, 2009 03:47 PM
---
Where is the old MIC - Military Industrial Complex - when you need them? Ask JFK, eh?
Posted by: darthcrUSAderworldtour07 at September 22, 2009 04:00 PM
---
He's inviting an attack on this country, again. This time it could be devestating.
Posted by: Mark at September 22, 2009 04:39 PM
---
The look on their faces gives me hope that the majority of our military will not turn on the citizens no matter what Dear Leader demands. Of course most of the blacks in the military love the bastard but thats meaningless.
Posted by: cuchieddie(former Army Infantry) at September 22, 2009 05:29 PM
---
Obama Kills Missile Shield In Poland And Czech Republic, Then Our Nukes!!!
TREASON AND SURRENDER!!!
Mr. Barack Obama, two options:
(1) Either You Defend Our Nukes.
(2) If Not, Resign.
Mr. Barack Obama, you made our nukes irrelevant, due to these facts:
(3) You don´t support modernization of the US nuclear arsenal, its delivery systems, the nuclear triad, underground testing, and missile defense.
And further:
(4) You don´t have a moral compass, i.e. you don´t recognize the real adversaries of US, i.e. AQ/Taliban, Iran, North Korea, China, and Russia.
(5) You have no or little respect for the US Constitution, Freedom of Speech, The Armed Forces, the Victims of 9/11/01, and you will threaten our economy with your ObamaCare, and the Waxman-Markey Energy Tax Bill.
Posted by: Anon at September 22, 2009 11:16 PM
---
I agree the look on our troops faces says
it all, they know what kind of person
their CIC is.
Posted by: Wild Thing at September 23, 2009 12:23 AM
---