« 6 Flags Muslim Family Day To Spread Across America! | Main | McChrystal: More Forces or 'Mission Failure' »
September 21, 2009
Dallas Cowboys Break NFL Attendance Mark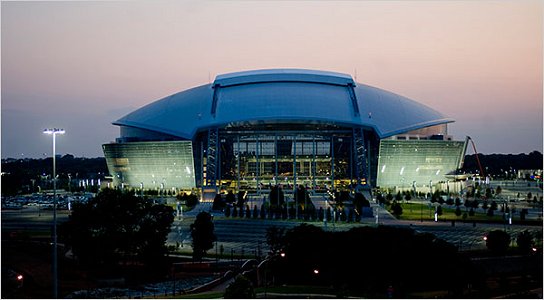 The new Cowboys Stadium in Arlington, Tx, is a three million square foot structure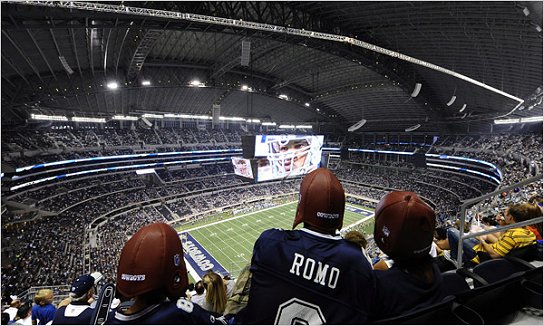 The first game at the Cowboys Stadium set an NFL regular-season attendance record with a crowd of 105,121 on Sunday night.
The game between the New York Giants and Dallas Cowboys broke the previous mark of 103,467 between Arizona-San Francisco in Mexico City in 2005.
The crowd included up to 30,000 fans in standing-room party plazas at either end of the stadium. The stadium has about 75,000 seats.
The record for an NFL game in the United States was 103,985 for the Super Bowl between Steelers and Rams at the Rose Bowl in January 1980. The largest crowd to watch any NFL game was 112,376 in a preseason matchup between the Cowboys and Houston Oilers in Mexico City in 1994.
There was also a crowd of 105,840 in Chicago for an exhibition between the Bears and a college all-star team in 1947.


Wild Thing's comment.....
I wanted the Cowboys to win, the end of the game was so close, I was holding my breath.........but unfortunately Cowboys lost.
The new stadium is really something to see. I have seen several photos of it.
Posted by Wild Thing at September 21, 2009 07:44 AM
---
Comments
Gotta admit, I watched the game. My team lost. The stadium is impressive. And they still have the hole in the roof so God can watch His favorite team. I hope the Arlington taxpayers get their money back out of it. It already has a lot of big bookings for the next several years so everybody in America will probaly hear and see lots about it.
Hey, Dallas still has the best cheerleaders.
Posted by: TomR at September 21, 2009 12:52 PM
---
It was a great game. Anytime the Cowboys loose, it's a great game...Sorry Wild Thing. But, like TomR said, they have the best cheerleaders.
Posted by: BobF at September 21, 2009 01:46 PM
---
How about 'dem NY GIANTS! Eli all the way!!
Posted by: darthcrUSAderworldtour07 at September 21, 2009 07:06 PM
---
Being a Buffalo fan I don't like either team, dallas or the giants but dallas least of all when they lost in their new stadium proving there is justice afterall.
But agreed they have some nice cheerleaders no question. They certainly do a lot of screening before they pick the final roster.
Posted by: Mark at September 21, 2009 09:28 PM
---
For me it was a tough call...Go Skins!
Posted by: gsebes at September 21, 2009 10:25 PM
---