« Obama's Missile Defense Surrender | Main | CZAR Sunstein: Obama, not courts, should interpret law »
September 19, 2009
Always Nice To Know The Efforts Of Our Vietnam Veterans Is Appreciated
To Honor those who fought with courage to protect the Independence & Freedom of the Republic of Vietnam for 21 years (1954-1975)
To show our appreciation to the 58,479 American soldiers and hundred thousands soldiers in the Armed Forces of Republic of Vietnam who sacrificed themselves, and to those who survived and fought with courage to protect the independence and freedom of The Republic of Vietnam throughout the 21 years of war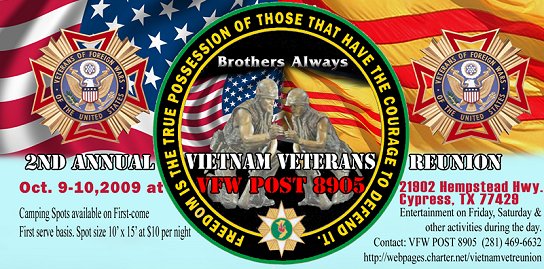 (1954-1975). Three younger generation groups (1/ YVAPS - Young Vietnamese American Professionals Salute-Veterans of Freedom, 2/AMERASIAN -Houston, and 3/ LEND A HAND) are coordinating with Vietnam veterans (VFW Post 8905) to organize a parade on Sunday Oct 11, 2009.
Vietnam veterans informed us that they will join the parade with 300-500 people. Around 10 high school bands, South Republic of Vietnam soldiers, and local civilian organizations will also be in attendance.
The breakdown for this honoring day will be as followed:
1:00 p.m. Parade: conducted by Maj. Gen. John H. Bailey II Ret. (82nd, 101st airborne, Texas National Guard). Also joining the parade is: F-16 Flyover, ROTC, 10 high school bands, VFW Post 8905 Cypress, Texas, Gathering Eagles, American Indians org., and other Vietnam Veteran organizations. This parade will be held on Bellaire Blvd, starting from Alief Park at Kirkwood and Bellaire and marching by the Vietnamese-American soldier's monument (11360 Bellaire Blvd, Houston, TX 77072), and ending at Boone Rd. American and Vietnamese Veterans will then return to the Vietnamese-American soldier's monument for Memorial Service and Honoring Ceremony under the witness of Houstonians and their family members. The rest will either go home or gather at Hong Kong City Mall 4 for the Reunion meeting at 6 pm.

2:30 pm Memorial Service: For Vietnamese and American soldiers who died during the war witnessed by F16 Flyover at the Vietnamese-American soldier's monument.

3:00 pm: Honoring Event: flower leis for Vietnam Veterans and former soldiers of ARVN conducted by LEND A HAND org. Afterwards is the pinning of the flag pins conducted by VAAFA.
6:00 p.m. Reunion & Remembrance: Socializing about past experiences and memories between Vietnamese and American soldiers and civilians in the Vietnam wars. The talks may include those intense battles fought in popular cities such as: Gio Linh, Con Thien, Quang Tri, Dong Ha and Zone D of the old days. Each of these popular city names will be set up as a table with their city name on a banner. Food will be provided free of charge by the Vietnamese Houstonians inside Hong Kong 4 City Mall.
We are calling for Vietnam War Veterans in Texas to join us in this parade, "You lead, we follow." Also, we are recruiting Houstonians, young groups, and individuals to volunteer in the parade and reception. We also need Vietnamese volunteers, who lived at or know about the above popular battle cities to help out at the reunion and greet the veterans.
Please accept this event as an appreciation and to pay tribute to those who have fought courageously throughout the 21 years (1954-1975) by honoring the Vietnamese & American Soldiers. The 30 Apr, 1975 was a sad day in the lives of Vietnamese Americans and even 34 years of suffering after the Vietnam War, the younger generation is grateful because we would not be here without their sacrifices.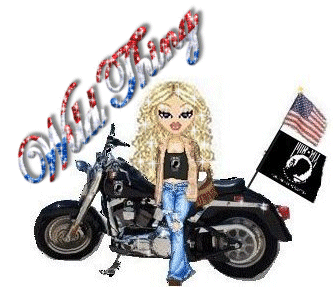 Wild Thing's comment.......
I am so glad to see this happening! Fantastic!!

......Thank you RAC for sending this to me.

RAC has a website that is awesome. 336th Assault Helicopter Company

13th Combat Aviation Battalion - 1st Aviation Brigade - Soc Trang, Republic of Vietnam


Posted by Wild Thing at September 19, 2009 08:49 AM
---
Comments
Wish I could be there for this. I have spent a lot of time in the Bellaire part of Houston.
It is outstanding that so many second generation Vietnamese have done so well. Lots of doctors, Phds, scientists, businesspeople. They maintain ties to their culture, but they still have become very Americanized. They are very patriotic toward America. Several have graduated from the service academies. Their children are usually in the top percentages of classes.
These Vietnamese have always shown an appreciation of Vietnam veterans. Several ago a friend passed away. He had been Special Forces and an advisor to the South Vietnamese Airborne Division. At his funeral he had three honor guards. They were the US Special Forces, the South Vietnamese Special Forces and the South Vietnamese Airborne. It was an impressive send off for a real American warrior and hero.
Posted by: TomR at September 19, 2009 12:25 PM
---
Thank you Chrissie and RAC. This is such a heartwarming tribute to our veterans.
I echo Tom's sentiments also.
Since the 30 Apr, 1975 sad day when the North took control of the South only two years after our nation abandoned theirs, we have their refugee immigrant's children being wildly successful and overtly patriotic. Vietnamese Americans after 34 years of suffering the effects of the Vietnam War they have completely integrated into society, now they are leading citizens in their communities.
Imagine, in a scant single generation and they are Americans in every aspect, there are lessons to be learned here about assimilating into our melting pot, giving to and not taking from our society. Thank you Young Vietnamese American Professionals Salute.
Posted by: Jack at September 19, 2009 12:54 PM
---
Tom, that has me with tears in my eyes.
I used to worry that those that came here
would not appreciate what you all did for
them. When I saw this I cried and with
what you told me....it really touches
a persons heart so much.
Posted by: Wild Thing at September 19, 2009 06:24 PM
---
Jack, your so right, what a difference.
Reading what you wrote how they want
to be Americans and appreciate what you
all have done, what a difference in the
Muslims that are here and cannot appreciate
what our troops have done for the countries
they came from. There are a lot of people
here from Iraq.
Posted by: Wild Thing at September 19, 2009 06:29 PM
---