« We The People ~ March on Washington D.C. Sept. 12, 2009 | Main | Obama Planning Israel Ambush at Opening of UN Assembly! »
August 23, 2009
wobama, we wee weed the wussy wadical ~ now at -14 all time low!
The person that did this video is brilliant! I love the song and how he/she put the words to fit what has been happening in our country. LOL Fantastic Video!!!!! ~ Wild Thing
.


.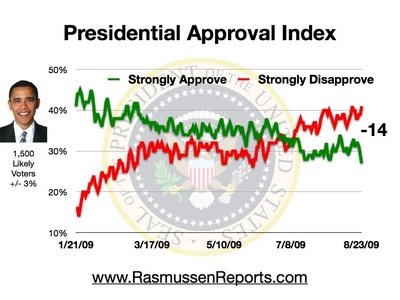 The Rasmussen Reports daily Presidential Tracking Poll for Sunday shows that 27% of the nation's voters Strongly Approve of the way that Barack Obama is performing his role as President. Forty-one percent (41%) Strongly Disapprove giving Obama a Presidential Approval Index rating of -14. These figures mark the lowest Approval Index rating yet recorded for this President. The previous low of -12 was reached on July 30 (see trends).
Prior to today, the number who Strongly Approved of the President's performance had never fallen below 29%. Some of the decline has come from within the President's own party. Just 49% of Democrats offer such a positive assessment of the President at this time.
At the other end of the spectrum, today's total for Strongly Disapprove matches the highest level yet recorded. The 41% mark was reached just once before and that came one week ago today. Seventy percent (70%) of Republicans now Strongly Disapprove along with 49% of those not affiliated with either major party.
Check out our review of last week's key polls to see "What They Told Us." Topics include health care, the deficit, stimulus package, state polls and more.
The Presidential Approval Index is calculated by subtracting the number who Strongly Disapprove from the number who Strongly Approve. It is updated daily at 9:30 a.m. Eastern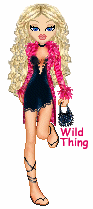 Wild Thing's comment.......

He's really in a danger zone here, with the "strongly approves" closing in on the "overall approves." It's a beautiful sight!!!
And this little piggie went "wee wee weeing" all the way home.
Posted by Wild Thing at August 23, 2009 03:48 PM
---
Comments
Ouch! Satire hurts! Christians must surely highly object to Democrats' attempt to sell their health care bill as Christianity. See "Jesus Christ answers Obama health care:"
http://constitutionparti.blogspot.com/
Posted by: Christian Prophet at August 23, 2009 04:57 PM
---
Hey, Freedomworks invited me to play my song, "Take Our Country Back" on teh stage at the 9/12 March on Washington. If you go to my site, you can grab the player embed as well as the youtube of the compilation of four tea party events on Tax Day including Live on Fox & Friends.
http://www.youtube.com/watch?v=YkUHEE0-niE
www.chriscassone.com/tea
thanks...see you there
Posted by: Chris Cassone at August 23, 2009 05:31 PM
---
I wonder how fast he can go through Zero. I mean now he's at -14 but still his approval rating is a positive number. So how fast at the current rate can he get through 0, and into negative numbers. Which should mean, his own people think he stinks.
Wishful thinking. -35 sounds like a good number.
Posted by: Mark at August 23, 2009 05:54 PM
---
Christian Prophet, not only
Christians but all Americans should
object to what Obama wants for our
country. Jews, Christians , all
Freedom loving Americans that
want to keep our Constitution and
not allow it to be trashed.
What Obama is doing is totally
against our Constitution.
Posted by: Wild Thing at August 23, 2009 07:18 PM
---
Chris Cassone, that is fantastic, thank
you for letting us know.
Posted by: Wild Thing at August 23, 2009 07:23 PM
---
Mark, giggle yippee.....yes you are right.
And it will keep growing too.
"Which should mean, his own people think he stinks."
Posted by: Wild Thing at August 23, 2009 07:25 PM
---
Obama has endorsed an attempt to stack an election in Honduras that was illegal to begin with. By next year they maybe no way that he could loose an election. Advertisers should be put on the hot seat to see if they are really supporting the Obamamational media.
Posted by: Avitar at August 24, 2009 04:50 PM
---