« What a Difference To Have a Real President That LOVES America (Video) | Main | "'The Bullet Magnet' is back!" »
August 05, 2009
US Army Strong Commercial
This commercial is reciting, line by line, of the soldier's creed which is for the US Army.
.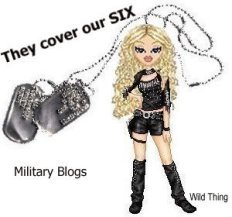 Wild Thing's comment.....
Fantastic! I love how they make these ads. They show them at the movie theatre's too. Then I get to clap and cheer for it....heh heh...before the film starts.
Thank you US Army active duty and Veterans!

Posted by Wild Thing at August 5, 2009 06:47 AM
---
Comments
Go Army, Hhhoorraaa!
AIRBORNE!
Posted by: TomR at August 5, 2009 12:03 PM
---
Yesssssss.
Great ad, I love these ads. I wish they would
show them on TV. They need to!! I want out
country to have a high regard for our military
and seeing ads like this will help teach them
how specail it is.
Posted by: Wild Thing at August 5, 2009 08:27 PM
---