« The U.S.Army Version of the Kite | Main | Coal Cellars and Common Sense by Don Bendell ( Vietnam Veteran) »
August 31, 2009
Tea Party Express Toward the March on Washington D.C. September 12th ~ Rebellion is brewing!!

.
The Tea Party Express caravan .......Thirty-five cities, thirty-five tea parties in sixteen days!!

On Friday, (August 28 ) the Tea Party Express group set off on a bus tour starting in Sacramento, California, and winding down in Washington D.C. on September 12.
.
Revolution Brewing - August 28 Sacramento Tea Party
This video from Sacramento is so awesome, the photography is exceptional as well. Plus Lloyd Marcus is there singing which is also cool.
To learn more about singer Lloyd Marcus, visit http://www.lloydmarcus.com
For more information on tea parties, visit http://www.teapartyexpress.org
On their way to Washington, DC, the Tea Party Express makes a stop in Reno.

RENO, Nevada Stop # 2 on the Tea Party Express
Tea Party Express on Fox News Channel's Greta Van Susteren show with a live report from Griff Jenkins from Reno/Sparks
Be sure to check the tour schedule and join us when we get to a city near you: TeaPartyExpress.org!!

.
.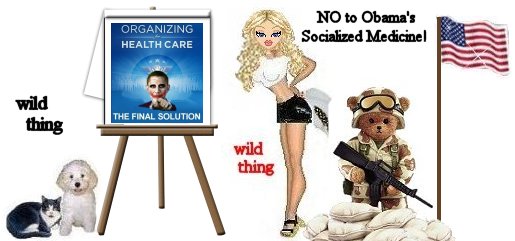 Wild Thing's comment.......

I would love to see it make history as the biggest march in Washington!!
God bless America and our Troops!!
Posted by Wild Thing at August 31, 2009 07:55 AM
---
Comments
I think this is long overdue! DON'T TREAD ON ME & GIVE ME LIBERTY OR GIVE ME DEATH! Watch how the socialist Barackshevik media cover this deal.
My neighbors are still fuming over my RED truck showing the three bumper stickers:
BUSH FOR PRESIDENT 2000
BUSH-CHENEY 2004
GOD BLESS AMERICA
By the way, my clunker is PAID FOR! Imagine that?
Posted by: darthcrUSAderworldtour07 at August 31, 2009 08:28 AM
---
Good for you Darth. I have a Gadsden Flag flying from my porch and a Gadsden car flag as well. I've not seen any others but I hoping that my example will move others to follow suit.
Posted by: Eddie (Locked & Loaded) at August 31, 2009 09:33 AM
---
I hope these tea party rallies are successful. Even though they may not have as large a turnout as they would like you have to remember that a lot of conservatives are not protesters. They will protest at the polls a little over a year from now.
Posted by: TomR at August 31, 2009 11:49 AM
---
Darth, I love it, thank you for telling about
your truck and the stickers.
tah dah!!!
Posted by: Wild Thing at August 31, 2009 07:26 PM
---
Eddie (Locked & Loaded), I haven't see any
here except at the Townhall meeeting.
Posted by: Wild Thing at August 31, 2009 07:33 PM
---
Tom, big smile, yesss I think they
will too. I am hoping for a big
turnout when it comes time to vote
again.
Posted by: Wild Thing at August 31, 2009 07:35 PM
---