« White House: Obama 'Misspoke' About Claim of AARP Endorsement | Main | VFW: Woodstock Wasn't the Only Thing Happening 40 Years Ago »
August 13, 2009
Special Forces Trooper Sgt First Class Alex Granado - Honored Military Hero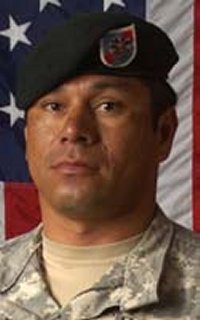 Sgt First Class Alex Granado - Honored Military Hero, 42, of Fairfax, Va.; assigned to the 2nd Battalion, 20th Special Forces Group (Airborne), Mississippi Army National Guard, Jackson, Miss.; died Aug. 2 in Qole Gerdsar, Afghanistan, of wounds sustained when insurgents attacked his vehicle with an improvised explosive device.
Alejandro "Alex" Granado, III was born on July 24, 1967, in Ciudad Acuna, Mexico to Rosalinda and Alejandro Granado Jr. He graduated from Tatum High School in 1986 where he was a member of the track team, for which he won a bronze medal at the state track meet.
At age 18, adult responsibilities were upon Alex even before he graduated high school. Already married and with a child on the way, joining the military offered a steady and secure income. He saw a chance to travel in addition to job stability.
His military career spanned 23 years, having served in Desert Storm in 1991, Operation Iraqi Freedom, and Operation Enduring Freedom.
His military education includes the Basic Airborne Course, Special Forces Intelligence Analyst Course, Special Operations Interdiction Course, Air Assault Course and Unmanned Aerial Vehicle Course. His awards and decorations include the Army Commendation Medal, Army Achievement Medal, Valorous Unit Award, Army Good Conduct Medal, Joint Service Achievement Medal, Southwest Asia Medal, Liberation of Kuwait Medal, National Defense Service Medal, Armed Forces Expeditionary Medal, Afghanistan Campaign Medal, Iraq Campaign Medal, Global War on Terrorism Expeditionary Medal, NATO Medal, Non-Commissioned Officers Professional Development Ribbon, Army Service Ribbon, Overseas Service Ribbon, Driver and Mechanic Ribbon, Mississippi War Medal. Alex also earned the Combat Infantry Badge, Air Assault Badge, Parachutist Badge, and the Special Forces Tab.
His 35 year old brother, Jose is scheduled for active duty in in October 2009.
Army Sgt. 1st Class Alejandro "Alex" Granado - Honored Military Hero, 42, of Fairfax, VA., died from wounds suffered when insurgents attacked his vehicle with an improvised explosive device Aug. 2 in Qole Gerdsar, Afghanistan.
He was a member of the Mississippi Army National Guard, and assigned to the 2nd Battalion, 20th Special Forces Group (Airborne), Jackson, Miss. He served for more than twenty years.
Granado was home last month and visited his family over the 4th of July holiday. There is no doubt of the familys pride of one of their own. His nephew Johnny was quoted, "Were real proud of him, he was one of the bravest men I knew. I always looked up to him you have to look up to somebody like that."
This video is a tribute in his honor. His interment services were held Aug. 10, 2009 in Tatum, TX. Crowds of people began arriving shortly before 5:00 pm. Many came equipped with umbrellas to help endure the 101˚ heat index. Whiles others came waving small American flags.
Once the procession, escorted by the PGR of North Texas, arrived approximately 600 people had gathered to bid a farewell to fallen American Hero. Army representatives from Ft. Bragg performed a military funeral with precision and flawless execution. Church bells and a Texas size bell rang out in honor of Granado. He was given a three round volley salute and a bugler played TAPS. Four flags were presented to his family.
In the end, the family said their final goodbyes, as a small group of singers accompanied by a guitar, performed several Spanish Christian Hymns to help bring comfort to the grief stricken. After mourners offered words of sympathy to the family they began to file out of the cemetery.
Music:
Seven Spanish Angels
By: Ray Charles
Special thanks to:
Granado family for your sacrifice.
Patriot Guard Riders of East Texas for escorting and keeping vigilance over our American heroes.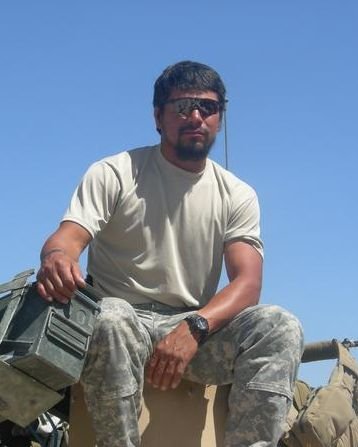 .

Wild Thing's comment.......
We will never forget those who sacrificed for our safety and our freedoms. May God bless him and keep him, and hold his family in His hands.
Sleep well, soldier
know that you are honored
your name is not forgotten
we stand humbled
bowed in awe and sorrow
before your sacrifice
sleep well, soldier
sleep well
we will remember you

Also a special thank you to Patriot Guard Riders of East Texas. I love PGR they truly are an awesome group. Tom sent me this too and I would like to share it with you.
The Patriot Guard Riders they have a monthly social to honor the Lost Batallion Reunion festivities which was a WW11 unit held as POW's by Japanese for most of the war. Please read this also and see the patriotism in action as Tom said of the Patriot Guard Riders .
"The Meet & Greet has been cancelled for this month. After careful consideration, it was decided that the Lost Batallion Reunion festivities on Saturday should take preference over our Meet & Greet. We are losing these fellas at an ever-increasing rate and we need to honor them every chance we get. We can always sit and visit there at the Omni after we've honored our heroes."

....Thank you Tom for sending this to me.


Tom
US Army Aviation
Vietnam 1966-68
US Army Special Forces
1970-72


Posted by Wild Thing at August 13, 2009 06:50 AM
---
Comments
Wow! That's a great story of a great man. He did his duty and now has his rewards in Heaven and his family has the peace of the Lord. He knew where his duties lie and he did them effectively and efficiently. Bless his brother Jose, who will also serve.
Posted by: Lynn at August 13, 2009 08:18 AM
---
Chrissie, I went through the same thing with my best friend 2 months ago. I traveled to Seattle where a military funeral was performed @ the new Military Cemetary in Kent. It was a beautiful ceremony at a very beautiful cemetary. BTW, the tears flowed watching the video provide by Tom. Thanks Tom.
Eddie (11B40)
RVN 66-68
HOOAH!

Posted by: Eddie (Obama Hater) at August 13, 2009 11:54 AM
---
SFC Alex Granado was one of three good men killed on his Special Forces team that day. They were National Guardsmen. The National Guard and Reserves are serving and dying alongside our regulaes. All men and women serving America in our armed forces are heroes. God Bless them all.
I also mean to bring attention to the Patriot Guard Riders(bikers). The PGR was started by Vietnam veterans in Oklahoma to prevent the wildassed members of Westboro Church from disrupting military services such as SFC Granado's.
The PGR has grown nationwide now and are invited to military funerals of any fallen soldier or veteran whose family requests them. Many members of the PGR are not veterans but are loyal patriots. God Bless the PGR also.
Posted by: TomR at August 13, 2009 01:19 PM
---
Tough stuff, thanks for honoring SFC Alex Granado, Chrissie and Tom. His Commander in Chief was before the nation on television awarding queers, steers and anarchists yesterday and not a word about those he is responsible for.
You've left me with tears and a heavy heart. Some 30 members of my unit in Vietnam were of Mexican descent, one is an ex brother in law, ex hell, he is my brother, I've been coercing him to attend our 40th reunion, it would make my day if he did. He spent 9 months at Phu Bai working in the Ashau.
My condolences Eddie, I have to pay my respects to a few in a couple of weeks, it won't be easy.
Posted by: Jack at August 13, 2009 01:42 PM
---
PGR sounds like a great bunch, guarding and keeping the rif-raf out. So that proper respect can be paid to our fallen heroes. This is as it should be.
With the current climate in Washington, honoring the fallen has come to mean a lot more than it did. Too few remember what it takes to keep this country safe. Freedom must be refreshed with the blood of each new generation.
God bless, this fallen hero. Thank you all above for your service and Welcome, home Brothers.
Posted by: Mark at August 13, 2009 02:41 PM
---
Lynn, when I saw his brother Jose was
going to be deployed I started to cry.
I know how hard it is for the family and
some extra prayers for all of them.
Posted by: Wild Thing at August 14, 2009 12:45 AM
---
Eddie, I am so sorry to hear about
your best friend. I am so glad you
got to go to the ceremony.
Posted by: Wild Thing at August 14, 2009 12:49 AM
---
Tom, thank you, this was so special.
Patriot Guard Riders are making a
huge difference. And what a great group.

Posted by: Wild Thing at August 14, 2009 12:55 AM
---
Jack, oh wow I sure hope he does
attend your 40th reunion. That would
be very special for him too.
Posted by: Wild Thing at August 14, 2009 12:57 AM
---
Mark, I agree so much. Too few want
to pay tribute.
Posted by: Wild Thing at August 14, 2009 12:59 AM
---