« Florida Students Sent Home After Wearing 'Islam Is of the Devil' Shirts | Main | ALL HAIL THE OBAMA ....NOT.....(Video Parody) »
August 27, 2009
Soldiers Take Time Out to Teach New Shooters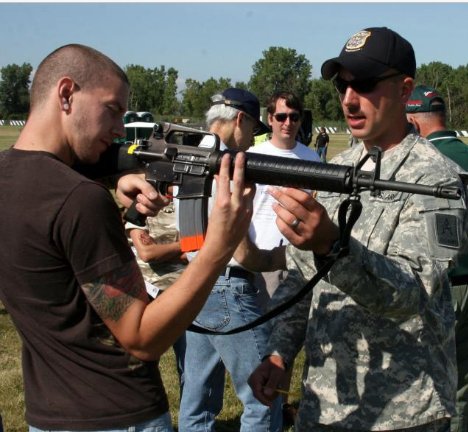 Spc. Joseph Hein, U.S. Army Marksmanship Unit, instructs a student on the intricacies of the M-16A2 rifle during the Small Arms Firing School, Aug. 1, at Camp Perry, Ohio.


.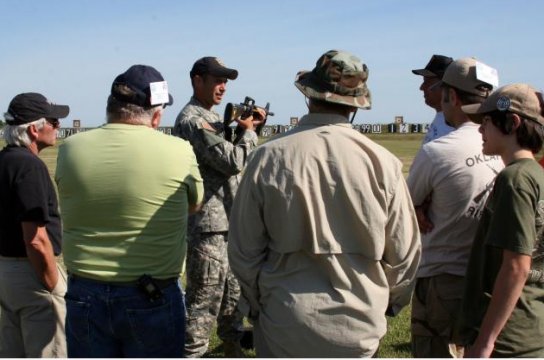 Sgt. Nathan Verbickas, U.S. Army Marksmanship Unit, goes over the M-16A2 rifle with a group of students at the Small Arms Firing School, Aug. 1, at Camp Perry, Ohio. Close to 700 civilians participated in the rifle class while another 500 took part in the pistol class.


.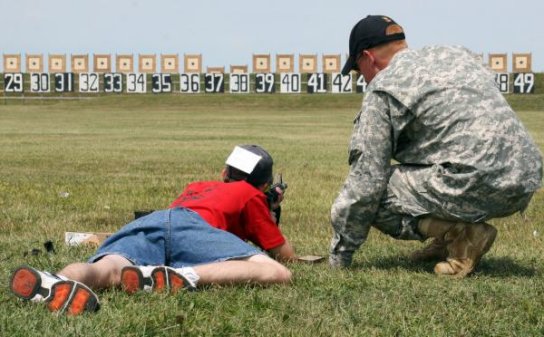 Nathan Baldwin, 14, concentrates on his target during live-fire training Aug 1. He is being instructed on the M-16A2 by Spc. Evan Hess, U.S. Army Marksmanship Unit. Soldiers from the USAMU conducted the 2009 Small Arms Firing School, teaching novice shooters the efficient application of the fundamentals of marksmanship.
Soldiers take time out to teach new shooters

FORT BENNING, Ga.
Michael Molinaro serves as the U.S. Army Marksmanship Unit public affairs officer
Aug. 24, 2009
Every summer at Camp Perry, Ohio, prior to the National Rifle and Pistol Trophy Matches, Soldiers from the U.S. Army Marksmanship Unit take time out of their own training to pass their knowledge and shooting skills on to the next generation of American shooters.
The Small Arms Firing School was instituted in 1918 by the Department of Defense and is conducted by the U.S. Army Marksmanship Unit. The school is held so the military can teach the efficient application of the fundamentals of marksmanship, said Sgt. 1st Class Jason St. John, USAMU. His team is assisted by members of the Air Force, Navy, Coast Guard, Marine Corps, Army Reserve and National Guard.
The concept sprang up so that civilians would have familiarity with the weapon and could make a smooth transition from civilian to Soldier if the nation's security situation became unstable. More than 1,000 eager-to-learn shooters took part in this year's class.
"We are teaching civilians so that in a time of war, with the knowledge that they have and if it's a real bad deal, then they can help out the military," said Sgt. 1st Class Lance Dement, USAMU. "But they are also going to become competitive shooters. We're going to show them what is right and stress to them the basics of shooting."
The day starts with classroom instruction and covers everything from the functioning of the weapon to proper positioning. The instructors are among the best in the field, as evident at the pistol class, where 2009 National Pistol Champion Sgt. 1st Class James Henderson of the USAMU was among the lead instructors.
After a few hours in the classroom, the students make the short trek to the range and get a feel for the weapon in dry-fire simulation. There are two students per military instructor.
Upon their return from lunch, students load live rounds into the chamber and shoot, some for the very first time. The USAMU provides M-16A2 rifles for the students to use and installs a block to deny the use of the "burst" or automatic function on the rifle.
The school ends with a sanctioned Excellence in Competition match where shooters are afforded the opportunity to earn four points toward their distinguished badge.
The school was tweaked this year and broken into a basic and an advanced class. The basic class was tailored for those who have never shot a pistol or rifle, said St. John. They were given an introduction to the military small-arms and an inclusion to what a shooting competition encompasses.
"The advanced class was a clinic for middle-of-the-road to top-of-the line competitive shooters and covered mental management training, preparing for a competition, and basically what it's going to take to get to that next level," said St. John.
Splitting the class into two and enabling the instructors to teach in relation to a shooter's experience instead of a general audience seemed to be a success as apparent by the large number in attendance.
"It's the first time we've done this and I think it's the way to go," Dement said. "In previous years we had around 400 students or less (for the rifle class) and now we're close to 700. With the price of ammo going up, the cost of fuel, the economy the way it is, and people are still coming -- that's a good thing. They are the future of the sport."
All walks of life took part in the class-men, women and children. The students ranged in age from 11 to 70, St. John said. State junior shooting teams showed up, families planned their family vacations around the trip to Perry, and others flew a very far distance to learn from the best military in the world.
"I've been looking forward to this for some time," said Stewart George, who made his way all the way from Belrose, Australia, with three others to take part in the school. "A friend of mine heard about the school and we wanted to learn from the best, so here we are. I've done some Army Reserve time and shot a rifle, but not an M-16A2."
The class enables the U.S. Army Marksmanship Unit to connect with America. The dedication, professionalism and expertise the Soldiers demonstrate to the students instill positive impressions of the Army that may help prospective candidates in their decision to enter the Army, officials said.
"It's such a great thing," said Jim Davis, Hamilton, Ind. "This is the best place in the country, maybe the world, to learn about shooting and everything that goes with it."
Davis took his son and three other children from the Dekalb County 4-H Club to the rifle class, stressing to them how valuable the instruction is to them now and down the road.
"I still remember when I came to this school as a teenager," he said. "I tell my kid that this is something that you'll always remember."

Wild Thing's comment.......
This is great, I love this. God bless our troops for all the many things they do, so many things we don't even know all of them.

....Thank you JohnE PFC U.S. Army for sending this to me.

Posted by Wild Thing at August 27, 2009 05:47 AM
---
Comments
I got my shooting instruction from a Soldier, my Dad. It was with an M-1 Carbine, that he paid $50 for in 1966.
My first shots were in 1961 with a 1903 Winchester in .22 Win Auto. Grandpa gave me that little rifle when I was seven. On the North Central Montana prairies, shooting and hunting were as normal as baseball, football and pond hockey. I still have that little .22. It is now a keepsake as ammunition has not been in production since about 1981-1982. When I turned eleven , I took the Hunter Safety course and we had girls in the class, in early 1966. Normal part of growing up in the West.
Not as good as I used to be but I can hit a deer or antelope in the heart-lung area at 200 yard with a optical help. Interesting when wearing Tri-focals!!!

Posted by: Glenn Cassel AMH1(AW) USN RET at August 27, 2009 08:51 AM
---
Thanks Chrissie and JohnE. Basic survival skills are being passed along, it's wonderful to keep the heritage alive.
I learned to shoot from about age 6, my uncle was a WWII and Korean vet, he would take me with him as a ranch hand helper or out logging, always in the woods he taught me with his old .22 rifle, graduation me up to his 30-06. I put a lot of meat on the table with my own .22, paying for the ammo from magpie and jackrabbit bounties. Back then it was tough times for a large family and hunting season was often opened and closed by the hunter in need. Trees have leaves:) In '65 during basic training I found I couldn't hit the targets, they checked my vision and I've worn glasses ever since. As recently as 1970 while going to school after the war, the GI bill doesn't allow for families and full time students don't qualify for unemployment or any other aid. Several of us with families pooled gas money and went out in my pickup moonlighting, it didn't matter what we picked off. Elk, slow elk or a deer and we dressed out our game in my buddy Jerry's basement much to the consternation of the wives as it was in a busy apartment building with a very nosy landlord,we never got caught, but the law was looking for some poachers. Nobody complained about the fresh venison we shared amongst classmates.
I hunt with my camera mostly, even though I carry a rifle and/or a side arm, the darned venison on the hoof have ate all my roses, strawberries and half my apples, yet I love watching the little shits from the kitchen window.
Posted by: Jack at August 27, 2009 10:33 AM
---
I learned how to shoot through a Civilian Marksmanship Program between the Catholic high school I attended(early 60's) and an Army Reserve unit. We shot .22cal rifles and pistols on the Reserve unit's range. Political correctness and lawyers have removed this program from many schools now.
After learning to shoot I learned to hunt. I quit hunting(except with a camera) while I was in college but maintained my love of guns. The Army was a natural thing for me and increased my interest in guns. I became a weapons specialist in Special Forces and shot everything from 9mm to 105mm.
Now I have a nice collection of firearms and a place to shoot. Too many Americans today don't have an easy opportunity to shoot. In some locales they don't even have the right to own some firearms.
I have no doubt that obama intends eventually to drop the hammer on gun ownership. I expect that his attack will surpass any attempted firearms restrictions we have seen before. That is why so many savvy Americans are buying guns and ammo at record rates. Sadly, we may have to use our Second Amendment rights to keep it and other Constitutional freedoms.
Posted by: TomR at August 27, 2009 01:00 PM
---
I learned how to really shoot at Parris Island, '63, The B-R-A-S-S system don't ja know, 3 weeks of drill, snappin-in, pulling butts(marking targets) and practicing the four positions. Off-hand, Sitting, Kneeling and Prone, then a week of live fire practice before Qualification day.
When we turned in Our M-14's,in July 67, they were just issuing the M-16's, (it was like losing an old friend) only got to hold one once, didn't like it. It looked and felt like something made by Matell and it was plastic. At least with the M-14 you could use it as a baseball bat, but they survive this long so they must've found their place.
Posted by: Mark at August 27, 2009 07:39 PM
---
Thank you everyone for sharing, this was
great, I loved reading about all of your
experiences.
Posted by: Wild Thing at August 28, 2009 12:28 AM
---
Can anyone here give me some advice on an air rifle? I'm seriously in the market, but even though my husband has probably 3 dozen real guns, he doesn't know much about them either.
Does name brand matter? I won't really be shooting it much...just want to have one around. I can get one on eBay for $20 or so, but price really doesn't matter.
Thanks in advance.
Posted by: Eden at August 28, 2009 06:57 AM
---