« Florida Student Suspended for Telling Muslim Student To Stand For The Pledge of Allegiance | Main | Liar Rep.Carol Shea-Porter (D-NH) Holds Townhall Meeting »
August 30, 2009
Part Two of "It ain't America no more, OK?" Officer Wesley Cheeks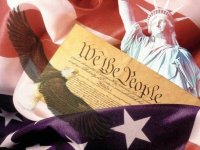 .
.
The officer was asked what law had been broken. He did not answer that ever.
He said that he could charge the protestor with whatever he want to charge. THE OFFICER CLAIMED TO MAKE THE LAW!!!!
A town hall protester (in Reston, VA) is holding a sign with the obama/joker face on it. A police officer takes the sign and places it face down on the pavement. The protester asks him why he can't have the sign when so many other people have signs. The officer says because it has a picture on it and if he picks the sign back up he'll be charged with trespassing. At that point, the protester is like "Trespassing?" because it is a town hall meeting and he's outside the school as others are.
The protester says (as the officer walks away) ' this is America, this used to be America' - the officer says 'it ain't no more'.
.
This is my email to the Fairfax County Police:

As an American and a law abiding citizen I am shocked and disgusted at the behavior of Officer Wesley Cheeks, Jr.
I am sure you know about the various Townhall meetings around our country where citizens from both parties are speaking out their concerns about the Health Care bill. At the Townhall meeting that Rep. Moran gave on August 25th your officer Wesley Cheeks, Jr. imo was out of line. He so much as said he wrote the laws ( " I can charge you with whatever I want to charge you with"...exact quote ) , he told a protester that he could not take a sign he had into the Townhall area only because it had a photo on it. But the final remark the Officer made was the most concerning of all.
When Officer Cheeks was told by the protester ""This used to be America!" his response was: "It ain't no more, OK?"
I would appreciate knowing if this last statement is the stance of the Fairfax County Police or just this one police officer. Also this officer violated the protesters first amendment rights in our Constitution, when he proceeded in stopping him from carrying his sign to join the others that also had signs.
Thank you for your time in this matter and a response would be very much appreciated.

Chrissie

The response I got from the Fairfax County Police:
Wesley Cheeks is NOT a Fairfax County police officer, he is a security officer employed by the Fairfax County Public Schools. You may go to http://www.fcps.edu to contact the School's Department of Communication and Community Outreach concerning this matter. They may also be reached by phone at 571-423-1200.
Please accept my apologies for the impersonal reply; however I am trying to give the several hundred respondents the courtesy of a timely answer.
Lieutenant Thomas J. Rogers Asst Commander, Reston District Station Main: 703-478-0904 Direct: 703-478-0792 thomas.rogers@fairfaxcounty.gov


Sources of contact and information:

Whan called Fairfax County Police, Reston District 703-478-0904 hit 0 for Operator. Operator confirms there is no Officer Wesley Cheeks, Jr.
Fairfax County Public Schools Security Services and they confirmed he works for them !!!!
Fairfax County Public Schools Safety And Security
http://www.fcps.edu/fts/safety-security/
Link to pages with information about director of security - patrol service
http://www.fcps.edu/fts/safety-security/

Safety & Security
Here is his boss
Fred Ellis, Director
Vicki Fields, Administrative Assistant
Vicki.Fields@fcps.edu
Johnnie Forte, Jr. Support Center 6800B Industrial Road Springfield, Virginia 22151 703-658-3763

24-Hour Dispatch/Call Center 703-764-2400
Main Office 703-658-3760
Jim McLain, Security Coordinator
Jim.McLain@fcps.edu
703-658-3769
Lt. Daniel Townsend, Fairfax County Police/School Liaison Commander
Daniel.Townsend@fcps.edu
703-658-3707

Here are the official duties of a security officer for Fairfax County Public Schools:
Taken from their website......

Definition: Patrols assigned schools; performs security inspections; investigates and responds to security incidents; assists with the application of a school security plan; and performs related duties as required or assigned.

Typical Tasks (illustrative only): Operates a School Board motor vehicle and patrols assigned schools to detect and deter fire, theft, vandalism and other unauthorized activities and conditions which could endanger students, personnel, and property of Fairfax County Public Schools (FCPS); performs security inspections of schools, which may include manual checks of all exterior doors and windows; assists school administrators with applying the school security plan and with other security-related matters; promptly reports any suspicious activities or person(s) found to appropriate school officials, and police, if appropriate; promptly reports to the security operations center and breach insecurity or suspicious activities found, ensures that all persons found on FCPS property after school or normal working hours have the proper authorization; takes appropriate actions to remove unauthorized persons from school premises, cooperates with, and provides assistance to, fire and police department personnel responding to alarms; completes and submits all required reports and forms on a timely basis; assists custodians and other staff with SAFAS problems; may perform minor maintenance repairs after hours; provides backup to the security system monitors and dispatches mobile units, as needed, or appropriate; and must conform to all requirements pursuant to the Code of Virginia and the Virginia Administrative Code and required to maintain current certification.
Supervision Received/Given: Receives limited supervision from a supervisor or coordinator. May provide guidance and assistance to full-, part-time, and/or hourly employees, as required.
Education/Experience/Skills: Any combination of education and experience equivalent to graduation from high school, plus three years of progressively more responsible experience in a security-related field. Some knowledge of standard security procedures and the regulations and laws relating to grounds and building intrusion and trespassing; ability to exercise good judgment under stressful and potentially dangerous conditions; ability to communicate effectively, both orally and in writing; and good interpersonal skills, including ability to interact in a positive, professional manner with students, staff, and member of the public. Possession of an appropriate, valid motor vehicle operator's license. Ability to successfully complete compulsory certification training approved by the Virginia Center for School Safety within sixty days of hire. Must successfully complete compulsory recertification training annually. Applicants must be 21 years old at time of appointment.

Evidently, Mr. Cheeks needs a refresher course on a few of his job duties! ~ Wild Thing

And a friend and reader of Theodore's World also did some research and got this as well. Thank you Dave H.
"Did some research and Emailing today. What I found was that the "Officer" is really a Security Guard, employes by Fairfax County Public Schools."
Thanks for your message Representative Moran rented our High School via FCPS community use process to hold a constituents meeting in the northern Virginia area. South Lakes has a decent sized gymnasium and plenty of parking so we are occasionally are utilized by the community for events which draw big crowds. A regional triathlon and a giant Cancer Walk for Life rent our facility each year for example. Officer Cheeks works for Fairfax County Schools, he is not an employee of South Lakes High School. I recommend you direct your information to FCPS central. Thanks again,

"Butler, Bruce A" bbutler@fcps.edu
Principal
South Lakes High School

.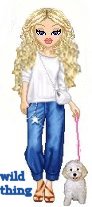 Wild Thing's comment.........

OK so he is not a real live police man nor is he a rent a cop. Fairfax schools have a separate security force whose authority is limited to school grounds. Regular police can also do enforcement on school property if needed.
And apparently he does have the authority to arrest anyone within his geographical jurisdiction and he was also carrying a gun.

Cheeks had his own personal agenda. His was a purely racist action. He should be fired, by the School superintendent and the school board are about as liberal as they come. Expect Wesley Cheeks to get an award, raise, and promotion.
Posted by Wild Thing at August 30, 2009 06:55 AM
---
Comments
Wild Thing:
I have responded to the e-addresses you offered, as well as a couple of others that I dug up. Below is my correspondence to them:
Hello Fairfax County personnel as addressed:
As a trucker, I am very familiar with the amount of difference one sees in Virginia compared to the rest of the USA. There is just reason that the Citizens Band Radio nickname for Virginia is "the Communist State". The link below, and the You Tube video within the link say much for what is Reston, your school system, your police, and Rep.Jim Moran. More than enough reason for me to exhort people not to visit Virginia.
Y'all probably think that officer Wesley Cheeks Jr. is one fine law enforcement type. Watching the video, I can see him for what he really is. If that incident did not cause him to be fired; it says much for just what your district stands for.
http://www.theodoresworld.net/archives/2009/08/officer_does_not_like_antiobam.html#comments
Y'all are unreal.
Frankie Cee, American Military Veteran
PS: I will be working up a design to illustrate the Real South Lakes High School, Reston, VA, as it spearheads the effort of the Liberal Politicians to bring Socialism to America. This is a true and just fear, and Officer,(?), Wesley Cheeks, Jr illustrates the need for the fear. He, the SEIU, ACORN, and others are but the Vanguard of Obama's new army dedicated to serving HIM.

Posted by: Frankly Opinionated at August 30, 2009 08:58 AM
---
Wesley Cheeks is an obama supporter and using his "power" as a campus cop to influence anyone who may disagree with the current Fascist Administration. The propaganda from the highest annointed liberal Professor has now filtered down to the likes of a Wesley Cheeks. It hasn't been America on Colege Campii in a long time.
Imagine what this new obama "Hitler Youth" will be like. As Tom says, obama is desparately trying to divided this country. From what I've seen at the Town Hall Meetings alone he is succeeding. The owner of the sign should have picked it up and been arrested and then sued the college for violating his 1st Amendment Rights, (that's what the left would have done.) Then ole' Wesley would have been unemployed and can stick his badge where the sud don't shine. But that wouldn't work either, we'd be paying his unemployment. Talk about a rock and a hard place.

Posted by: Mark at August 30, 2009 11:14 AM
---
Now it comes back on Officer Wesley Cheeks. Since 95+% of Blacks voted for obama, Cheeks actions must be related to his bias for obama. I just wonder if he stopped any pro Moran or pro obama healthcare signs. I can't remember any news footage of regular police officers stopping legal protesters based on the content of their signs as long as the signs were not vulgar or graphic(like some anti-abortion signs).
Posted by: TomR at August 30, 2009 12:24 PM
---
He should be brought up on charges for impersonating an officer. He has no right to be that defensive. If he doesn't like America, he can go live elsewhere. No one will stop him and I'll bet a lot of angry people won't miss him either. What a jerk!!!
Posted by: Lynn at August 30, 2009 03:56 PM
---
One step below... mall security? Typical obese lard *ss with a tin badge and weighs 300 pounds? Robert E. Lee and Stonewall Jackson are rolling over in their Old Dominion graves!
Posted by: darthcrUSAderworldtour07 at August 30, 2009 10:34 PM
---
Frankly, that was great, thank you for
sharing about what you wrote.
Posted by: Wild Thing at August 30, 2009 11:12 PM
---
Mark, I agree, this use of power like that
needs to be nipped in the bud. He was way
out of line and he did not have the
power he gave off they he had.
I agree too Obama is dividing our country.
Posted by: Wild Thing at August 30, 2009 11:14 PM
---
Tom, good point, I don't remember any real
police doing that either.
Only this campus police, he sure let his
position go to his head.
Posted by: Wild Thing at August 30, 2009 11:17 PM
---
Lynn, I bet your right, this incident
very likly is not the first time he has
behaved like this.
Posted by: Wild Thing at August 30, 2009 11:20 PM
---
Darth, good one, yes they sure are.
Posted by: Wild Thing at August 30, 2009 11:21 PM
---
Well, I screwed up and sent my protest letter to the Police Dept in Herndon. Sorry but it doesn't matter, let em' eat quiche.
Posted by: Eddie (Locked & Loaded) at August 31, 2009 09:46 AM
---
In looking through qualifications required I do not see where he attended (or was required too) a POST (peace officer standardized training)academy. So, what is he doing carrying a gun on school grounds??
Posted by: Dave 18Zulu at August 31, 2009 01:04 PM
---
Something to consider- If this rent a cop reacted this way to an adult, who may have been able to stomp a mudhole in his fat ass; what if a student pissed him off as badly? And armed yet. He's worse than Barney Phife. Damned glad that my grandkids don't go to that school.
nuf sed

Posted by: Frankly Opinionated at August 31, 2009 04:25 PM
---