« US Rep. Tom Price, Speaks Out About Socialized Medicine | Main | Hillary Heads To Kenya and Reid Declares No Discussion of Obama's Birth Cert. »
August 04, 2009
Netanyahu to U.S.: Israel will govern itself, thank you ~ Hooray! God Bless BiBi!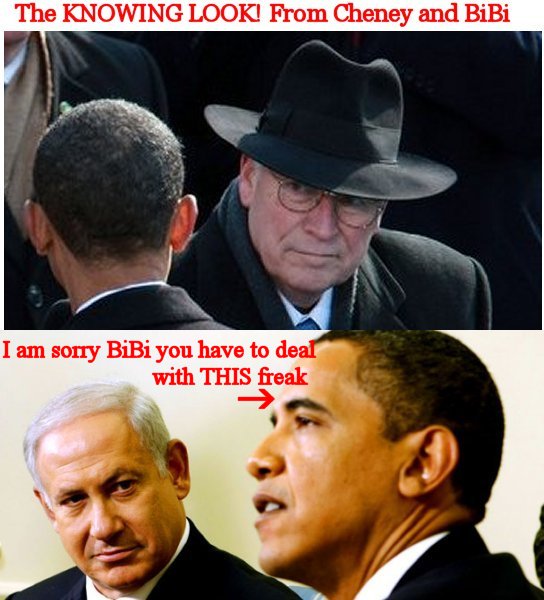 Netanyahu to U.S.: Israel will govern itself, thank you
By Aaron Klein
Prime Minister Benjamin Netanyahu's office today objected to U.S. condemnation of the Israeli government for enforcing property law in Jerusalem by evicting Arabs from a Jewish housing complex they purportedly had been illegally occupying for almost a century.
"The eviction yesterday in Jerusalem was a result of a ruling by our Supreme Court that had to decide in a dispute between two parties over the legal control of a property," Netanyahu's spokesman, Mark Regev, told WND.
Continued Regev: "The Supreme Court ruled for one side and not the other. In all democracies the rulings of the courts must be upheld, and it is incumbent on the executive branch to implement such decisions."
Regev said the Israeli Supreme Court "is renowned internationally for both its independence and its professionalism. There are countless examples of the Supreme Court ruling in favor of the Palestinians in land disputes."
Washington today condemned the Arab evictions. State Department spokeswoman Megan Mattson said such actions in eastern Jerusalem constitute violations of Israel's obligations under the U.S.-backed "Road Map" peace plan.
"Unilateral actions taken by either party cannot prejudge the outcome of negotiations and will not be recognized by the international community," she said in a statement.
Much of the U.S. and international media the past two days have been reporting on Israel's eviction of Arab families from a house in eastern Jerusalem. Many of the reports failed to provide proper background regarding why the Arabs were kicked out of the home.
The housing complex is located in the Sheik Jarra neighborhood of eastern Jerusalem. The home was originally Jewish, but its Jewish occupants were chased out during countrywide anti-Jewish Arab riots in 1929. Arabs then squatted on the property, with one family, the Hejazi family, becoming the de facto occupants despite never having purchased the property.
Even though documentation shows the complex is owned by Jews and that Arabs have been squatting on it illegally for almost a century, Jewish groups say they still legally re-purchased the property from the Hejazi family.
The eviction of squatting Arabs from a Jewish-owned property in Jerusalem follows recent demands by the Obama administration for Israel to halt all "settlement activity," meaning Jewish construction, in Jerusalem and the strategic West Bank.
Last month, Israel's ambassador to Washington was summoned by the State Department to demand a Jewish construction project in eastern Jerusalem be immediately halted.
The construction project at the center of attention, financed by Miami Beach philanthropist Irving Moskowitz, is located just yards from Israel's national police headquarters and other government ministries. It is a few blocks from the country's prestigious Hebrew University, underscoring the centrality of the Jewish real estate being condemned by the U.S.
Netanyahu strongly rejected the State Department demand, telling a cabinet meeting Israel's sovereignty over Jerusalem was not a matter up for discussion.
"Imagine what would happen if someone were to suggest Jews could not live in or purchase [property] in certain neighborhoods in London, New York, Paris or Rome," he said just after his ambassador was summoned.
"The international community would certainly raise protest. Likewise, we cannot accept such a ruling on East Jerusalem," Netanyahu told ministers.
.

Wild Thing's comment.......
Its about time someone tells this idiot POS Obama we have running our country into the ground, to shut up and sit down and mind his own business....how I wish more would do it, including AMERICANS!!!!
God bless BiBi and the hell with Obama!!!!

....Thank you Mark for sending this to me.


Mark
3rd Mar.Div. 1st Battalion 9th Marine Regiment
1/9 Marines aka The Walking Dead
VN 66-67


Posted by Wild Thing at August 4, 2009 04:45 AM
---
Comments
Amazing how this Administration is so opposed to a country following its Constitution, to the letter, and actually enforcing its dictates. This must be affront to the obama people. What a novel idea people actually following their Constitution. This too happened in Honduras and the White House was aghast at that one too.
There seems to be a pattern here, does that mean the White House has no intention of following our Constitution ?...Naw that can't be the true...Reallly ?
We had better wake up.
Posted by: Mark at August 4, 2009 09:09 AM
---
I love that picture of Cheney staring at Obama. I bet Obama about wet his pants when he got that look.
Posted by: BobF at August 4, 2009 10:02 AM
---
Not to worry, I've also told Blowbama he's a POS.
Posted by: cuchieddie (Blowbama Hater) at August 4, 2009 11:26 AM
---
obama has made his anti-Israel stance known from the gitgo. I am glad Netanyahu has stood defiantly against obama. obama is going to also find his popularity with Americans declining as more and more of his anti-American, overly expensive, socialist policies are put in place.
Posted by: TomR at August 4, 2009 12:21 PM
---
I, too, love that picture of the Vice-President who should have been President. Watching "Get Shorty" this week, I can just hear Cheney saying "Look at me, Barack." Sure wouldn't want him looking at me like that. Being on his bad side would be as bad as Barry having that junkyard dog, Alan Keyes, suing for your birth certificate. Those two will surely bring the other great Narcissist down. Oh, the other two greatest living Narcissists are meeting in North Korea this week.
Posted by: horace at August 4, 2009 12:45 PM
---