« Netanyahu to U.S.: Israel will govern itself, thank you ~ Hooray! God Bless BiBi! | Main | Obama's College Trip to Pakistan »
August 04, 2009
Hillary Heads To Kenya and Reid Declares No Discussion of Obama's Birth Cert.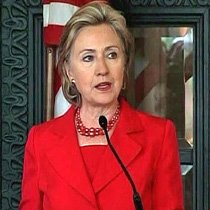 US Secretary of State Clinton Starts Tour of Seven African Countries
U.S. DEPARTMENT OF STATE
Office of the Spokesman
Daily Appointments Schedule
Monday, August 3, 2009
10:00 a.m. Secretary Clinton holds a Secure Video Conference on Iran.
(CLOSED PRESS COVERAGE)
11:15 a.m. Secretary Clinton holds a bilateral meeting with His Excellency Nasser Judeh, Foreign Minister of the Hashemite Kingdom of Jordan.
(CLOSED PRESS COVERAGE)
11:45 a.m. Secretary Clinton holds a joint press availability with His Excellency Nasser Judeh, Foreign Minister of the Hashemite Kingdom of Jordan.
(OPEN PRESS COVERAGE)
Pre-set time for cameras:10:30 a.m. from the 23rd Street entrance
Final access time for all press: 11:00 a.m. from the 23rd Street entrance
PM depart Andrews Air Force Base en route to Nairobi, Kenya

By the way, nice of Senate Majority Leader Harry Reid declaring today that he would not give one minute of time in the Senate to the birth certificate issue.Only one problem Senator Reid, you just did by making that statement and putting into the Congressional Record. Brilliant I tell you!! ~ Wild Thing
Harry Reid: Not 1 minute for 'phony issue' of birth
Senate floor criticisms make sure dispute is in Congressional Record
Only a day after a document purporting to be President Obama's birth certificate from Kenya was submitted to a court in California, the long-running dispute over his birth and eligibility to occupy the Oval Office has been entered into the Congressional Record – by a Democrat no less.
Virtually the only reference on Capitol Hill has been a proposal from Rep. Bill Posey, R-Fla., to require future presidential candidates to document their eligibility under the U.S. Constitution's demand the president be a "natural born" citizen."
But now the Senate has plunged into the dispute, even if unwillingly, with a statement from Senate Majority Leader Harry Reid, who formally elevated it to arguably the highest debate level in the land.
"Let's be clear. It's a phony issue and does not deserve even a minute of our attention on the floor of the United States Senate," Reid announced today, giving the issue just that minute. "It's absurd, irresponsible, baseless and the false claims of long ago have been refuted.
The American people have every right to expect us to solve real problems before creating fake problems," he said.
Glenn Thrush at Politico commented that Reid "may not have given them a full minute of attention of the Senate floor, but now the birther movement has a permanent spot in the official Congressional Record, thanks to Reid's speech."
Reid said the dispute "is getting far too much attention lately, one that ignores the undeniable and proven fact that President Obama was born in the United States."
Ironically, during the 2008 campaign, Reid called for "total transparency" in regard to Republican presidential candidate John McCain.
In The Hill, writer J. Taylor Rushing noted many top Republicans have specifically distanced themselves from the fray.
So, he reported, "Reid's comments also represent the first time Obama's citizenship has been raised in the Senate – no leading Republicans have raised it on the chamber floor."
The release of the purported Kenyan birth certificate immediately prompted hundreds to challenge its validity. Many critics note the 1963 document uses the term "Republic of Kenya," arguing Kenya became a republic in 1964.
Taitz told WND today the "republic" issue is one of many she's asking several individuals to examine as they test the authenticity of the document.
Kenya's official independence was in 1963, and any number of labels could have been applied to government documents during that time period.
At Ameriborn Constitution News, the researcher noted Kenya's independence process actually began in 1957, when Africans were first directly elected to the Legislative Council.
"Kenya became an independent republic Dec. 12, 1963, which gives more [credibility] that this is a true document," the website stated.
The 1963 independence is corroborated by several other information sources, including the online African History.
Taitz told WND she's been discussing the document with several individuals who apparently "are willing to investigate." She's also awaiting word from the federal court in California on how her requests will be handled.
This is also another article:
Is this really smoking gun of Obama's Kenyan birth?
Attorney files motion for authentication of alleged 1960s certificate from Africa

.


Wild Thing's comment........
Kenya has lots of wildlife preserves and national parks. She has been referred to as Hildebeest.
Someone better let Obama's surviving grandmother about Hillary and Fort Marcy Park.
Reid is saying something very insidious. No matter what is found out or surfaces, the senate will not consider any action against the democrat president. He is indicating his determination to keep party above country.
Regarding the certificate from Kenya. I am not worried about it. Orly will get it checked out like she states. What we do know is that this is not going to go away, it has been growing steadily.
Obama has spent upwards of $950,000 in campaign funds in the past year with eleven law firms in 12 states for legal resources to block disclosure of any of his personal records.
.

....Thank you Mark for sending this to me.


Mark
3rd Mar.Div. 1st Battalion 9th Marine Regiment
1/9 Marines aka The Walking Dead
VN 66-67


Posted by Wild Thing at August 4, 2009 04:47 AM
---
Comments
Just think-they find the real birth certificate in Kenya, proving Obama is not an American. He gets impeached, Butt plug Biden goes with him because he would be null and void as well. What do we get? Nancy Pelosi is President and Condoleeza Rice is VP because she was Secretary of State before the elections! A split ticket of two women. I think they should give the Presidency back to Bush, but that would be pushing it. I think we can impeach him, but he will never step down. He'll just be ineffective, just like he was during his tenure in the senate.
Posted by: Lynn at August 4, 2009 08:26 AM
---
Good ole Harry Reid doesn't want to waste the peoples time with such tripe as a possible real birth certificate of obama, which would prove beyond a doubt that this is clearly a violation of Article II of the constitution, he'd rather waste the people's money instead.
Posted by: Mark at August 4, 2009 09:02 AM
---
I wonder how much American tax money Hillary will spread around to the countries she visits. I can't complain too much. George Bush did the same thing to every country he visited. An American politician abroad is like Santa Claus at Christmas time.
Reid showed his brilliance again.
This birth certificate deal is beginning to look a lot like the "lost" Rose Hill law firm files in the Clinton administration.
Posted by: TomR at August 4, 2009 12:13 PM
---
A lot of those countries over there were part of the old English Empire, where the Sun never set on the English Empire. This makes sense In those two years quite of few countries became independent from England, Malta being another one.
So we shall see. Somebody in Kenya don't like Obama. Things keep leaking out, from that government. They wouldn't let Jerome Corsi leave the Air Port as a favor to Obama during the campaign and sent him home. But this stuff keeps coming out in bits and pieces. Hopefully, Orly Taitz can put it all together and we can be rid of this Soutpiel Puppet.
Posted by: Mark at August 4, 2009 03:31 PM
---