« Obama Joker Poster | Main | Knock.......Knock.......... »
August 04, 2009
Happy 219th Birthday U.S. Coast Guard

Video Clips of the US coast guard Music by - Aerosmith

The United States Coast Guard, one of the country's five armed services, is also one of the most unique agencies of the federal government. The USCG traces their history back to August 4, 1790, when the first Congress authorized the construction of ten vessels to enforce tariff and trade laws, prevent smuggling, and protect the collection of the federal revenue. Known variously as the Revenue Marine and the Revenue Cutter Service, they expanded in size and responsibilities as the nation grew.
The service received its present name in 1915 under an act of Congress when the Revenue Cutter Service merged with the Life-Saving Service. The nation now had a single maritime service dedicated to saving life at sea and enforcing the nation's maritime laws.
The Coast Guard began to maintain the country's aids to maritime navigation, including operating the nation's lighthouses, when the Lighthouse Service was transferred to the Coast Guard in 1939. Later, in 1946, Congress permanently transferred the Bureau of Marine Inspection and Navigation to the Coast Guard, thereby placing merchant marine licensing and merchant vessel safety under The Coast Guard purview.
.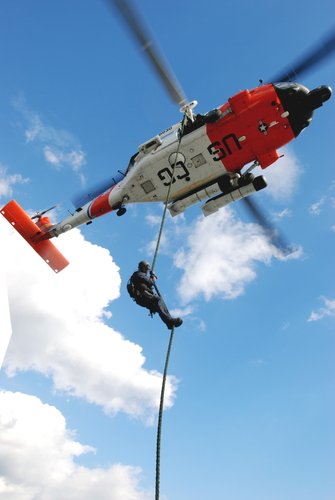 SEATTLE - A Maritime Safety and Security Team member conducts a vertical insertion demonstration from an HH-60 Jayhawk helicopter from Air Station Astoria, Ore., during Seattle Seafair on Lake Washington. Seafair is one of the Pacific Northwest's largest maritime festivals. Nearly 2 million Puget Sound residents attend the festival each summer. (Coast Guard photo by Petty Officer Third Class Tara Molle)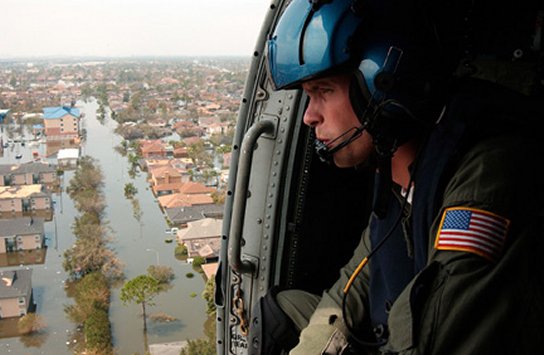 NEW ORLEANS (Aug. 30, 2005) - USCG Petty Officer 2nd Class Shawn Beaty, 29, of Long Island,
N.Y., looks for survivors in the wake of Hurricane Katrina here today. Beaty is a member of an
HH-60 Jayhawk helicopter rescue crew sent from Clearwater, Fla., to assist in search and
rescue efforts. USCG photograph by Petty Officer 2nd Class NyxoLyno Cangemi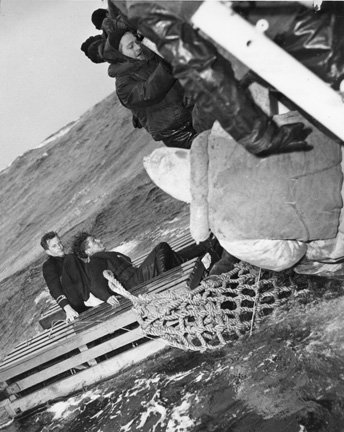 USCG Spencer Rescue, WWII
Happy 219th Birthday to U.S. Coast Guard
August 4 is celebrated as Coast Guard Day to honor the establishment on that day in 1790 of the Revenue Cutter Service, forbearer of today's Coast Guard.
While the equipment and technology have vastly changed, the Coast Guard's 'always ready' spirit remains the same.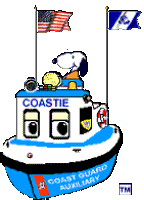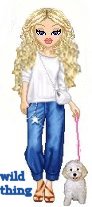 Wild Thing's comment........

Thank you to all serving in the Coast Guard and the Coast Guard Aux.. Happy Birthday!!!

......Thank you SSGT Steve
SSgt Steve
1st MarDiv, H Co., 2nd Bn, 5th Marine Regiment
2/5 Marines, Motto: "Retreat, Hell"
VN 66-67
Posted by Wild Thing at August 4, 2009 04:50 AM
---
Comments
Happy Birthday US Coast Guard. The often overlooked, but very important branch of service. They are there when needed.
Posted by: TomR at August 4, 2009 02:45 PM
---
I am not sure but they are in Peace time under the department of Transportation and during War transferred to the Navy department.
They were on Guadalcanal, during the invasion of the Island dropping off Marines and picking up the wounded.
Happy Birthday and Semper Paratis
and Semper Fi.
Posted by: Mark at August 4, 2009 03:11 PM
---
Some people say "The Coast Guard? They ride around in boats all day doing nothing" --- I say there are THOUSANDS AND THOUSANDS of people that were VERY thankful the Coast Guard was there for them when they needed it!! http://www.uscg.mil/History/h_militaryindex.asp ... and they've been there when WE needed them. HAPPY BIRTHDAY COASTIES!!!
Posted by: pontiff alex at August 4, 2009 04:48 PM
---
http://www.uscg.mil/History/weboralhistory/BIO_Jack_Rittichier_1968SAR.asp == A pretty fantastic and dramatic transcription from audiotapes. The Jolly Green Giants and their VERY BRAVE crews plucked ALOT of our guys out baaaaaaad stuff, and these HEROES were no different. It eventually cost them their lives. My guess is that they'd do it again, willingly. NEVER FORGOTTEN, E-V-E-R
Posted by: pontiff alex at August 4, 2009 05:02 PM
---
Thank you so much.

And Alex thank you for the links.
Posted by: Wild Thing at August 4, 2009 11:29 PM
---