« Obama Wants Air Force To BUZZ Taliban Before Bombing in Afghanistan | Main | 'Obama POWER Grab:' What does the Constitution have to say? »
August 16, 2009
In Country With Our Troops ~ Afghanistan
U.S. Marines go door-to-door in Dahaneh, Afghanistan.( Taliban Stronghold )
FOX News' Greg Palkot is the only reporter traveling with a combined force of 500 Marines and Afghan soldiers as they carry out day two of air and ground assault Operation Eastern Resolve. The operation is aimed at liberating a key town in Northern Helmand province of Taliban and to secure a strategic More.. pass used by Taliban fighters. What follows is Palkot's latest report.
Day two of Operation Eastern Resolve is drawing to a close. We are with Golf Company, with the 2/3 Marines, they have had a pretty busy day. And camera man Mal James and I spent some time with the Marines in this very dangerous town. It got off to a little bit of a rough start.
We've been hearing Taliban fire all around us, coming into contact with the Marines. I can hear it right now.
These Marines are working with another squad, another platoon as they work their way down this village trying to clear this place. But the Taliban aren't giving up.
The Marines are going house to house, they're going compound to compound to make sure that there are no militants remaining and they're doing it while the Taliban that the Marines didn't kill yesterday try to kill these Marines today.
Morning patrols faced some fairly stiff resistance — the Taliban firing from positions in the mountains surrounding the town, as well as sniping positions in town as well.
Not an easy job, but they're doing it, and the sense today is that a corner has been turned. Hot temperatures here today though, and some very tired Marines here tonight.
.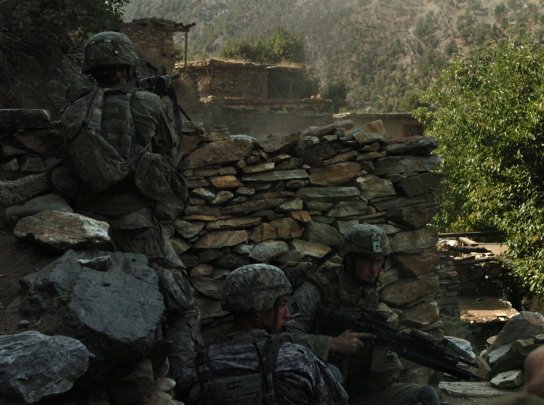 Gunfight and Airstrike in Korengal Valley
Photo by Sgt. Matthew Moeller

U.S. Army and Air Force personnel assigned to Company B, 2nd Battalion, 12th Infantry Regiment, 4th Brigade Combat Team, 4th Infantry Division, return fire at insurgent positions in the Korengal Valley's steep hillside in Afghanistan's Kunar province, Aug. 13.
The 20 minute gun battle ended with 500 pound bombs, dropped by U.S. Air Force F-15 fighter jets, destroying insurgent positions in the surrounding hills. No civilians were injured during the battle.
International Security Assistance Forces across Afghanistan have increased operations in recent months, in order to ensure safety and security during Afghanistan's second national election, scheduled for the end of August.

Obama's Afghanistan War Plan Faces First Major Test With Country's Election
Obama's new Afghanistan war plan is facing its first major test, and it's not on the battlefield.
The president has called next Thursday's election the most important event all year in Afghanistan. The first phase of the reordered counterinsurgency strategy Obama announced in March is hinged to it, and the U.S. is taking no chances, pressing a new military offensive this week to make sure the voting comes off well.
The Taliban has warned it will disrupt the election, including threats of suicide bombings of polling places. Wide turnout would be a symbolic rejection of the insurgency, and the U.S. is hoping for more than token participation in districts recently under the Taliban thumb.
It's not about who wins the election, the White House says. Rather the voting is a test of the ability of U.S. forces to protect civilians -- the new top military priority -- and the willingness of voters to accept that help. The success of the revised strategy depends on winning the trust of civilians.
U.S. officials stress that the elections are being run by Afghans, hoping the country will embrace the results as homegrown rather than the result of foreign fixers. However, that could leave the Afghan government holding the bag if voters see the results as illegitimate.
Obama sent 17,000 additional combat troops to Afghanistan in the spring and summer to help blunt a resurgent Taliban ahead of the voting, and his administration is spending millions to help an underperforming Afghan government run a relatively safe and open election.
About 400 Marines opened a large offensive in southern Afghanistan just this week to uproot Taliban fighters, disrupt intimidation campaigns ahead of the voting and help provide protected passage to the polls.
Before the U.S. Marines arrived, insurgents had papered one dust-blown town with notes warning that voting would mean a slit throat.
Insurgent attacks are already rising in Afghanistan, which U.S. commanders attribute partly to efforts to derail the election and partly to the fact that U.S. and NATO forces are pressing farther into former Taliban sanctuaries.
Deaths among U.S. and other NATO troops have soared. With 74 foreign troops killed -- including 43 Americans -- July was the deadliest month for international forces since the start of the war in 2001.
.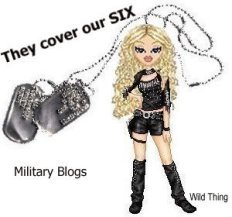 Wild Thing's comment.......
God bless our troops!!!! Prayers for our troops, they sacrifice so much every day and work so hard with never enough appreciation. For those that do get to read this, you are in our thoughts every day and we are so proud of each one of you.
Posted by Wild Thing at August 16, 2009 07:45 AM
---
Comments
Thanks Chrissie. The death toll will only rise when the Anal-ists in DC impose their Bullshit ROE's on the troops. I'd expect Obama-McChrystal anytime now to send out RSVP's before all future missions, then prosecute the survivors of the mission for for getting their buddies killed in action!!! This is the same mentality I saw on my tour in '68-'69, A pair of dinks on a cycle ran into the side of a convoy hauling heavy loads, were crushed as a result and the driver was hauled off in cuffs to be sent to LBJ for manslaughter just because the dinks slammed into his vehicle, another driver died because of hesitation to react to a threat from a 12 year old who was tracking him with a rifle then shot him and melted into the crowd, under ROE's where your are expected to get killed before taking action and getting permission to return fire. White and green tracers coming at you are not friendly fire!!! Insane!!!!
Posted by: Jack at August 16, 2009 12:25 PM
---
Our troops have a tough job right now. Afghanistan is very much an unsecured country. If the ROEs don't get in the way, we can kill a lot of Taliban and severly limit their movements.
A lot depends on the success of this upcoming election. If most Afghans can get to the polls and vote, maybe they will be encouraged like the Iraqis were with their first free vote. If this happens it will be a major setback for the Taliban.
Posted by: TomR at August 16, 2009 01:46 PM
---
Jack, thanks for sharing about the driver
in Nam and what happened. sheesh.
Your right it is the same mentality.
Posted by: Wild Thing at August 16, 2009 06:02 PM
---
Tom, I think so too, it will give them
more courage to stand up to the Taliban.
Posted by: Wild Thing at August 16, 2009 06:05 PM
---
That's what I was going to say. This thing is escalating and the ROE's are getting more and more strict and limiting.
Maybe it was better in the jungle, today they are all in the open and too many people can see and not understand what is happening.
When you have a squad, fire team or even a platoon working together. Then something goes wrong. A linemen from 9th Engineers, running wire out to our hill was captured, tortured and mutilated. It seemed from that day forward all illusions of codes of conducts and humanity seemed to end. the sweeps became more vicious, and Charlie got better at making and placing his mines, which were horrendous a lot of our guys were cut in half or were decapitated. It seemed like we lost a couple of our men every day. We were all insane with fear and hatred. We didn't give no quarter nor got any. ROE's violated probably, but no one said anything. I think the ROE's then were better than to day for sure, but sometime you just didn't give a shit.
Posted by: Mark at August 16, 2009 07:28 PM
---
Mark, it took me a while to realize it was personal, that they wanted to kill little old me, it didn't matter if I was alone or with someone.
I'd resigned myself to my not coming back, sick and tired of living in fear at base and on the road, once I decided I wasn't going to survive I became callous and mean, I didn't make any friends amongst the locals after being there a while, all of them were the enemy and like all other soldiers it became a no quarters barred battle. I despised Marvin, I was locked and loaded twice with the bastards and the white mice noted that I didn't give a rats ass about them or Marvin. It came back up the 23rds chain, I caught some flak about that and fire discipline, shoot at me and I shoot back, it's that simple, I did have a great CO, he'd take me aside and say you know I've got to answer these charges, now get out of here.
My CO stopped me from dropping one next to my hootch, that old mustang could read my mind, that dink was pacing off the distance to the backtracking radar just off the bluff by my quarters.
I'm sorry you had such horrible losses, that nasty capturing and mutilation happened all around us, one incident was less than 100 yds from my tent, three of Americal's men were butchered while guarding the area, it was no mans land on our north side making for a lot of unease, a former Marine position at Ky Ha. We had some wounded but no fatalities, we were sniped, ambushed, mortared, rocketed everywhere we went and even shelled from across the DMZ, I took it all personal after a while, I carried two frags at all times, one for them, the other for me. They were not humans, humans don't do that to other humans, there is nothing different with the unhuman things we are battling right now. We have to prosecute these undeclared wars as police actions because there are no declarations of war and we have no leaders. The Geneva conventions have been a crude joke since 1949. There is nothing policelike about all out war from the other side that observes no rules especially those they signed at Geneva, only torture and killing rule. You do whatever you have to do to survive, a lesson every newbie learns if they live long enough.
Semper Fi Mark
Welcome home brother!!!
Posted by: Jack at August 16, 2009 09:57 PM
---