« Americans for Prosperity "Hot Air Tour" To Fight Against Cap and Trade | Main | Veterans, Seniors, Doctors & Small Businesses ALL Oppose Obamacare »
August 01, 2009
GEN David Petreaus Speaking To The Marine Corps Association in Arlington VA
GEN David Petreaus, Commander, CENTCOM speaks about the unique nature of Marines, before the Marine Corps Association in Arlington VA.

Principles, Innovation Reveal Marines' Success, Petraeus Says
ARLINGTON, Va.,
July 31, 2009
The secret to the U.S. Marine Corps' success is a blending of bedrock principles with innovation, the commander of U.S. Central Command said here last night.
Using two examples from recent history -- the heroism of the last Marine Medal of Honor recipient and the turnaround in Iraq's Anbar province, -- Army Gen. David H. Petraeus shared his view at an event hosted by the Marine Association Foundation.
"On the one hand, Marines display a stalwart resistance to change in those bedrock values that form the very foundation of what it means to be Marine," he said. "On the other hand, Marines demonstrate a ready embrace of innovation that allows them to adapt to the environments in which they operate and to the enemies they face."
Some of those timeless, unchanging truths that describe the Marine Corps include an unflinching devotion to one's fellow Marines, a ready embrace of hardship and a universal emphasis on the skills and the spirit of the rifleman, he said.
Petraeus said these underlying principles are illustrated in the story of Marine Corps Cpl. Jason Dunham. In 2004, the 22-year-old Marine was killed in action in Karabilah, Iraq, when he used his body to cover a grenade and shield his fellow Marines from the ensuing blast.
Dunham became the 295th Marine to receive the Medal of Honor, the nation's highest military decoration, which is bestowed for gallantry in action. The Navy will christen a ship named in the fallen Marine's honor -- the USS Jason Dunham -- next week during a ceremony at Bath Iron Works, Bath, Maine.
Petraeus said the Marines' actions in Anbar province illustrate their ability to adapt their strategy to meet unique challenges.
In 2006, Anbar province was one of Iraq's most contentious regions. It was a society that had collapsed under the weight of an endemic insurgency with an infrastructure dilapidated by years of infighting and neglect. But amid the surge of U.S. forces in 2007, al-Qaida operatives overplayed their hands in Anbar, alienating local residents. Meanwhile, the influx of U.S. Marines helped to tamp down violence and create political breathing room, which in turn allowed the forging of key alliances between local tribal sheiks and coalition operators.
"As a result, sheiks started coming forward to coalition forces to discuss an alliance to throw off al-Qaida," Petraeus said. "And this was the opening we needed."
The "Anbar Awakening," a societal purging of extremism by Anbaris, and formation of a civilian security group known as "Sons of Iraq" ushered in a level of stability unprecedented since U.S. operations in Iraq began.
"It is not an exaggeration to say that the Anbar Awakening helped alter the course of events in Iraq," Petraeus said. "And I believe that generations from now, historians will continue to view it as a great example of the principled application of long-standing counterinsurgency principles."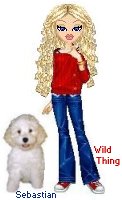 Wild Thing's comment.......
Gen. Petreaus is so good, I love the way he told this joke. He knew he would get a reaction heh heh
He has really shown how he cares about all our troops, in every branch of service they have really respected him and he has them as well.
Posted by Wild Thing at August 1, 2009 07:45 AM
---
Comments
I think of General Petraeus as the Omar Bradley of this generation. He has all the qualities of a great military leader.
Posted by: TomR at August 1, 2009 01:37 PM
---
He sure is a great leader.
Semper Fi , General
Posted by: Mark at August 1, 2009 04:10 PM
---
Thank you Tom and Mark.
I agree Tom and Omar Bradley said one
of my all time favorite quotes.
"Freedom! No word was ever spoken that held out greater hope, demanded greater sacrifice, needed more to be nurtured, blessed more the giver, cursed more its destroyer, or came closer to being god's will on earth. And I think that's worth fighting for." -- General Omar Bradley
Posted by: Wild Thing at August 1, 2009 07:42 PM
---