« Wow!! How does this dog know Obama is trying to give things away!! Must See! | Main | Vietnam Veterans....Honor, Valor, Courage »
August 24, 2009
Fed-up Marine Has Guns Blazing to Oust Democrats ~ Go Jesse Kelly!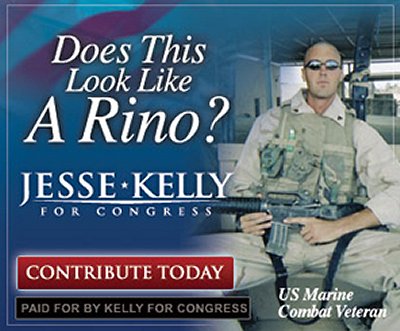 .
Jesse Kelly stands for limited government, fiscal sanity, and free market solutions to bring about economic recovery and restore liberty. It take leadership and integrity to represent our nation and I stand by our founding principles and the core values of America's greatness. Join us and together we will retake the Congress in 2010.
Fed-up Marine has guns blazing to oust Democrats
'They're destroying this nation, and while I'm still breathing, I will not let it happen'
By Joe Kovacs
"Send a warrior to Congress."
"Does this look like a Rino?"
In the battleground of American political power, candidates for office tend to use every weapon at their disposal to be heard above the din.
Now, a U.S. Marine who helped lead the initial charge into Iraq to oust Saddam Hussein is taking that approach literally by brandishing his M-16 assault rifle in some eye-catching campaign fundraising ads.
Jesse Kelly for Congress website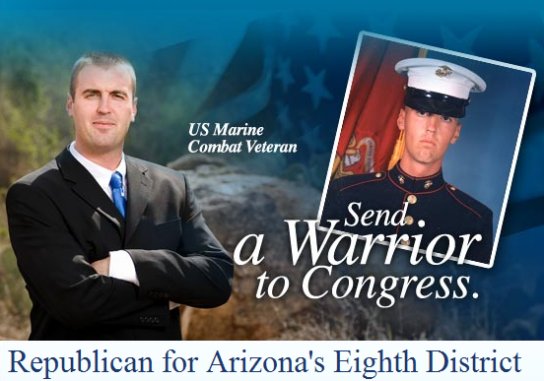 .
"I'm taking full credit for that," says 28-year old Jesse Kelly of Tucson, Ariz., a Republican seeking to boot Democrat Gabrielle Giffords from the U.S. House of Representatives. "If you're not going to get anyone's attention, you might as well not waste your time or money."
Kelly, who is married and has a 9-month-old son, is splashing his spots across the Internet on high-profile sites such as the Drudge Report, and offering no apologies about the weapon imagery.
"I think people understand fully well that I'm serving my country," he said. "I'm in Iraq at war for my nation. I'm not posing in my bedroom with a gun."
To date, the former infantryman says he's collected about $100,000, expecting to need up to $1.5 million to win the race.
Regarding his "tough guy" theme, Kelly said, "People are sick of politicians from all parties. They're lying to them. People want someone to fight for them in Washington and that's the message I want to convey."
After being honorably discharged in 2004 and taken off inactive reserve last year, Kelly now works in the private sector as a project manager for a construction company that handles commercial water and sewer projects.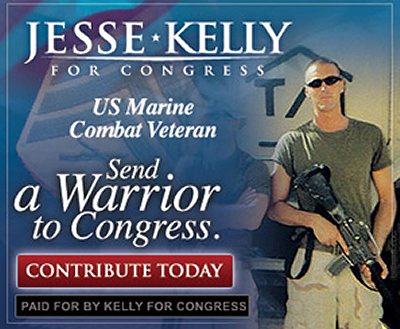 .
While he says he always loved politics, he never had a desire to be a politician.
But that all changed with the election of Barack Obama – whom Kelly calls a "radical president" – and the signing of the stimulus bill "monstrosity."
"They're spending us off the cliff!" he exclaimed. "They're destroying this nation, and while I'm still breathing, I will not let it happen. It's time to be 'in your face.'"
Indeed, Kelly's online ad thrashes the current administration, stating:
I'm tired of President Obama and the liberals who control Congress insulting us, calling us racist, and calling us a mob. I'm tired of their double-talk. I'm tired of their bait-and-switch shell games. I'm tired of being avoided by my public servants. They have forgotten that they work for us. ...
Ronald Reagan once famously said, "Freedom is never more than one generation away from extinction." We are that generation! Either we stand now and fight for our country, or the great United States of America may be but a fading memory.
He told WND his main goals are to "bring fiscal sanity back to Washington, to stop the out-of-control spending, and get back to the founding principles of free market capitalism."


.
Here is a video from Jesse's recent Town Hall, August 13, 2009, Green Valley. He stepped in after Congresswoman Giffords (AZ-8) cancelled her scheduled appearance. Gabrielle Giffords (D)- AZ was scheduled to hold an event at the American Legion Post #66 in Green Valley/Sahuarita, Arizona. She canceled, so Jesse Kelly held a town hall in her place. There were folks who support Obamacare and folks who oppose it. Kelly took every question straight on for two hours. Here's a five minute overview of the morning. More clips to come.
Kelly actually took over a town-hall meeting this month when its original congressional host, Rep. Giffords, canceled her appearance.
He stressed there's "no question" the national outpouring of rage against members of Congress is "100 percent genuine."
"These are citizens concerned about a government takeover of one-sixth of the economy," Kelly said, explaining Americans are not ready to give life-and-death decisions to Obama.
"These people are scared of a government that has grown radically out of control."
.
Jesse Kelly on the American Dream
Speaking about his 7 month old son, James...... " he does not have full use of all his motor skills yet but he is in debt up to his eyeballs." ( regarding the American dream)
The sound in the video is not that great, but you can still hear what he says and it is awesome.

.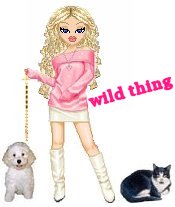 Wild Thing's comment........
It is exciting to see what is happening. From the Tea Parties, to the Townhalls, and the people speaking out and new people, CONSERVATIVES, wanting to run for office. Thank you God!
And to Jesse Kelly if you see this post, thank you for serving our country, God bless you and your family. And thank you for running for Congress. I am honored to post about you. I don't live in AZ, but our leaders in the long run represent all of our country, all of America when it comes time to vote for things. We need Conservatives and people that love our country.
Posted by Wild Thing at August 24, 2009 06:50 AM
---
Comments
Jesse Kelly sure has done his homework and has his act together.
Posted by: BobF at August 24, 2009 09:35 AM
---
This is what we need about another platoon of him to run for congress. Stand up and speak out, tell these morons, 'Hey dipstick, You work for us, not Nazi Pelosi,not barak obama, not the democrat party, us, we the people.' It time to tighten up the tether and if some of them choke tough.
Posted by: Mark at August 24, 2009 11:41 AM
---
There is a counter revolution brewing in America. Conservatives are stepping up to run for office. For the first time I can remember conservative Americans are actually protesting.
obama and his crowd are openly and blatantly changing and destroying American traditions and character. Now maybe a lot of the fence sitters and independents will step up and vote in 2010 against what is happening. Now maybe it is the conservatives time for hope and change.
Posted by: TomR at August 24, 2009 01:14 PM
---
This man gives me some hope again. Seeing him stand strong in Iraq with his weapon in hand somehow made me try to visualize Obama, Barney Frank, and a few other wimpy liberals in a picture like that and it brought a quiet chuckle out. I feel like we have a bunch of little bratty children running this country. I would like to just watch Obama and snotty nose Barney (and even their little ballerina friend), be sent to fight in Afganistan for only one month. It would be like watching the 3 stooges in war. They act like they are so baaad! THIS fellow knows reality and that is what we need in government. I would vote for him with no hesitation. I trust Jesse Kelly. He is down to earth, he loves America and cares about the future of the U.S. (and doesn't need a teleprompter to tell him what to say.) We need a whole lot more just like Jesse Kelly, and (of course)like Sarah Palin. What a world it would be!!!!!
Posted by: Liz S at August 24, 2009 11:50 PM
---
I am going to do some artwork for this guy's effort. Got to help him any way that I can. He's a long way from the Redneck Riviera, but I need him and his mindset in DC. No matter their home "turf", a US Representative affects us all, good or bad. Support the guy. ( Or a bunch of Marines will camp on your lawn til you do.)
nuf sed
Posted by: Frankly Opinionated at August 24, 2009 11:59 PM
---
I may be wrong, but my guess is that the Republican National Committees, will not finance this guy or any other "conservative" running for office.
Next time you get a phone call from one of these organizations, ask them if they are supporting Jesse Kelly, to the max. If not hang up.
Posted by: SEAN. at August 25, 2009 11:38 PM
---