« AARP, Losing 60,000 Members Gets Challenge From American Seniors Association | Main | Obama Going Into Lobbying Mode To His Organizing for America Supporters »
August 19, 2009
Obama Lame Duck So Soon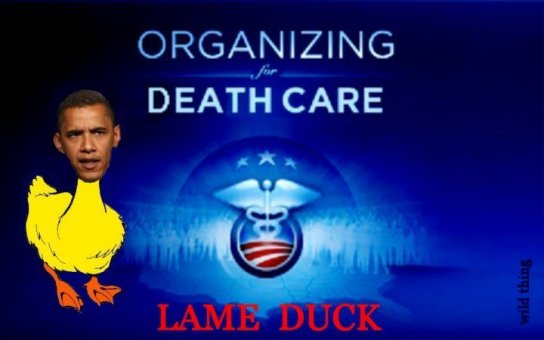 Debate's Path Caught Obama by Surprise
Public Option Wasn't Intended as Major Focus
By Michael D. Shear and Ceci Connolly
Washington Post
Wednesday, August 19, 2009
President Obama's advisers acknowledged Tuesday that they were unprepared for the intraparty rift that occurred over the fate of a proposed public health insurance program, a firestorm that has left the White House searching for a way to reclaim the initiative on the president's top legislative priority.
Administration officials insisted that they have not shied away from their support for a public option to compete with private insurance companies, an idea they said Obama still prefers to see in a final bill.
But at a time when the president had hoped to be selling middle-class voters on how insurance reforms would benefit them, the White House instead finds itself mired in a Democratic Party feud over an issue it never intended to spotlight.
"I don't understand why the left of the left has decided that this is their Waterloo," said a senior White House adviser, who spoke on the condition of anonymity. "We've gotten to this point where health care on the left is determined by the breadth of the public option. I don't understand how that has become the measure of whether what we achieve is health-care reform."
"It's a mystifying thing," he added. "We're forgetting why we are in this."
Another top aide expressed chagrin that a single element in the president's sprawling health-care initiative has become a litmus test for whether the administration is serious about the issue.
"It took on a life of its own," he said.
In search of new momentum, Obama plans to discuss the matter Thursday with thousands of his most loyal supporters in a nationwide "strategy call" hosted by Organizing for America, a grass-roots arm of the Democratic National Committee.
He is likely to repeat what he and his top surrogates have said for months: that he will not "draw a line in the sand" about the inclusion of a public plan and that no one provision is a "deal breaker" as long as the final legislation embraces his broad principles for reform.
"That's what we said in June; that's what we've said in July; that's what we've said," White House press secretary Robert Gibbs told reporters Tuesday.
Anger about an optional government-sponsored insurance program has been simmering for months, but the flare-up has created legislative and communications challenges for the White House at a critical point in Obama's push for reform.
Polls suggest that support is dwindling for widespread changes to the health-care system, and Democratic lawmakers have begun second-guessing the bipartisan strategy advocated by Obama and being pursued in the Senate Finance Committee.
Since lawmakers left Capitol Hill for their August recess, the national conversation about health care has bounced from talk of "death panels" to insuring illegal immigrants to an outright government takeover of the system, GOP pollster Bill McInturff said.
"Those are bad questions to spend weeks litigating in the public," he said. "They have spent weeks talking about negative premises about the plan."
The president has maneuvered gingerly around the issue of a public plan, largely maintaining that he prefers to include the public option in a new insurance marketplace. He often argues that competition from a government plan -- without high executive salaries and the need to post profits -- could keep big insurance companies "honest."
But Obama and White House Chief of Staff Rahm Emanuel have also signaled a willingness to consider other avenues. Addressing a joint session of Congress in February, the president made no mention of a public insurance plan.
At a White House summit in March, he said: "If there is a way of getting this done where we're driving down costs and people are getting health insurance at an affordable rate and have choice of doctor, have flexibility in terms of their plans, and we could do that entirely through the market, I'd be happy to do it that way."
When the Obama campaign first crafted its health-care proposal, the creation of a government-sponsored insurance option "was not the most important thing," said David Cutler, a Harvard University economics professor and campaign adviser on health-care issues.
Obama, like Cutler, embraced the concept because it would afford consumers more options, Cutler said.
But while the idea has given conservatives an opening to attack Obama for allegedly supporting government-run health care, "to the left it's become this unholy grail" without which any reforms would be inadequate, Cutler said.
Richard Kirsch of Health Care for America Now said the idea was destined to become a flash point for the Obama administration as it began the health-care debate.
"They couldn't have avoided it," said Kirsch, an early proponent of the public option idea. "It was impossible. It was always going to be something that progressives really cared for."
Kirsch said early criticism of the concept by conservatives and insurance industry groups helped solidify liberal support for it.
"The right went on the attack," he said. "As a result, the issue got tremendously elevated. Because the right attacked it aggressively, it became a centerpiece of the battle."
Republicans signaled Tuesday that dropping the public option would not garner additional GOP backing. Jon Kyl (Ariz.), the second-ranking Senate Republican leader, criticized an alternative idea of creating a private insurance cooperative, calling it a "Trojan horse" that was effectively the same as the public option.
"It doesn't matter what you call it, they want it to accomplish something Republicans are opposed to," he said.
Kyl's comments came as other conservative Republicans joined in to bash the co-ops idea. Rep. Tom Price (Ga.) said, "A co-op that is simply another name for a public option, or government-run plan, will be rejected by the American people."
One Democratic strategist involved in coordinating the pro-reform message among many like-minded groups said the Republican response was predictable.
"We were always concerned about leading with our glass jaw," he said. "We felt we probably shouldn't make health-care reform be about this because it falls so easily into the socialized medicine, big-government theme."
Groups pushing for a public plan urged the White House on Tuesday to stick to its guns.
"They made a decision in June to be more public in their support for the public option," Kirsch said. "I think that was the right decision. They should stick with that, because it keeps their base with them."
One Democratic Obama ally lamented that the push for a public plan has become synonymous with victory on health-care reform.
"In the last 90 days, it has taken on an aura much more pronounced than it did the first four months of the year," said the activist, who spoke on the condition of anonymity to discuss White House strategy. He said Obama's advisers have stoked the controversy this week by creating the perception they were abandoning the public plan.
"If they made a mistake, it does go back to what I consider some inartfully framed phrases from the president and some other administration officials," the activist said. "To get where they had to go, they didn't have to depart too much from the language of June and July."
Jim Kessler, a vice president at the nonpartisan Third Way think tank, said that to the public, the health-care debate appears to be a "muddle." But the fierce sparring over the opposition may signal progress on the legislative front. He said: "We always knew this was going to be decided near the end."

Obama fighting for his presidency, not reform
Political Editor
August 17, 2009
The big question for President Barack Obama right now isn't about health care, but his own political survival.
If he fails to deliver health legislation, Obama will prove right those who said he was in over his head. That would make him something of a lame duck after only seven months in office.
But if he does manage to squeeze a bill out of Congress, it would be a Pyrrhic victory. By delivering unwanted changes to unwilling voters on a life-or-death issue, the president would squander the goodwill he earned during the campaign.
Voters now say passing nothing would be better than any of the plans stewing in Congress, so it's hard to imagine that lawmakers will return from their recess ready to take political risks.
The president is plenty smart, and has shown preternatural political instincts. But he made a rookie mistake on health care, and it could be the undoing of his once-promising presidency.
Obama refused to develop and sell a plan to the American people in a straightforward way. Even with the glow of his halo starting to fade, the president might have succeeded this summer with an honest pitch. In doing so, he would have also established the adult phase of his presidency and ended the awkward adolescence of his administration.
Instead, he outsmarted himself by trying a bait and switch.
Obama said he was letting Congress work. Instead, he tried to sneak his plan through.
The New York Times reported last week on the shadow negotiations between the White House and the bipartisan working group on the Senate Finance Committee.
The president was cutting sweetheart deals with the biggest drug makers, labor unions and other interest groups all contingent on the bill being crafted in Sen. Max Baucus' committee. Team Obama was in constant contact with the Senate group.
But in the House, the administration was nowhere to be found. As one House Democrat said, "They have been -- what is a good way to put it? -- available for consultation."
And when House liberals complained that he had let them down by not delivering a new government-run health program, Obama could just give them a wink. Just vote for the plan, Rahm Emanuel would whisper, and when the co-op is an inevitable bust, the national health plan will kick in.
But worse for Obama, his end run damaged what was once his greatest asset -- the belief among voters that he was something different.
Endless evasions and then a crackdown on opponents has made Obama look like just another president -- and a cynical one at that.
Emotionally invoking his grandmother's November death over the weekend to shame his critics was just the latest in a series of shoddy ploys.

.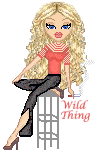 Wild Thing's comment.......
Wow, ifi you type into Google.....
obama lame duck president
There are a lot of newpapers and articles called Obama a Lame Duck or asking is Obama now a lame duck. heh heh
I don't want anything to do with his socialized medicine. One huge thing too, they better think twice before they make we the people live under Obamacare when the politicans will not be subject to it. THAT is not going to be acceptable either. How can anyone in office think we the people would allow our country to do such a thing. No way.
Posted by Wild Thing at August 19, 2009 08:49 AM
---
Comments
I wonder how much money they'd save on Health Care if they capped lawsuits, and limited Trial Lawyers in what, who and why they can sue.
They are so worried about an Insurance Company making a profit but Trial Lawyers don't bother them. More Hypocrisy from the party of hypocrisy.
Posted by: Mark at August 19, 2009 12:21 PM
---
Some critics are calling obama's presidency a lame duck if a major health bill is not passed. I hope obama's administration is more like a dead duck.
Mark - The trial lawyers put enormous sums into the campaigns of prominent Congresspeople and both obama and McCain. This money was supposed to make sure there would be no tort reform in any health bill. The present forms of health bills being argued have no tort reform provisions. The trial lawyers win in all senarios.

Posted by: TomR at August 19, 2009 05:09 PM
---
Mark, see now that would be a good idea.
That would make a huge difference.
Dems instead of making what exists run
better, or followed more to the law, they
just keep adding more laws that they will
mess up with later. Like the illegals, there
is a law, lots of them pertaining to illegals.
Good grief so instead of going by exisiting
laws they want to add more laws.
Posted by: Wild Thing at August 20, 2009 03:15 AM
---
Tom, heh heh me too good one.
Dead duck would be much better.
Posted by: Wild Thing at August 20, 2009 03:16 AM
---