« Nancy Pelosi, Hoyer: Freedom of speech 'simply un-American' | Main | Hillary in Congo "Hillary Clinton: I'm Secretary of State, Not Bill " ~ Bill in Las Vegas »
August 11, 2009
CIC Obama Calling it War on Al-Queda Now Facing Taliban Terrorism on Rise
US Commander: Taliban Winning in Afghanistan, Terrorism on Rise ........FOX News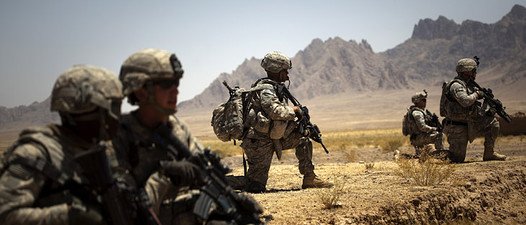 U.S. soldiers from the 5th Stryker Brigade take position next to Sari Ghundi village as they patrol near the Pakistani border in Afghanistan.
Taliban Now Winning
U.S. Commander in Afghanistan Warns of Rising Casualties

The Taliban have gained the upper hand in Afghanistan, the top American commander there said, forcing the U.S. to change its strategy in the eight-year-old conflict by increasing the number of troops in heavily populated areas like the volatile southern city of Kandahar, the insurgency's spiritual home.
Gen. Stanley McChrystal warned that means U.S. casualties, already running at record levels, will remain high for months to come.
In an interview with The Wall Street Journal, the commander offered a preview of the strategic assessment he is to deliver to Washington later this month, saying the troop shifts are designed to better protect Afghan civilians from rising levels of Taliban violence and intimidation. The coming redeployments are the clearest manifestation to date of Gen. McChrystal's strategy for Afghanistan, which puts a premium on safeguarding the Afghan population rather than hunting down militants.
Gen. Stanley McChrystal, the U.S. commander, is making protection of civilians a priority over hunting Taliban rebels.
Gen. McChrystal said the Taliban are moving beyond their traditional strongholds in southern Afghanistan to threaten formerly stable areas in the north and west.
The militants are mounting sophisticated attacks that combine roadside bombs with ambushes by small teams of heavily armed militants, causing significant numbers of U.S. fatalities, he said. July was the bloodiest month of the war for American and British forces, and 12 more American troops have already been killed in August.
"It's a very aggressive enemy right now," Gen. McChrystal said in the interview Saturday at his office in a fortified NATO compound in Kabul. "We've got to stop their momentum, stop their initiative. It's hard work."

To read the FULL ARTICLE Please CLICK HERE
.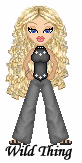 Wild Thing's comment.......
Any death of even one of our troops will be on Obama.
After this kind of thing, I doubt Obama care about any attacks by the Taliban.....
Obama wants to REACH OUT TO THE MODERATE TALIBAN" A Taliban spokesman, who said that the US president's overture was a sign of weakness, poured cold water on the notion that "moderate" fighters could be easily turned. Taliban spokesman Qari Yusuf Ahmadi said: "They say they want to speak to moderate Taliban, but they will not be able to find such people because we are united around the aim of fighting for freedom and bringing an Islamic system to Afghanistan." He added that Obama's comments were a reflection of the fact that the Americans had become tired and worried..........March 7 , 2009
Obama: "Victory" Not Necessarily The "Goal" In Afghanistan. ~ July 24,2009
"The President does not describe this as a 'war on terrorism,'" said John Brennan, head of the White House homeland security office, who outlined a "new way of seeing" the fight against terrorism.
The only terminology that Mr. Brennan said the administration is using is that the U.S. is "at war with al Qaeda." ....August 6,2009

.

....Thank you Mark for sending this to me.


Mark
3rd Mar.Div. 1st Battalion 9th Marine Regiment
1/9 Marines aka The Walking Dead
VN 66-67


Posted by Wild Thing at August 11, 2009 05:50 AM
---
Comments
Rules of Engagement. Thats the problem. We have turned our troops into a police department. Only problem they are not fighting a street gang. The bad news, the troops get to pay the price for this limp wristed bastard's ROE's.
Posted by: Mark at August 11, 2009 07:44 AM
---
Is Cindy Sheehan camping outside Zero's house yet? No? Where's the outrage on the left from this war? Oh yeah, it's Booooooooosh's fault.
This is going to be long and ugly. God bless our troops.
I can't believe he said this: Obama: "Victory" Not Necessarily The "Goal" In Afghanistan. ~ July 24,2009
Wow, how morally encouraging, Dipshit. I hope that was just a CYA moment in case it doesn't work out for him and that he doesn't really mean it. I can't believe people actually think this guy is brilliant. He's smart enough, he just thinks his shit doesn't stink and he's the bestest ever, so his arrogant attitude inappropriately appears to look like he knows what he's doing to those who need him to. His performance off the teleprompter confirms he's lame. Just lame.
Posted by: Eden at August 11, 2009 08:04 AM
---
You know, it's really ironic that the Taliban was a CIA funded operation to begin with! And when we helped them get Russia out of Afghanistan, they blamed us for letting Russia in!
So Obamanation thinks that a tie would be good? Everyone goes for ice cream after the war? We're all buddy-buddy? Time to unleash the dogs of Hell and let them do what they're suppose to do!
Posted by: Lynn at August 11, 2009 08:23 AM
---
Mark I was thinking the same thing as i read this. Same old Democrat BS. What about the poppy fields??? crop dust 'em with 2-4-d or whatever will kill them and take their money away. And crop dust the taliban with napalm!
The afghans can start growing food or eat sand. No more foreign aid to people that want us dead.
Posted by: Jim at August 11, 2009 09:35 AM
---
Taliban spokesman Qari Yusuf Ahmadi is correct - there is no such thing as a moderate Taliban. In fact there is no such thing as a moderate muslim for that matter. The agenda of the muslim faith is to bring the entire globe under the banner of Islam. If you have the time I urge all here to read the article below. It's a window to what this faith has in store for us (unbelievers, infidels)
Posted by: Lynette in Australia at August 11, 2009 09:44 AM
---
Moderate taliban is an excuse for obama to do nothing. Then hang the troops out to dry, with Bullshit ROE's.
Posted by: Mark at August 11, 2009 10:08 AM
---
Just a reminder of past failed policies under Dem control. We're still embroiled in a war in Korea, thanks to the UN and Democrats.
Vietnam was the legacy of Kennedy and Johnson that Nixon and Ford inherited: 58,158 died, plus 150,000 more in suicides, 100,000 imprisoned and 200,000 on parole for crimes against society, those stats are at least 10 years old. We are seeing the same thing in Afghanistan and Iraq due to ROE's and piss poor support from the administration, no decompression time, repeated deployments, the troops are doing the shitty job for the elitists that they won't touch, the troops are stigmatized by the guilt of fighting and killing in an undeclared war where the troops are the bait and have to die before engaging the enemy, then they are prosecuted for killing irregulars, labeled and treated as common murderers for doing their jobs. It's no damned wonder there is a PTSD problem. I think about how Korean and Vietnam veterans were treated and shudder at what these kids face as their legacy, not to mention the pain and suffering of the families involved.
Declare it a war you gutless whining sons of bitches in Congress!!! Either that or pull out if there is no intention of winning.
Posted by: Jack at August 11, 2009 11:36 AM
---
It's always been a global war between islam and the rest of the world (notice the achronym starts with G.W.B ! ha ha ha). George did not even have the guts to say so. The small 'o' has even less guts. The over extension of the troops is a bad thing, but other that that Go Get Em! Have they really changed the ROE over there? Do not hear much about that in the news, only on the blogs. Thanks WT for keeping up on the war news.
Posted by: Odin at August 11, 2009 03:09 PM
---
It is rapidly turning into Vietnam all over again. Unrealistic R.O.E. A sanctuary in a neighboring country(Pakistan is Laos/Cambodia). Not enough troops in the field. Confusing operations orders and no really stated goal.
In a few weeks of 2001/2002 a few small teams of Army Special Forces AND CIA para military operatives united the Northern tribes and decimated the Taliban. Why can't we do this again? Get rid of the generals and get some Master Sgts and CIA(former SF and SEALS)and work on the Southern tribes to turn them against the Taliban. In this war, a platoon of locals is worth a battalion of regulars.
At least we are doing the right thing with our drones flying out of Paki bases. They are decimating the Al Quada/Taliban leadership and disenchanting their troops.
Posted by: TomR at August 11, 2009 03:58 PM
---
Phoenix Program Part Deux is the ticket.....Terrorize the Terrorists, when one cuts the head off a snake it usually stops hissing.....(it's a metaphor, I like snakes!)
Posted by: pontiff alex at August 11, 2009 04:41 PM
---
You know the Talibam guy is right. They are committed, they are not moderate, they are committed to their cause. When they are that committed they are dangerous.
Barry's first mistake, he don't know the enemy. That's basic. And his offer to talk to moderates sounds like he is weak. They already got him figured out. Worst of all our troops are in the middle with very limited ROE's.
Posted by: Mark at August 11, 2009 09:53 PM
---
Mark, and this angers me so much.
"The bad news, the troops get to pay the price for this limp wristed bastard's ROE's."
Posted by: Wild Thing at August 11, 2009 11:40 PM
---
Eden, excellent point, yes where is ole Cindy
she has been MIA.
Posted by: Wild Thing at August 11, 2009 11:43 PM
---
Lynn, perfect, someone should
say that to Obama.
"Everyone goes for ice cream after the war?"
Posted by: Wild Thing at August 11, 2009 11:45 PM
---
Lynette, thank you soooo much for the
link to that interview.
Posted by: Wild Thing at August 11, 2009 11:47 PM
---
Jack, your so right, once again our
troops are at the mercy of the dems
trying to run this.
Posted by: Wild Thing at August 11, 2009 11:48 PM
---
Odin, thank you.
I agree, over extending of our troops
is going to make it even worse.
Posted by: Wild Thing at August 11, 2009 11:51 PM
---
Tom, I agree, so much of this feels like
during the Vietnam war.
Posted by: Wild Thing at August 12, 2009 12:00 AM
---
Alex, your right, there is a Greek
mythology about that, I forget the
name of the story. But one was to
cut the main head off of a monster
that had many heads. Once that
was done, it finally killed off
the monster.
Posted by: Wild Thing at August 12, 2009 12:02 AM
---
Mark, yes they are and their response
to Obama should have been a huge
warning to him not to even think
he could make nice with them.
Posted by: Wild Thing at August 12, 2009 12:03 AM
---