« Rush Limbaugh On Greta Van Susteren's "On the record" | Main | Two Different CIC's and One Military ~ The Military's Reaction Speaks Volumes »
July 24, 2009
Vietnam Veteran Re-enlists in Iraq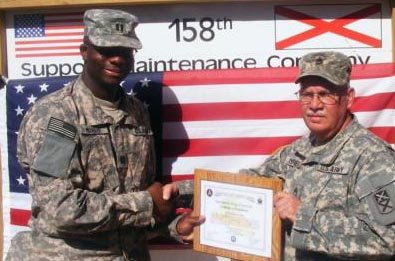 Army Sgt. 1st Class Hershel Mayfield, right, receives his re-enlistment certificate from Army Capt. Irvin Morris at Contingency Operating Site Marez East, Iraq, July 7, 2009. Mayfield has served 39 years in the Army, including 37 with the 158th Maintenance Company of the Alabama Army National Guard. U.S. Army photo by Staff Sgt. Martonio Patterson

Vietnam Veteran Re-enlists in Iraq
CONTINGENCY OPERATING SITE MAREZ EAST, Iraq
Army Sgt. 1st Class Hershel L. Mayfield is a Vietnam veteran with 39 years of service. But when he re-enlisted here earlier this month, his mind was on the future and the young people he serves with.
The Tallassee, Ala., native has served 37 years with the 158th Maintenance Company of the Alabama Army National Guard. He recently decided it was time to continue to serve his country for two more years.
"Everything I do today is done with the next generation in mind and how I can influence them to do the same for their nation," Mayfield said.
After serving on active duty in the Army for two years as an infantry soldier, Mayfield joined the Guard and reclassified as a light-wheel vehicle mechanic with a desire to continue serving his country. He said he appreciates the support he's received throughout his military career from his wife of 30 years and his children.
"It is a way of life, and they've learned to live in it," he said, noting his family has dealt with his absence during three deployments and numerous training events. He was deployed to Vietnam in 1969, Kosovo in 1996, and to Mosul, Iraq, in 2008.
"I joined the military because the base was adjacent to my home, and in order to have freedom, someone has to do the job," he said. "It also provided me with benefits that no other civilian job has."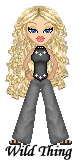 Wild Thing's comment........
Thank you Sgt. 1st Class Hershel L. Mayfield and your service is appreciated.
Posted by Wild Thing at July 24, 2009 05:45 AM
---
Comments
Sergeant First Class Hershel Mayfield là một trong những siêu quân nhân. Bền!
Sergeant First Class Hershel Mayfield is one super trooper. Tough!
Posted by: Jack at July 24, 2009 02:01 PM
---
Nam, Kosovo, AND Iraq? The RESPECT this man deserves cannot be measured by THANKS alone. A TRUE Hero among us. May he return safely to his family once again, and KNOW we are GRATEFUL for his service and the FREEEDOMS he's provided.
Posted by: pontiff alex at July 24, 2009 03:44 PM
---
Jack, yes he sure is. America has so many
awesome warriors.
Posted by: Wild Thing at July 24, 2009 07:17 PM
---
Alex, well said, we are truly grateful.
Posted by: Wild Thing at July 24, 2009 07:18 PM
---