« Obama 'smear' Site Vanishes From Web | Main | "Held Down" Under Heavy Fire: Echo Company Marines From 2/8 Battle To Hold Position »
July 11, 2009
The Best Of Jaywalking from the Final Jay Leno Tonight Show
There was a recurring sketch on Leno's Tonight Show called "Jaywalking," where Leno askedpeople off the street some questions regarding current or historical events. Leno frequented the areas just outside the NBC studios such as down Melrose Avenue or within Universal Studios Hollywood's City Walk.
This video was made with several of the Jaywalking tapes over the years and played on the last night that Jay did the Tonight show this last May 2009.
.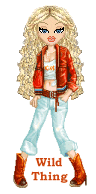 Wild Thing's comments........
This is one of the responses to one of Jay's questions.
" Founding Fathers of what???"
OMG! this is scary because this guy was serious. haha
Posted by Wild Thing at July 11, 2009 06:47 AM
---
Comments
Video has been removed. There is some wierd stuff going on.
Posted by: Mark at July 11, 2009 02:39 PM
---
Mark, yes very weird.
Maybe Jay's old show had them take it down
but that would be too fast for it to happen
in only a few hours. weird
Posted by: Wild Thing at July 11, 2009 11:13 PM
---