« USMC Combat Veteran Jesse Kelly Is Running for Congess in AZ. | Main | Global Warming: Fact, Fiction and Political Endgame »
July 10, 2009
Texas Band Flyleaf Delivers High Spirits to Troops Overseas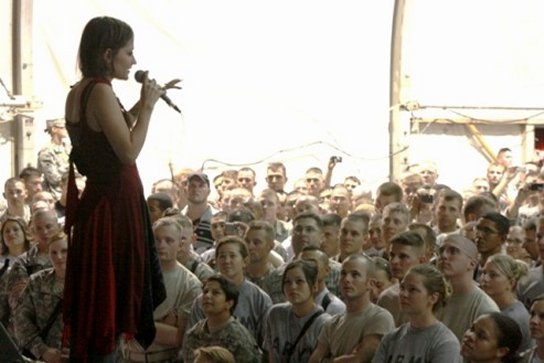 Flyleaf vocalist Lacey Sturm performs in front of hundreds on Bagram Air Field, Afghanistan, July 6, wrapping up their first overseas tour for troops. (Photo by U.S. Army Capt. Michael Greenberger)
Flyleaf vocalist Lacey Sturm unleashes a vocal torrent during a show on Bagram Air Field July 6. The band performed 15 songs and signed nearly 1,000 autographs on the 2nd largest military base in Afghanistan. (Photo by U.S. Army Spc. Opal Hood, 5th Mobile Public Affairs Detachment)

.
by Army Capt. Michael Greenberger
5th Mobile Public Affairs Detachment
BAGRAM AIR FIELD, Afghanistan
Nearly a thousand service members were treated to a healthy dose of hard rock July 6 thanks to the Texas-based band Flyleaf.
On a tour sponsored by AKA Productions, the band arrived at Bagram Air Field just in time to take the stage in the Morale, Recreation, and Welfare "clamshell" tent, somewhat late from a previous show at Forward Operating Base Ramrod in southern Afghanistan.
While waiting for Flyleaf's arrival, the band's opening act consisted of a group of service members playing the videogame Rock Band. Projected on a massive screen, people took turns singing and playing on guitar and drum game controllers while the crowd howled for more.
"The Rock Band part was fun," said Army Pfc. Jessica Kimball. "They should do that more often. It's a good way for people to interact with each other."
The warm-up act starred a "band" that won a Rock Band competition on Bagram just weeks prior. Many of the service members who took the stage participate every Wednesday in a weekly get-together for, what else, Rock Band night.
"Rock Band is important because it's the closest thing on BAF to a party," said Army Staff Sgt. Matthew Miller. "It's a great social event and anybody can be a rock star for an evening."
Flyleaf got into the electronic gaming world with one of their songs, "I'm So Sick" appearing on the Rock Band video game.
After two hours of jamming, the "Rock Band night" regulars relinquished the stage to the newly arrived Flyleaf, who took the stage to a mass of cheering people.
First up in their hour-long set was a new song titled "Justice and Mercy".
"This first song was written with all of you in mind," said vocalist Lacey Sturm as she greeted the crowd.
In the lyrics, the words "The living and dying, surviving, we're trying to breathe in safety – come home safely" were written for Soldiers, said tour manager Kat Hartmann.
"The song is about respect for the troops," Hartmann went on. "We respect everything they've done like putting their lives on the line, which is also in the lyrics to the song."
As the musical set began, the intensity of the crowd was audibly carried up a notch when Sturm's lyrical voice turned to primal scream in the middle of "Breathe Today", a song off their debut, self-titled album "Flyleaf".
We've travelled overseas to Europe and other places before," said Hartmann. "But we've never gone into a war zone."
Their first ever tour for the troops took them from Qatar to a remote outpost called FOB Baylough in southern Afghanistan near the Pakistan border.
"The FOB is a really rough place," said Sturm. "They just have the bare essentials and the guys there said no one had been out to see them in years, so we were really excited to get out to see them."
According to Sturm, Flyleaf had wanted to come see the troops for a while and the band got lucky when another group cancelled its tour.
Travelling light, Flyleaf performed their shows acoustically, which is something they're not used to doing. In addition to a light equipment load, two members of the band couldn't make the tour. Bass player Pat Seals and guitarist Sameer Bhattacharya stayed behind for personal reasons while lead singer Sturm's husband Josh stepped in to play guitar for the duration of the tour. But in true wartime fashion, Flyleaf did the very best with what was available.
They did a great job with what they had," said Army Pfc. Michael Langford. "The show was great and it's nice to know that people actually do care about us."
And care they do. Flyleaf got their start in Belton, Texas, a "stone's throw" from one of the largest military bases in America, Fort Hood.
The band played lots of shows near Fort Hood, Sturm explained. "But this was our first time out playing to a completely 'military' audience," Sturm said. "It was just overwhelming to look out into the crowd and see nothing but uniforms."
The Flyleaf show was full of special treats for the troops. According to Hartmann, the group played their new songs "Chasm" and "Circle" from their upcoming album "Memento Mori" for the first time live. The band also stuck around and signed autographs for anyone who wanted them, a process that took the rockers well past 2 a.m.
"I think that after being exhausted from flying all day and performing multiple concerts, the fact that they offered to stay, sign autographs, and take pictures with the troops really exemplifies how down to earth and selfless they really are," said Army Staff Sgt. Charlene Fick. "They stated during the show how proud they were of us, but I am proud of them for thinking of us and jumping at the opportunity to come to a somewhat dangerous area to perform for us."
"This was our first tour for the troops," said Sturm. "I hope we can come back and do it again."

.

Wild Thing's comment.......
Lacey Sturm has a great attitude and I love how she really lets you know she wanted to be there and support our troops.
Posted by Wild Thing at July 10, 2009 04:40 AM
---
Comments
These guys need all the encouragement they can get lord knows they get none from the Soutpiel puppet and his band of lemmings in congress.
These concerts have got to be a shot in the arm of good will. God bless the Troops and the band.
Posted by: Mark at July 10, 2009 11:56 AM
---
Thank them all for what they do. Entertainers in a battle zone are special people, it means much more than civilians will ever know. Bob Hope when in country was still a million miles from our locale. My only show was at a 1st infantry Division affair, a Korean band and troupe played and sang in very poor English but we all appreciated them, the touch of home, the comradery and the escape from reality. Their stage was two plywood covered flatbed trailers from our unit inside a helicopter tent, we sat amongst the bugs and mud outside, it was all over too soon and they winged it out on Huey's almost before we knew they were gone.
Posted by: Jack at July 10, 2009 01:39 PM
---
Mark, I agree, it feels so good to see their
faces smiling and knowing for even a little
while they can be having fun like this.
Posted by: Wild Thing at July 10, 2009 08:10 PM
---
Jack, thank you so much for sharing about
that.
Posted by: Wild Thing at July 10, 2009 08:11 PM
---