« U.S. Combat Forces Turning Over Security of Cities in Iraq | Main | President Reagan Jokes About the Soviet Union »
July 01, 2009
Terrorists Behead Polish Engineer Piotr Stanczak's Refusal to Convert To Islam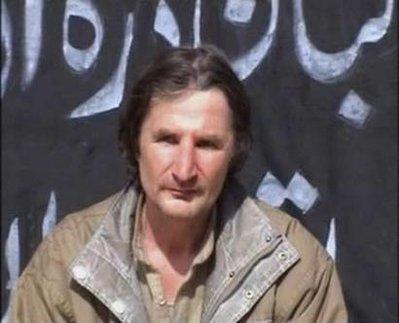 .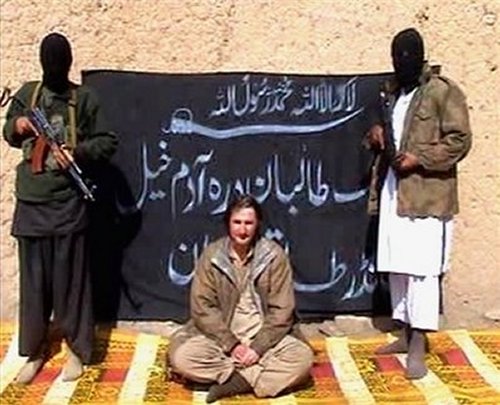 Given the opportunity by his devout kidnappers to avoid beheading by converting to Islam, engineer Piotr Stanczak chose death.
Polish engineer's refusal to convert costs him his life
Piotr Stanczak did not exhibit the slightest hint of hesitation when the Pakistani Taliban asked him to choose between execution and conversion to Islam.
Whether the Polish geologist acted out of pride or religious conviction, he decided to pay through his blood to save his faith, a choice that bewildered his killers and keep them talking about him with respect after his murder.
Stanczak, 42, was kidnapped Sep 28 on his way to survey for oil exploration in Attock district, of Pakistan's eastern province of Punjab. The kidnappers also killed his driver and two guards. Militants released a gruesome seven-minute video in early February showing his beheading. One of the murderers blamed the Pakistani government which failed to accept their demands for the release of detained militants.
Warsaw reacted angrily, slammed Islamabad's "apathy" in tackling terrorism and offering a 1 million zloty ($300,000) reward for information leading to the capture of the Taliban militants who beheaded Stanczak.
Among the militants whose release was sought by the Taliban was Ahmed Omar Saeed Sheikh, a British-Pakistani who was sentenced to death for the 2002 abduction and murder of US journalist Daniel Pearl.
When negotiations between the representatives of the Pakistani government and the hostage-takers failed, the Taliban leadership gave the Polish man a last chance to save himself, Stanczak's captors revealed to another hostage, a Pakistani man Mohammad Amir.
Amir - a pseudonym as he asked for anonymity to avoid possible repercussions - was released recently after his family paid 1 million rupees ($25,000) to agents of Taliban commander Tariq Afridi.
Afridi heads a small group of Taliban in the Orakzai tribal district and is loyal to Baitullah Mehsud, the chief of local Taliban who has a $5 million bounty on his head for being an Al Qaeda facilitator. Pakistani troops have recently been ordered to take decisive action against Mehsud.
In an interview with DPA in Attock, Amir said he was kept in the same cell where Stanczak was held for a month before the Polish man was decapitated. Amir said Taliban soldiers guarding the two-storey prison building in South Waziristan, a lawless tribal district bordering Afghanistan, frequently chatted with him and one day they mentioned the abduction and killing of Stanczak.
"Our people were keeping an eye on his (Stanczak) movements for several months. We were expecting that we could exchange some of our mujahideen in the government's custody for him," Amir quoted a guard as saying.
Because Stanczak was a high-profile target, the Taliban made extensive preparations to kidnap and shift him to a safe place from Attock, some 100 km from Islamabad.
"You know the Indus river lies between Attock and North Western Frontier Province (NWFP) and our people could not use the bridge to cross it because it is heavily guarded. So we bought a boat to transport Piotr across the border," the guard, who identified himself as Abdullah, told Amir.
From NWFP, Stanczak was moved to the Tirah Valley of the adjoining Khyber tribal district, and a month later to the Taliban's stronghold of South Waziristan, a 14-hour drive through muddy mountain tracks.
"Piotr never showed any sign of nervousness or fear. He would finish the food we gave him and sleep well. We all admired his courage. It was not an easy decision even for our commander to kill Piotr," Abdullah said. "That's why he gave him a last chance."
"But he was very stubborn and refused our goodwill gesture to save his life," Abdullah was cited as saying by Amir. Piotr said first we should release him. He will go back to his country, consult his family and read about Islam and only then decide about converting to Islam.
"This surprised everyone but we had to kill him because principles are principles - we gave him a chance and he lost it," the guard told Amir. "But undoubtedly he was a brave man."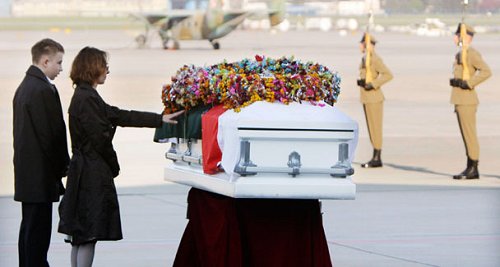 The son and Stanczak's girlfriend of Polish geologist murdered by militants in Pakistan pay homage to him at his casket after his remains return to Warsaw, Poland .AP Photo

Body of Polish man slain in Pakistan returned home
April 29, 2009
Warsaw, Poland
The remains of a Polish geologist beheaded by militants in Pakistan were returned to Poland in a casket draped in the two countries' flags and covered in flowers.
Piotr Stanczak's body was flown to Warsaw's military airport on a Pakistani air force plane. In a short ceremony on the tarmac, a Roman Catholic priest prayed over the white casket.
Dressed in black, Stanczak's son and girlfriend stood briefly by the casket, their heads bowed.
The geologist was one of a handful of foreigners kidnapped in Pakistan in recent months as the country witnessed deterioration in security along with a rise in al-Qaida and Taliban-led violence.
Stanczak was kidnapped Sept. 28 close to the Afghan border while he was carrying out a project for a Krakow-based geophysics company that surveys oil and gas fields.
He was held hostage for several months before his captors beheaded him in February, a killing that they videotaped.
On Sunday, a car dropped the casket near a paramilitary camp in Razmak, Pakistan.
Officials then confirmed the remains were those of Stanczak.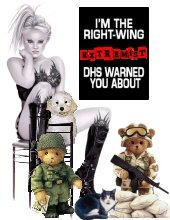 Wild Thing's comment........
This innocent man, to the end, probably had the faint hope, if not the expectation, that his captors would not wantonly and cruelly murder him.
It's difficult to get decent, regular folk to understand that this is real and possibly coming to this country. We will be seeing similar cases right here in the USA in view of our government's effort to bring in more and more Muslims. And the fact that obama favors Muslims above all.
And the world is waiting for the "moderate" muslims throughout the world to condemn this act.........waiting for the sun to turn into a Red Giant and then become a white dwarf.
Obama these are YOUR people that did this.
Posted by Wild Thing at July 1, 2009 03:55 PM
---
Comments
Why do the politically correct not understand?
Islam is not a religion, but an evil plan for global domination through conversion or killing of every human on earth.
Islam REQUIRES brutality towards women, sex between men and little boys (and goats).
One day, if it isn't too late, that the only choice is for us to obliterate islam before islam obliterates us.
That Polish geologist was true to his faith in Christ. He is enjoying his reward in Heaven, no doubt. His killers have a miserable afterlife awaiting them.
Death to islam.
Posted by: Billy Ray at July 1, 2009 04:21 PM
---
A very brave man. Something muslims have trouble understanding.
You are right Chrissie. We needed to stop letting muslims into America on 12 Sep 01. Even those that are moderate need to stay in their own countries and work to reverse the role radical islam is playing. They need to be brave like Piotr Stanczak.
Posted by: TomR at July 1, 2009 06:54 PM
---
Its too bad we have no leaders with this kind of courage. All we have are pompus, arrogant, money gurbbing stealing politicians. Obama could learn alot from this man...Moderate Moslems ? they don't exist.
Posted by: Mark at July 1, 2009 09:22 PM
---
Like I told my liberal demloonies Wild Thing, "Beheading infidels is tolerated by the PC mainstream pacifists, but waterboarding islamofacist terrorists is torture?
I'm baaaaaaaack!"
Posted by: darthcrUSAderworldtour07 at July 1, 2009 10:23 PM
---
The script reads: ",,,"This surprised everyone but we had to kill him because principles are principles - we gave him a chance and he lost it," the guard told Amir. "But undoubtedly he was a brave man."
This man's conviction and bravery in the face of threat is greater than 1,000 of those ragheaded cowards. They'd put a suicide vest on their child, or order the "troops" to fight while they hide in a cave. Cowards and 7th century rock throwing savages.
What do you call a raghead who has both a camel and a goat? Bi-sexual.
nuf sed
Posted by: Frankly Opinionated at July 1, 2009 10:46 PM
---
Billy Ray, I agree so much.
He was very brave, and as I posted this
I could only feel that even if he had
mouthed they words they demanded they
would have killed him anyway.
He will always be remembered for the
stand he took and how brave he was.
Prayers for his son and his loved ones.
Posted by: Wild Thing at July 2, 2009 01:13 AM
---
Tom, that is so true, these people will
never understand.It is so much a part
of who they are.
Posted by: Wild Thing at July 2, 2009 01:16 AM
---
Mark,I agree so much. Obama would
literally choke on the words Honor
and what it means.
Posted by: Wild Thing at July 2, 2009 01:22 AM
---
Darth, yippee so glad. Glad too the
project you were working on is done.
I have not had a chance to get to all
my emails yet.
Your right about how the left thinks
of waterboarding and beheading too.

Posted by: Wild Thing at July 2, 2009 01:26 AM
---
Posted by: Wild Thing at July 2, 2009 01:27 AM
---
The world will never ever be safe until every muslim on the planet is fed to sharks.
Posted by: cuchieddie (American) at July 2, 2009 11:13 AM
---