« Obama's Socialized Medicine The Tool To Destroy America | Main | Rahm Emanuel: Changes To Health System Take Time »
July 26, 2009
Sarah Palin Picnic in Wasilla, Alaska (Speech~Video)
.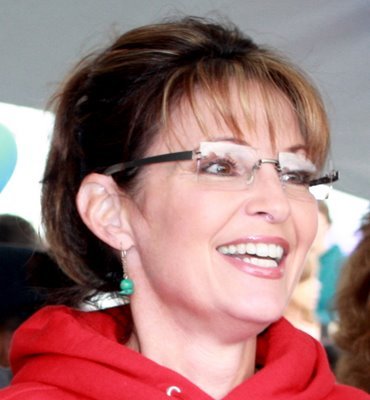 Gov. Sarah Palin kicked off the first of three picnics marking her departure from office with a hometown tribute to the troops and an elbow at the news media.
Speaking before a friendly crowd at a park here Friday night, two days before she resigns, Palin invoked her soldier son to assure supporters that she is not downcast over the political frustrations that are prompting her to quit before her term is up.
She told the hundreds gathered in a military "Honor Garden" that she wanted to "do something… more worthy than speaking politics" before sharing a story about a reporter who had asked her about how she handles difficult days.
"I said, 'Oh no,' it is not a down day – my son called this week from Iraq," Palin recalled, referring to her son, Track, an Army enlistee. "He is safe, he is sound. It is always a good day when my son calls."
Interrupting the applause, Palin said: "I wish that some in the media would keep things like that in perspective, what is really important in our country. And what is important is our freedoms, America's security, our liberty."
Later, citing military families that have lost loved ones, she again drew loud applause by saying: "Let us continue to love our country, be proud of our country, never apologize for our country."
She concluded her remarks by noting that it was the last time she'd appear in her hometown as governor, thanking the city that first elected her as mayor.
After she was done, one man yelled out, "We want you as our commander-in-chief," prompting more cheers from the crowd and a military-style salute from Palin.
But that was the only hint she gave as to her future plans.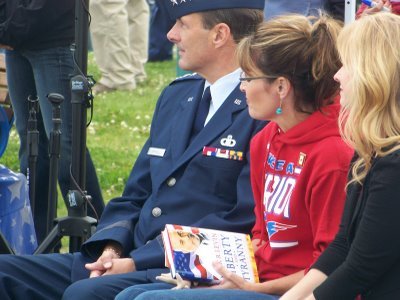 Sarah Palin holding a copy of NYT's Best Seller, Liberty and Tyranny by Mark Levin.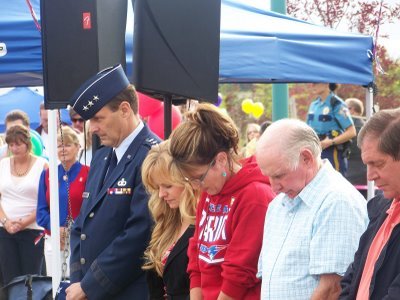 Sarah and crowd praying during invocation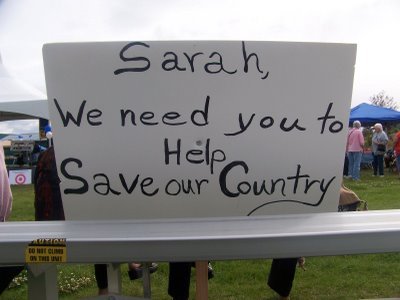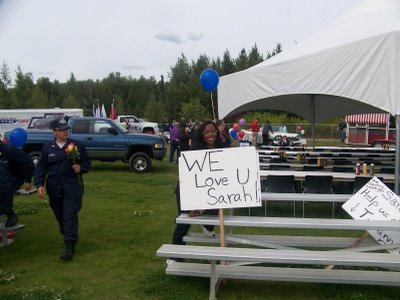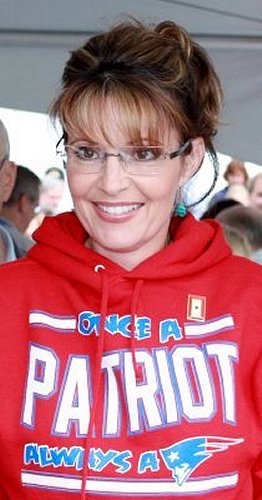 Gov. Sarah Palin has made her last official appearance in her hometown as the leader of Alaska. The Governor's Picnic in Wasilla attracted thousands of people from as far away as Texas, New York and Florida.
They prepared enough hot dogs, watermelon and root beer floats for 5,000 picnickers. Some came for the free food and music, but the main attraction was someone who has grown up and made her home right in their own backyard.
It was the first taste of Palin's three-course picnic weekend. And even in her hometown, neighbors who've grown up around Palin seemed a little star struck. "She served me a hotdog and she signed napkins for myself and this gentleman up here that I've been chatting with," said Wasilla resident Cindy Harvey.
And for those visiting from Outside, it was a meal they'll never forget. "There's five of us here from Louisiana," said Diana Hobson. "We love Sarah Palin -- I've been looking for Sarah Palin T-shirts all over Wasilla."
"I just told her that everybody, when we left and said we're coming to Alaska, they said, 'Tell Sarah we love her,' so she signed my book," said Anna Bayless of Austin, Texas.

.


Rush praised Governor Palin tonight on Fox News Channel's "On the Record with Greta Van Susteren". Here's the video: Just one note. Rush states he never talked to her, he meant he has not talked to her about no longer being a Gov. because Rush interviewed her on his show last year during the campaign and she called in and spoke with him.

.

Major General Craig Campbell: Sarah Palin "Awesome" Commander-in-Chief of Alaska National Guard
.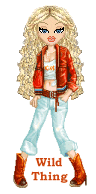 Wild Thing's comment.......
It is pathetic that her simple words of love and respect for our country and the troops are so hard to find from our "representatives" these days!
Compare to Obama who flies all over the world apologizing for the USA (idiot), but then when he runs his mouth without the facts can only "recalibrate his words" (weasel).
Today Sarah heads to Fairbanks where she'll hand over power to Lt. Gov. Sean Parnell

.

....Thank you Mark for sending this to me.


Mark
3rd Mar.Div. 1st Battalion 9th Marine Regiment
1/9 Marines aka The Walking Dead
VN 66-67


Posted by Wild Thing at July 26, 2009 06:50 AM
---
Comments
A Lt. General with only two rows of ribbons?
Posted by: BobF at July 26, 2009 09:31 AM
---
We'll find out shortly what her plans are. I really can't see her simply writing a book and resting while the country goes down the tubes with marxist Obama and dead-fish Rahm in charge.
Posted by: Jim at July 26, 2009 11:35 AM
---
That was a great video with MajGen Campbell. His respect for Sarah Palin is telling. I believe what he says about Sarah's regard and understanding of the National Guard.
Rush is right in that Sarah sends the democrats and media into panic mode. I think she also worries the Apologist in Chief obama.
Posted by: TomR at July 26, 2009 12:05 PM
---
That interview with the former head of the Alaska National Guard, gives one a real insight into what to expect from Sarah Palin. He confirmed what I have felt for a long time. She is a quick learner and goes about carrying out her duties in a timely manner. This country needs that in a leader.
"Let us continue to love our country, be proud of our country, never apologize for our country." Nothing more needs to be said.
Posted by: SEAN. at July 26, 2009 12:05 PM
---
Love Sarah's spirit. No calculation and parsing of words. She speaks her heart, so it flows.
She has my vote in 2012. If she doesn't run, I'll vote for whomever she endorses.
BTW, her love for military people reminds me of someone else. Thanks WT for the things you do.
Posted by: Pete at July 26, 2009 12:17 PM
---
Great interview, this is what she needs is interviews that support her and not tear her down. But the MSM will always want to shread her she is a threat to their Soutpiel Puppet.
Posted by: Mark at July 26, 2009 12:59 PM
---
As of today Sarah Palin is a free agent, I just joined Team Sarah, I'm ready to elect a conservative to the White House and remove all RINO's, Republican or Democrat, if you can tell the difference!!! If in doubt vote them out.
Bob, maybe they are in the laundry, like Yossarian's uniform and underwear. I like the 'yes men' part of the clip too, it fits some of today.s "leaders" to a "T".

Posted by: Jack at July 26, 2009 01:02 PM
---
BobF., I have no idea about it.
Posted by: Wild Thing at July 26, 2009 07:27 PM
---
Jim, I feel the same way. ( big smile)
Posted by: Wild Thing at July 26, 2009 07:29 PM
---
Tom, I agree so much. Our country is
truly blessed and well worth fighting
for.
Posted by: Wild Thing at July 26, 2009 07:32 PM
---
Posted by: Wild Thing at July 26, 2009 07:34 PM
---
Pete, thank you, I truly love our troops.
I agree I look forward to voting for her
and doing whatever I can.
Posted by: Wild Thing at July 26, 2009 07:35 PM
---
Mark, yes they will be working over time
now and at the same time so will heh heh.
I am thrilled she does not have to answer
to the McCains world and can be her own
person.
Sarah unleashed is victory for America.
Posted by: Wild Thing at July 26, 2009 07:38 PM
---
Jack, yipeee I am so glad you joined
Team Sarah. I don't make it over there
as often as I would like but it is an
awesome group and lots of good
information. It will get busy again
now that Sarah is back out there.
Posted by: Wild Thing at July 26, 2009 07:41 PM
---
i was a liberal democrat until sarah palin came along. now i want nothing more than for sarah being our 45th president in 2012. maybe i was wrong all those years, but sarah's patriotism--it;s so pure and 100%--and her 100% support for our military--and her beautiful family--and her personality--so exuberant and positive--and her charm, and yes, her physical beauty--and not forgetting her fabulous sense of humor--and, oh, i could go on and on and on! Sarah in 2012!
Posted by: aaron krohn at July 28, 2009 11:25 AM
---