« Sarah Palin To Speak At The Ronald Reagan Presidential Library & Museum | Main | Democrat Steny Hoyer:"U.S. must be open to second economic stimulus" »
July 08, 2009
Obama Lauds Putin's 'Extraordinary Work' in Visit to Mend Ties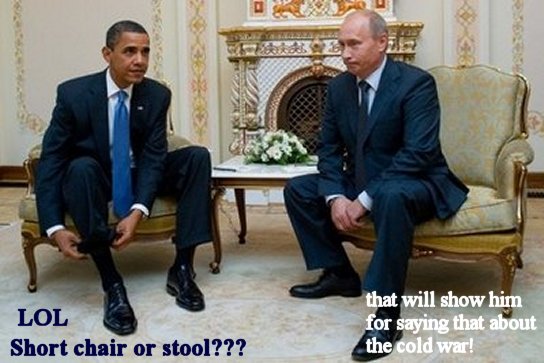 .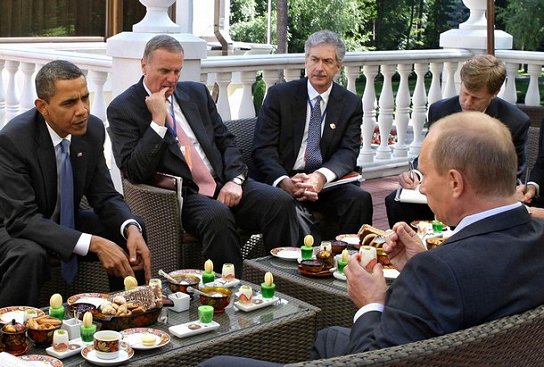 Barack Obama (L) and Russian Prime Minister Vladimir Putin (R) converse while having traditional Russian tea and snacks on a terrace at Putin's residence outside Moscow in Novo-Ogarevo on July 7, 2009. Obama praised Vladimir Putin's "extraordinary work" as Russia's president and now prime minister, but admitted their two nations still do not agree on everything.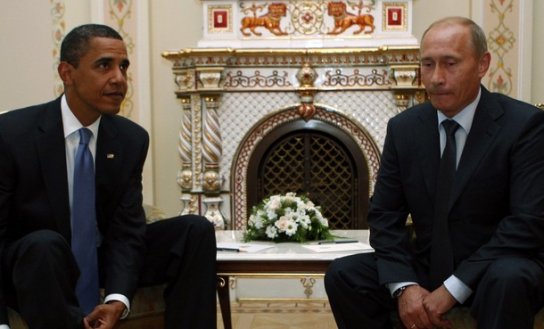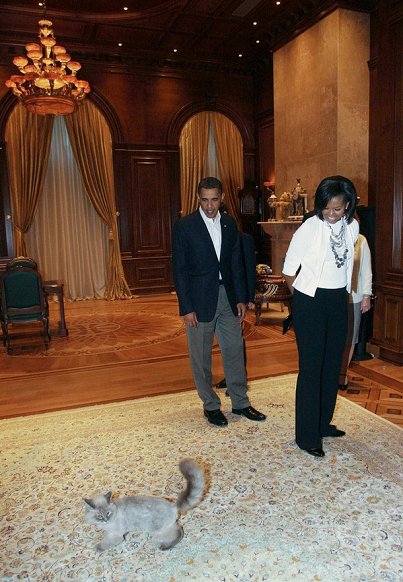 Barack Obama (L) and first lady Michelle Obama look at a cat at Russian President's Dmitry Medvedev residence Gorki outside Moscow July 6, 2009. Visiting U.S. President Obama and Kremlin leader Medvedev agreed a target for cuts in nuclear arms and a deal to let U.S. troops fly across Russia at the start of a trip intended to mend strained ties.
Obama Lauds Putin's 'Extraordinary Work' in Visit to Mend Ties
Obama lauded Prime Minister Vladimir Putin for his service to Russia, continuing a three-day push to overcome the animosities of the George W. Bush era.
"I am aware of not only the extraordinary work you have done on behalf of the Russian people in your previous role as prime minister -- as president -- but in your current role as prime minister," Obama told Putin after more than an hour of talks at the premier's residence near Moscow.
Obama and Putin's protégé and successor Dmitry Medvedev reached agreements yesterday on nuclear arms and Afghanistan, which Obama said marked a "new start" in relations between the two nuclear superpowers.
The two leaders called for a reduction of atomic warheads by as much as a third, while Russia also agreed to allow the transit of U.S. arms shipments to troops fighting the Taliban in Afghanistan.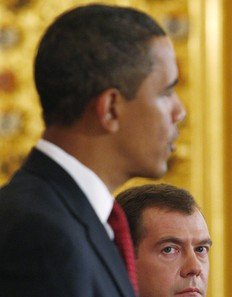 While Obama, 47, and Medvedev, 43, "had a symbolically successful day" yesterday, the U.S. president's meeting with Putin, 56, was "key" to the relationship because Putin is still the dominant political figure in Russia, said Andrew Kuchins, a scholar at the Center for Strategic and International Studies in Washington.
Obama's meeting with the man widely regarded as the most powerful in Russia is taking place on the second day of the American leader's visit to Moscow.
Obama praised Mr Putin for his "extraordinary work" as president and PM as the pair met for the first time.
Mr Putin said Mr Obama's own role would be key in improving relations.
The breakfast meeting was held at Mr Putin's dacha outside the capital.
Obama said: "I am aware of not only the extraordinary work that you've done on behalf of the Russian people in your previous role as prime minis-, uh, as president, but in your current role as prime minister."
Mr Putin said: "We link hopes for development of our relationship with your name."
Last week, Obama said he thought the former Russian president turned prime minister had "one foot in the old ways of doing business and one foot in the new".
Obama is later due to deliver a major speech on democracy, the global economy and the US-Russian relationship.
On Monday, after meeting Russian President Dmitry Medvedev, he signed eight separate agreements with Russia.
They included a pact to negotiate a new arms control treaty to replace the 1991 Start I pact which expires in December.

.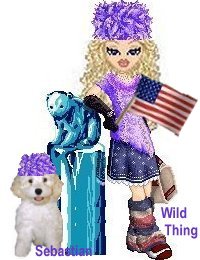 Wild Thing's comment.........
LOL I love that photo where Putin is the one in only obvious chair. hahaha
And this from the NY Times:
In Russia, Obama's Star Power Does Not Translate
"Let other capitals go all weak-kneed when President Obama visits. Moscow has greeted Mr. Obama, who on Tuesday night concluded a two-day Russian-American summit meeting, as if he were just another dignitary passing through. Crowds did not clamor for a glimpse of him. Headlines offered only glancing or flippant notice of his activities. Television programming was uninterrupted; devotees of the Russian Judge Judy had nothing to fear. Even many students and alumni of the Western-oriented business school where Mr. Obama gave the graduation address on Tuesday seemed merely respectful, but hardly enthralled. "We don't really understand why Obama is such a star," said Kirill Zagorodnov, 25, one of the graduates. "It's a question of trust, how he behaves, how he positions himself, that typical charisma, which in Russia is often parodied. Russians really are not accustomed to it. It is like he is trying to manipulate the public." ... Some Obama aides said they were struck by the low-key reception here."

....Thank you Mark for sending this to me.


Mark
3rd Mar.Div. 1st Battalion 9th Marine Regiment
1/9 Marines aka The Walking Dead
VN 66-67


Posted by Wild Thing at July 8, 2009 06:49 AM
---
Comments
Translated into English, of how the Russians perceive obama, Weak. That's how they see him. A weak man-boy trying to fit into shoes that are way to big for him. It will surely get us into trouble.
There has been no mention of what obama has given away to the Russians. We will find that out after it happens and how it will weaken our position.
Posted by: Mark at July 8, 2009 11:39 AM
---
I don't think obama has seen Putin's soul correctly either. Putin probably considers obama as no-contest.
Posted by: TomR at July 8, 2009 12:04 PM
---
Hmmm.....am I one of the few that are extremely uneasy about what's going on with this visit? I wouldn't be surprised to learn he sold Alaska back to the Russians. He has no brain, therefore no negotiating skills, and no sense of history. Never trust a Russian.
Posted by: jim warren at July 8, 2009 03:02 PM
---
Ex-HEAD, the effing H-E-A-D of the FSB(KGB'lite' haha)and long time KGB 'protege' vs. a FUNDRAISER and his 'acoutremont'(see: ZERO international experience/HOLY PHAUCK!!)= WE LOSE E-V-E-R-Y-T-I-M-E. ///////////// "Clowns to the left of me, Jokers to the right, stuck in the middle with you"
Posted by: pontiff alex at July 8, 2009 03:18 PM
---
THANKS WILD THANG for the post, and the quotes by Russians on the 'Shooting Star' (they burn out ya know...) are SO to the point, and VERY enlightening.
Posted by: pontiff alex at July 8, 2009 03:22 PM
---
re: The Chair. Putin makes all his beyotches sit in that chair........
Posted by: pontiff alex at July 8, 2009 03:36 PM
---
Mark, I think that is how they see him too.

Posted by: Wild Thing at July 8, 2009 07:45 PM
---
Tom, I agree, Putin will play at talks
wtih Obama, knowing he can do as he wishes
and obama will nod like a baubble head doll
in agreement and give away the store.
Posted by: Wild Thing at July 8, 2009 07:46 PM
---
If you look at those pictures obama looks like he doean't belong there, he looks like the son of the Boss at the Board Metting, Spoiled and hasn't a clue of WTF is going on.
Posted by: Mark at July 8, 2009 07:48 PM
---
Jim, we all are concerned about it, yesss
your right about that. He cannot be trusted,
neither of them, Putin nor Obama mean only
only bad things.
The only difference is that Putin is the
pro at this and Obama is wanting to please
him and anyone that is against America.
That makes Obama soooo dangerous.
Posted by: Wild Thing at July 8, 2009 07:51 PM
---
Alex, thanks for mentioning the chair.
That really bugged me and I didn't notice
it right away till I was sizing it, I had
to laugh that Putin had him sit there like
that.
Posted by: Wild Thing at July 8, 2009 07:52 PM
---
Mark, LOL that is exactly what he looks
like. I see a lot of photos as I pick out
the ones for the posts and Mark, in all
of them Obama has a look of being out
of place. He tries to hide it when he
holds his head back in the snooby way
but even those now when he is with
these foreign leaders, he just has no
center, that is the only way I can
explain it.
Posted by: Wild Thing at July 8, 2009 08:26 PM
---