« Robert McNamara Dead Good Riddance You POS! NO Mourning Here | Main | Mullah Sprung From GITMO Jail Now Leads Taliban Fighting US Troops in Afghanistan »
July 07, 2009
NFL USO Coaches Tour To Iraq To Vist Our Troops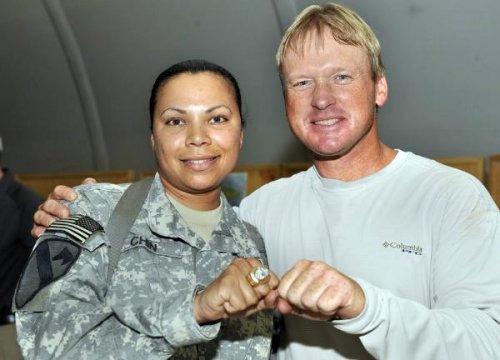 Former Tampa Bay Buccaneers and Oakland Raiders head coach Jon Gruden poses for a photo with U.S. Army Capt. Erica Chin of Killeen, TX, who wears Gruden's Super Bowl ring, during a USO meet-and-greet at Forward Operating Base Maraz in Mosul, Iraq, July 2, 2009. Gruden and a host of other NFL coaching legends are in the combat zone as part of a week-long USO tour to bring troops a touch of home during the July 4th holiday, signing autographs, posing for photos and boosting morale. (Photo by Mike Theiler/USO Photo)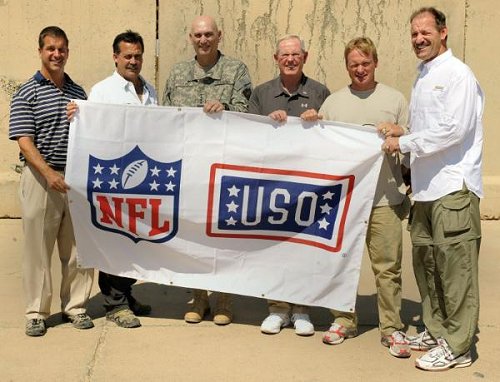 Commanding General of Multi-National Force - Iraq, Gen. Raymond Odierno (3rd,L), poses with NFL coaching legends (L-R) John Harbaugh (Baltimore Ravens), Jeff Fisher (Tennessee Titans), Tom Coughlin (NY Giants), Jon Gruden (formerly Tampa Bay Buccaneers and Oakland Raiders) and Bill Cowher (formerly Pittsburgh Steelers) on the airfield at Forward Operating Base Warrior near Kirkuk in Iraq, July 2, 2009. (Photo by Mike Theiler/USO Photo)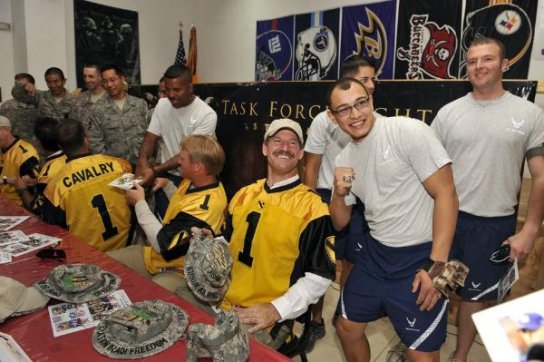 Bill Cowher, the former head coach of the Pittsburgh Steelers, poses with U.S. Air Force SRA Jonathan Echevarria of Milwaukee, Wisc,, who wears Cowher's Super Bowl ring at a USO meet-and-greet at Forward Operating Base Warrior near Kirkuk, Iraq, July 2, 2009. The coaches, wearing the colors of the U.S. Army's First Cavalry Division from Fort Hood, Tex, are stepping off the sideline into the combat zone as part of a week-long USO tour to bring troops a touch of home during the July 4th holiday, signing autographs, posing for photos and boosting morale. (Photo by Mike Theiler/USO Photo)
NFL coaches (L-R) Bill Cowher (formerly Pittsburgh Steelers), Jon Gruden (formerly Tampa Bay Buccaneers and Oakland Raiders), Tom Coughlin (NY Giants), John Harbaugh (Baltimore Ravens) and Jeff Fisher (Tennesee Titans) pose with their U.S. Army pilots CW2 Michael Mignogna of Warrington, Penn (L) and CW4 Jonathan Case of Fort Dix, NJ, prior to their departing Kuwait, July 1, 2009, for a flight to Baghdad, Iraq, where they will meet with U.S. troops to boost morale, sign autographs and join in July 4th festivities as part of a USO-sponsored tour. (Photo by Mike Theiler/USO Photo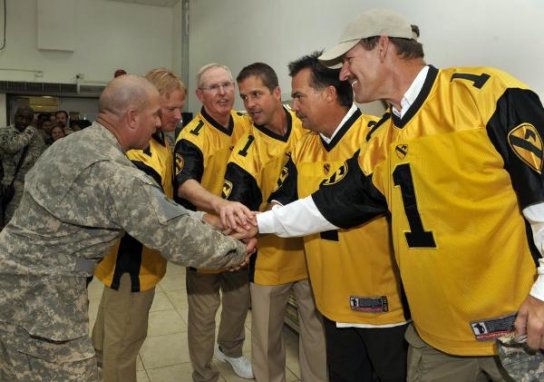 U.S. Army CSM Larry Wilson (L) joins hands with NFL coaching legends (L-R) Jon Gruden (formerly Tampa Bay Buccaneers and Oakland Raiders), Tom Coughlin (NY Giants), John Harbaugh (Baltimore Ravens), Jeff Fisher (Tennessee Titans) and Bill Cowher (formerly Pittsburgh Steelers) prior to a USO meet-and-greet at Forward Operating Base Warrior near Kirkuk, Iraq, July 2, 2009. The coaches, wearing the colors of the US Army's First Cavalry Division from Fort Hood, Tex, are stepping off the sideline into the combat zone as part of a week-long USO tour to bring troops a touch of home during the July 4th holiday, signing autographs, posing for photos and boosting morale. (Photo by Mike Theiler/USO Photo)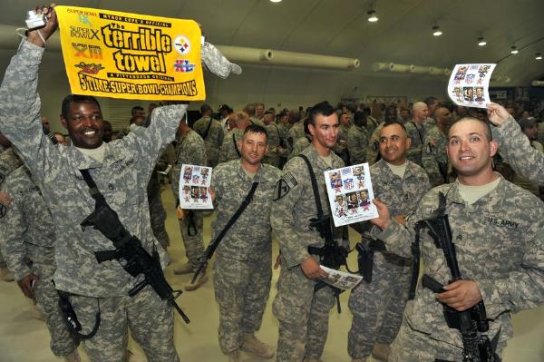 .S. troops, who are fans of former Pittsburgh Steeler head coach Bill Cowher, wait in line with trademark Terrible Towels and autograph sheets for their chance to meet a group of NFL coaching legends at Forward Operating Base Maraz in Mosul, Iraq, July 2, 2009. The NFL coaches are in the region as part of a week-long USO tour to bring troops a touch of home during the July 4th holiday, signing autographs, posing for photos and boosting morale. (Photo by Mike Theiler/USO Photo)

It is clear we have the right team. And we know we have the right mission – meet as many troops as possible and thank them for their service.
The trip to Iraq is never easy, and this tour is no exception. Our group met up from various initial points of departure in Washington, D.C. where we boarded a 13-hour flight to Kuwait City. After clearing customs in Kuwait, we got a ride from the commercial airport to a U.S. military base in order to catch a military flight to Baghdad.
After meeting and greeting the service members in the terminal, the coaches boarded two small C-12 military airplanes to make the final leg of our journey. We landed in Baghdad around midnight local time and made our way to our quarters, not arriving and getting settled until close to 2 a.m. We had been traveling for more 30 hours, and it was time for a few precious hours of sleep.
Our first full day in Iraq began with an 06:00 wake-up call. After breakfast, our first stop was the office of General Ray Odierno.
Odierno is a four-star general who commands the entire coalition war effort in Iraq. That is the first thing you should know about him. The second thing you should know about General Odierno — a former tight end on the Army football team — is that he is a huge Giants fan. A resident of Rockaway, N.J., General Odierno wrote a letter to Coughlin prior to the 2007 season, wishing the Giants good luck in the upcoming campaign. This letter led to a strong friendship between the coach and the general, with General Odierno now having visited and addressed the Giants several times.
In his office on the morning of Day 2 of our trip, General Odierno gave the coaches a briefing of the current situation in Iraq. Now is a time of great transition here, as June 30, 2009, marked the date that U.S. troops withdrew from Iraqi cities. Nevertheless, 130,000 U.S. service members remain in Iraq outside the cities in U.S. bases. General Odierno's message to the coaches was the same as he has been giving major news outlets in recent days — that tremendous progress has been made in Iraq, but there are still good days and bad days and a need to proceed with caution.
From the general's office, our group, which included the coaches and General Odierno, boarded Black Hawk helicopters for a quick two-minute flight to the nearby airfield. From there, we boarded C-35 and C-12 airplanes headed north to Mosul.
From Mosul, we flew southeast to Kirkuk, where we visited Forward Operating Base (FOB) Warrior. Upon entering the Dining Facility (DFAC), the coaches were presented with "Infantry One" football jerseys. They then hosted a two-hour meet-and-greet that included a rousing visit from the base football team.
Following the meet-and-greet, the coaches ate with 33 hand-picked troops who had served with great distinction. It was then back to the planes and back to Baghdad.
Trip of a lifetime
Coughlin is one of five current or former head coaches who are in Iraq on the inaugural NFL-USO Coaches Tour
"It's some trip – unbelievable," Coughlin said today by phone from Baghdad. "The soldiers were so gracious and they were so anxious to see us. They are truly genuine in their expression of joy that we're here for them, that we would take the time to come and see them. And that has been very, very meaningful for us. They have treated us extremely well and shown genuine excitement that we're here. We have expressed to them our thoughts on why we truly believe in what they're doing and are thankful for why we're here."
Coughlin, a fervent admirer of the men and women who serve in the Armed Forces, was originally invited to Iraq by Gen. Raymond T. Odierno, the commanding general of the multi-national force in Iraq. Odierno is a Rockaway, N.J. native and Giants fan who has made several visits to Giants Stadium and the team's training camp in Albany.
When Coughlin was approached by the NFL about traveling to Iraq, he made it clear he wanted to spend time with Gen. Odierno. That has not yet been an issue, because the general traveled with all of the coaches on Thursday.
Coughlin and Co. came together Tuesday at Dulles International Airport outside Washington, D.C. They took a 13-hour flight to Kuwait.
"It's a long trip," Coughlin said. "We were three hours delayed coming out of Dulles and we flew all night. We lost July 1 – we don't have a clue as to what happened to July 1. You fly up over the top. It seemed like in a very few minutes we were at Albany and we flew over Greenland. It's a long flight, but we flew United and the first-class accommodations were fabulous, as good as you're going to get. We were supposed to land at 5:15 (p.m.)and we landed a little after seven."
After spending a few hours in Kuwait, the group boarded a prop plane for Baghdad. That's when the journey started to get very interesting.
"When you're 15 minutes outside of Baghdad you have to shut all the lights off on the plane," Coughlin said. "The first part of the adventure was going in there; you land in sandstorms and darkness. The airport in Kuwait is a bustling place and then when you get over to Iraq it's a little bit different."
The coaches and the rest of the traveling party were met at the airport by Gen. Odierno's Chief of Staff, perhaps a dozen soldiers and, as Coughlin said, "all kinds of people." They were driven to their hotel, which is actually one of Saddam Hussein's former palaces that he had built on a man-made lake. Immediately after checking in at about 1 a.m., the coaches were briefed about the following day's activities.
"None of us could sleep – we were all wired," Coughlin said. "We were all up at five – all five of us are in one room."
After breakfast, the coaches were transported to Gen. Odierno's headquarters at Al Faw, which is another former
Hussein palace. The general briefed the coaches on the recent developments in Iraq, including this week's American pull back out of Iraqi cities.
At about 8:15 a.m. (1:15 eastern time), the group took a helicopter to the airport, where they boarded three C-35 jets and flew to Mosul, the site of an American military base in northern Iraq.
"It is a hot spot," Coughlin said, and he wasn't referring to the temperature. "If there is any terrorist activity, it has occurred more often up there. They lost three soldiers two days ago up there. This is what the general meant when he told me he wanted to take me to the most remote spots in Iraq and talk to the soldiers. General Bob Brown is the commander of the post up there.
"When you get up there, you know you're in a war zone. The soldiers are all armed, they're all on combat alert. There are concrete abutments on the outside of the buildings and sandbags on the inside of the windows. It's hotter than hot. It's in the 125-degree area. And that was prior to the sandstorms."
On the base, Coughlin met a former West Point teammate of Mike Sullivan, the Giants' wide receivers coach. Odierno and the coaches were then driven to the center of the base. The coaches each sat at a table and perhaps a thousand soldiers came through to get autographs signed, take photos or just chat with the visitors.
"This went on for quite a while, but we made sure we accommodated everybody," Coughlin said.
From Mosul, the coaches were flown to an airbase near Kirkuk, which is not exactly a place for rest and relaxation.
"It is another extremely fortified war zone," Coughlin said. "We were met at the airport by all the brass, because General Odierno is with us. At this particular spot we went to a huge mess hall. Every place we go we're introduced and we get a nice response, nice applause. In this place all five of us sat down at a table and they tried to organize it with each person coming through with pictures of us to sign. We signed them and then we stood or sat and took pictures with all the soldiers. That was again a lengthy time, but the soldiers were all very appreciative. The guys are great with the soldiers. They've really responded well.
"We had been introduced at Mosul by the commander of the troops and sent right to our tables. At Kirkuk, we were introduced by a guy who would introduce you at a boxing match. It was one of the soldiers (who said), 'Heeeeere's Jeff Fisher.' I spoke at this place. Then we ate with the troops in the mess hall and we sat down and talked to them."
Coughlin said it's impossible to ignore the searing heat in Iraq.
"It's unbelievable," he said. "We were in a chopper that had its windows open. We got in the helicopter where the hot air poured in on you and it felt like it was 140 degrees. It was hot. Because of the sandstorms we've had some sand cover, so the sun is not always beating right down on us."
In Kirkuk, Coughlin and Odierno did a live interview on FOX and Friends. Coughlin was asked about the similarity in leadership principles between football and the military.
"What the General always talks to me about is team," Coughlin said. "I remember back in '07, as we got ready to go to training camp, I received a letter on the eve of training camp from General Odierno. His message was about team. He was very flattering in his comments about the soldiers here in Iraq, the young women and men who represent our country. He talked about their beliefs; their belief in their leaders, but most of all their belief in each other. He talked about team and the way you have to serve each other in order to understand what the team concept is all about. His message has always been one of team and the message the New York Giants preach is always that of team."
Coughlin was asked if the trip enabled him to gain a different perspective on the men and women serving in Iraq.
"I have been so impressed and so inspired by the attitude," Coughlin said. "It is always one of attitude, whether we visit the Walter Reed hospital following the Super Bowl and talk to those wounded troops, their attitude to try and get back to serve their country, to rejoin their group. Or whether it is the attitude of these young men and women who are serving our country here, who believe in what they are doing. We are always impressed by that. I know that the troops here think that we inspire them, but believe me, they inspire us as well."
After the visit in Kirkuk, Coughlin and the other coaches returned to Baghdad, where they attended a reception on a third-floor balcony at Al Faw.
"The balcony was huge," Coughlin said. "There must have been 500 soldiers on that porch. Bill Cowher spoke for us. We broke off again and did 2½ hours of autograph signings for the soldiers and again the reception was outstanding. Then we returned to where we're staying and had another meeting in terms of what is planned for tomorrow."
Coughlin said he hoped to catch up on his sleep Thursday night. But he is excited about visiting many more soldiers and Marines when the coaches visit three more military bases on Friday.
"We spend a lot of time with them," Coughlin said. "We ask them where they're from and they tell us about their favorite NFL team. There are lots of guys from New York. And there are a lot of Steelers fans. The Steelers are well-represented everywhere. We have a pretty good representation. The Giants are pretty popular. You'll meet people from New England who tell you they don't like you or tell you they're not from New England and thanks for beating the Patriots.
"When I spoke, I expressed that the NFL and the military has often inspired one another," Coughlin said. "We want to thank them, because they put their lives in danger every day, so that we can have the freedoms at home that, quite frankly, a majority of the people take for granted. We're here to tell them that we're very, very proud to be here with our soldiers."

.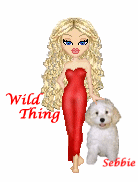 Wild Thing's comment.........
How wonderful, this is GREAT! I love to see our troops happy like this and it is good for these Coaches to get a chance to thank them. Just a trip like this can make a difference, these guys will remember this forever.
.

....Thank you Mark for sending this to me.

Mark
3rd Mar.Div. 1st Battalion 9th Marine Regiment
1/9 Marines aka The Walking Dead
VN 66-67


Posted by Wild Thing at July 7, 2009 05:40 AM
---
Comments
What a great morale boost for our troops! And when those coaches take to the field this fall the Star Spangled Banner will have even more meaning to them if that were possible.
Posted by: jan at July 7, 2009 12:33 PM
---
Jan, great way to put it. I agree so much.
Posted by: Wild Thing at July 7, 2009 11:39 PM
---
Thank you,I just numb, cause I did not know that he was the AO who give that order, and I know why the USNR had M14 and M15, side arm, 45,no M16 and yes at our shooting time at Fort Dixe,NJ they showed just what would cause the M16 to do just what it was "junk" our boys found out the hardway do not use it in fullautomatic,one it got to hot and then it would not shoot,that why alot of our men us the old M14 and M15,see we not as dumb as the AO in DC.
here some more BS from DC,BS.
Big Mac VietNam Veterun,68 to 76

----- Original Message -----
From: Edward lee McIntosh
To: shuler@mail.house.gov
Sent: Thursday, July 02, 2009 10:47 AM
Subject: Re: A Message From Congressman Heath Shuler

Sir; do not vote yes on Goverment control HEALTH And All Tax's and what ever you think of using our tax money to pay for it We The People Of American are not going to stand by and let all the NUT'S run this country in to the Poor HOUSE, Remember, you are Pay By The People,you work for the People,We vote you in,Well We can Vote You Out,REMEMBER THAT!
THE PEOPLE OF AMERCIAN
Edward Lee Mc Intosh
----- Original Message -----
From: shuler@mail.house.gov
To: emcintosh10@mchsi.com
Sent: Wednesday, July 01, 2009 11:36 AM
Subject: A Message From Congressman Heath Shuler
July 1, 2009
Mr. Edward Lee ,usn:e/4/bt3 Mc Intosh
99 Karo Drive
Hendersonville, North Carolina 28792-9652
Dear Mr. Mc Intosh:
Thank you for taking the time to contact me with your thoughts regarding the State Children's Health Insurance Program (SCHIP) Reauthorization Act, H.R. 2. Your views are important to me, and I appreciate hearing from you.
The SCHIP Reauthorization Act provides healthcare for 7 million low-income children across the country. The bill also extends coverage to more than 4 million children who are currently eligible for, but not enrolled in, SCHIP or Medicaid. In North Carolina, this improvement means coverage for an additional 136,000 children, reducing the number of uninsured North Carolina children by 46%. The bill also ensures that the 240,000 North Carolina children currently enrolled in SCHIP will not lose their healthcare.
The SCHIP Reauthorization Act passed with an overwhelming majority in the House of Representatives and the Senate, and was signed into law by President Obama on February 4, 2009. H.R. 2 is similar to legislation that passed twice in the 110th Congress but was vetoed both times by President Bush. Since I arrived in Congress I have worked with my colleagues to improve SCHIP and move closer to fulfilling our moral obligation to care for our children. Providing children with health care is a life issue, and as a pro-life member of Congress, I was proud to support this legislation in the 110th and 111th Congresses.
SCHIP was created in 1997 to provide healthcare coverage for children in families that don't make enough money to afford health insurance for their children, but make too much to qualify for Medicaid. Today's SCHIP improvements are fully paid for and will not add to the national debt. A 62 cent cigarette tax increase as well as tax increases on other tobacco products will fund SCHIP's expansion.
No family should have to decide whether they can afford to take their sick child to the doctor. Please be assured that I will keep your thoughts in mind as I continue to work with my colleagues to achieve a sensible and fiscally responsible solution to this issue.
Again, thank you for sharing your views about this important matter. I encourage you to check my website at www.house.gov/shuler for continued updates on my work, and please do not hesitate to contact me again about those issues that are important to you. It is an honor to serve you in the U.S. Congress.
Sincerely,

Heath Shuler
Member of Congress
HS/wm
Posted by: Big Mac at July 10, 2009 05:29 PM
---