« Hon. James David Manning Has BHO Pegged | Main | Palin's Attorney Threatens to Sue Liberal Blogs & State-Run Media For Slander »
July 05, 2009
Marines March in Grueling Afghan Sun for July 4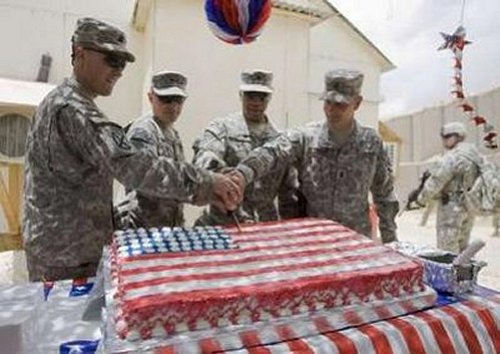 LTC Michael Gabel of 4-25 FA BN CDR (L-R), Major General Curtis Scaparrotti, commanding general, CJTF-82 and Regional Command East, CSM Thomas Capel, Division Command Sergeant Major, CJTF-82 and regional Command East and CSM Robert Lehtonen II, Command Sergeant Major 4-25 FA cut a cake as they mark the United States Independence Day at the Forward Operating Base (FOB) Airborne in the mountains of Wardak province in Afghanistan, July 4, 2009

.
Brigadier General Larry Nicholson demonstrated the more open approach he wants to see among the new US troops sent to southern Afghanistan by going shopping for melons. Nicholson, commander of the 4,000 Marines deployed on Thursday in the mainly Taliban-held Helmand River valley, headed to Garmsir district centre to visit a bazaar selling fruit, vegetables and meat.
.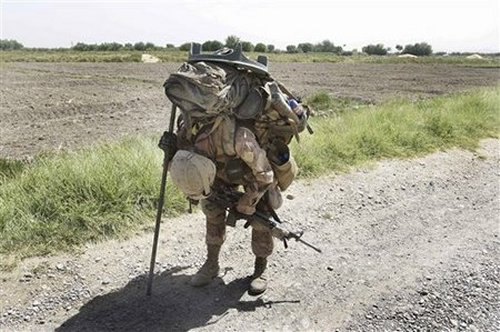 U.S. Marine Cpl. Brian Knight, of Cincinnati, Ohio, with the 2nd Marine Expeditionary Brigade, 1st Battalion 5th Marines, pauses briefly in the heat to rest with his heavy pack filled with mortar equipment, ammunition, food, and water in the Nawa district in Afghanistan's Helmand province Saturday, July 4, 2009. Taliban militants attacked a U.S. coalition base in eastern Afghanistan on Saturday with an explosives-laden truck that blew up outside the gates, sparking a two-hour gunbattle and killing two American troops, officials said.

.
Marines march in grueling Afghan sun for July 4
Taliban militants were nowhere in sight as the columns of U.S. Marines walked a third straight day across southern Afghanistan. But the desert heat proved an enemy in its own right, with several troops falling victim Saturday to temperatures topping 100 degrees Fahrenheit.
The Marines carry 50-100 pounds (23-45 kilograms) on their backs. But because they are marching through farmland on foot, they can't carry nearly as much water as their thirst demands.
Few even realized the date was July 4, but once word of the holiday spread through the company, several said they knew relatives would be holding lakeside celebrations — a world away from the strenuous task Bravo Company of the 1st Battalion, 5th Marine Regiment was taking on.
"Happy 4th of July, dawg. Happy America," said Lance Corp. Vince Morales, 21, of Baytown, Texas said to one of his Marine buddies while resting under a tree during a break.
Some Marines ate watermelon from a farmer's field as the evening sun set, but there were few other signs of a holiday celebration here.
Some 4,000 Marines are moving through southern Helmand to take back Taliban-held territory and pinch the insurgents' supply lines. Bravo Company has seen a lot of walking but up to now little fighting, though other Marines in the operation have had extended battles.
So far, the worst danger facing Bravo is the heat. Temperatures are well above 100 degrees (37.8 Celsius), and medics treated several heat casualties Saturday.
"When (body) temperature goes up past 104 (40 Celsius), your brain starts cooking, and that's what we're trying to prevent," said Simon Trujillo, an HM3 Navy Medic from Dallas.
The high heat, heavy packs, limited water and three straight days of walking through tough farmland terrain were taking a toll, he said. Several Marines threw up or were dry-heaving from the heat. Three passed out, and other Marines rushed to share the weight and pour water on overheated bodies.
"It's pretty taxing on your body. There's no way to prepare for this," said Trujillo.
One cruel irony: A helicopter dropped off a load of water to the Marines early Saturday, but because they hadn't yet reached their final destination, they took only what they could carry and left hundreds of bottles behind for Afghan villagers to drink.
The sun in southern Helmand is blazing by 8 a.m., and the troops seek out any sliver of shade available. Trees grow along the many manmade water canals the farmers use to survive here, but there is little relief elsewhere.
Sweat pours off faces as Marines shift heavy weapons from one shoulder to the other. Everyone still carries all the ammunition they arrived with in the dark hours of early Thursday, because this unit has not yet exchanged fire.
The Marines walk in columns down dusty dirt roads, and every couple dozen steps they bend over at the waist to give aching shoulders a break. During frequent breaks, medics go up and down the line, looking to see if their men are drinking water.
"It'd be so great if we took contact. We'd lose so much weight," said Lance Corp. Michael Estrada, 20, of Los Angeles.
Lance Corp. Bryan Knight, a mortar man, carries one of the heaviest pack. The 21-year-old Cincinnati native weighs a slight 145 pounds (65.8 kilograms) — and his pack almost equals him.
He carries a 15-pound (6.8-kilogram) mortar base plate, four mortar rockets that weigh 10 pounds (4.5 kilograms) each, about 15 pounds (6.8 kilograms) of water and another 50 pounds (22.7 kilograms) of combat gear — ammunition, weapon and his flak jacket.
Unsurprisingly, he is drenched in sweat. "The only dry parts of my clothes are the pockets," he said.
Squatting in a lean-to made out of a camouflage poncho beside Knight was Corp. Aaron Shade, 24, of Greenville, Ohio, who hadn't realized it was Independence Day back home in the U.S.
"My family's out on the boat house riding on jet skis, drinking lots of beer," he said. "That's not depressing to think about."
The company captain, Drew Schoenmaker, said the heat was affecting militants as well, noting there were few daytime attacks theater-wide and none on his unit. He said he doubted people back in the United States could understand how hard his Marines work.
"Someone back home might say, 'Oh, it's 100 degrees here, too.' But you're not trying to carry 60 or 90 pounds and people aren't trying to kill you," he said. "And you can always step out of the sun. You can't always do that here."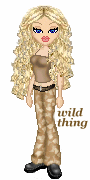 Wild Thing's comment.....
Last year I posted about how it would get up to 120 degrees. I know what they feels like from being in Las Vegas for one year and it is not good even when people say dry heat is not that bad. Heat that high is hot no matter dry or humid and evenings don't get that much cooler. It does get to a person there is no way it can't. And like they said add into that factor carrying all that weight all that equipment too. That is so huge!
God bless our troops and keep them safe.
Posted by Wild Thing at July 5, 2009 07:48 AM
---
Comments
Yesterday wasn't so hot after all, no I never once forgot about them.
Posted by: Jack at July 5, 2009 02:30 PM
---
Of course they're walking. Take 10, expect 5, get 2 be on the road in 1 minute.
In Vietnam the Marines had a MororPool but we walked every where we went cause both of them were broke.
It never changes, the years may be different but there's only way to get there.
Posted by: Mark at July 5, 2009 07:03 PM
---
LOL, ain't that the truth Mark. I did have wheels, some even appropriated from Danang with new fresh paint. Was in your AO, never saw an organizational vehicle except a battered deuce and a half, and your people wouldn't ride in our 5T sweepers either (pout, pout), saw some CH34 birds there and at Gio Linh a 'mule' with a 106 on it. You guys were always afoot. I 'appropriated' some radio antennas once from Danang, I admit I was selfish and took the first one for our jeep, but then I thought of you guys at the end of the supply line and cleaned out the warehouse. The Marines had a first rate radio repair shop just S of Dong Ha, many thanks. Since I'm reminiscing, anybody remember Silver Fox, the Japanese whiskey that both cut your throat and cauterized it? Or San Miguel beer? Or was I the only alky over there? Sometimes when your are on the appropriations committee you can't be too choosy about what gets appropriated.
Posted by: Jack at July 5, 2009 10:40 PM
---
Jack, that is great thank you.
Posted by: Wild Thing at July 6, 2009 01:18 AM
---
Mark, I was thinking of all you Vets with
this article. Jungles, or desert there are
things to deal with for all of you.
Posted by: Wild Thing at July 6, 2009 01:20 AM
---