« Sarah Palin Farewell Address AWESOME! | Main | The Duck Speaks Out »
July 27, 2009
Marines at CAMP DWYER, Helmand Province, Afghanistan Build Iwo Jima Memorial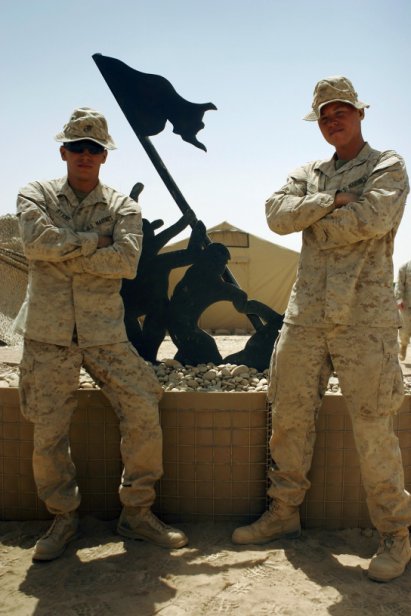 Lance Cpl. William Byrne, left, and Cpl. David Belling, right, field artillery fire controlmen with Regimental Combat Team 3, originally stationed in Okinawa, Japan, built an Iwo Jima memorial at the RCT-3 compound to help motivate and lift the spirits of the Marines and Sailors stationed at Camp Dwyer, Helmand province, Islamic Province of Afghanistan. Photo by Lance Cpl. Daniel Flynn
.
U.S. Marine Cpl. David Belling uses a saw aboard forward operating base Dwyer, Islamic Republic of Afghanistan, July 21. Belling is a fire direction controlman with Regimental Combat Team - 3, 2nd Marine Expeditionary Brigade. RCT-3 is deployed in support of the NATO-International Security Alliance Forces counterinsurgency and Afghan national security forces mentoring mission in IRoA.
Marines Build Motivation With Recognizable Image
Story by Lance Cpl. Daniel Flynn 07.25.2009

CAMP DWYER, Helmand Province, Afghanistan
What is needed to get through a combat deployment? Some might say the answer is perseverance, determination and motivation.
Two Marines with Regimental Combat Team 3, deployed here from 3rd Battalion, 12th Marine Regiment based in Okinawa, Japan, have gone out of their way to help bring a little bit of motivation to their fellow Marines and Sailors.
Cpl. David Belling and Lance Cpl. William Byrne, field artillery fire control men with RCT-3, built a silhouetted Iwo Jima memorial at the RCT-3 compound here.
This particular memorial depicts one of the most recognizable photographs of World War II, taken by
Joe Rosenthal, of five Marines and one Navy corpsman raising the American flag atop Mount Suribachi on the fourth day of the Battle of Iwo Jima.
"I wanted to do what I could to help bring a little bit of motivation and help boost the morale of the Marines," said Belling, who is nine months into his deployment.
They started working on the memorial July 20, and it took about eight hours to complete it.
We worked on the project because we wanted to inspire others by reminding everyone of the history of our Corps, Byrne said.
Throughout the process of building the memorial, Marines and Sailors approached the Marines, shaking their hands and telling them "good job."
"The memorial just signifies what Marines are," said Petty Officer 1st Class Gustavo Ortiz, the religious program specialist with RCT-3. "It is things like this that make it such a privilege to serve with Marines."
In their efforts, Belling and Byrne have left an iconic image of pride and motivation so that those who travel past will remember the sacrifice Marines and Sailors have given.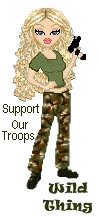 Wild Thing's comment........
I love it, what a great idea.
Posted by Wild Thing at July 27, 2009 04:40 AM
---
Comments
Once in Viequez we went to build a church. Mixed all the concrete by hand, and that is mohunk work mixing that stuff by hand. the Whole platoon worked for 10 hours mixing the concrete, when the forms went up we were set to go.
Poured that stuff in, everything went like clockwork. It was a good feeling when we headed back to the base.
We went back the next morning, and OMG all the sand had run out. The Leutenant had the wrong recipe, were we ever pissed. We were never invited back again.
If effort counted for anything, we'd get an A.
Posted by: Mark at July 27, 2009 11:52 AM
---
That's just super Chrissie. There is a big rock at Ft. Irwin, it's with pride that units paint that rock, same with that Iwo Jima memorial, that along with a shower and decent rations make the life of the grunt livable.
LMAO Mark. I didn't know there was any other way to mix concrete:)
Personally I found solace reallocating assets by being a bit of a 'dog robber'. I have an RVN photo of my loud yellow footlocker with my name in black setting out in plain sight, even the donor, Big Red One's mess Sgt. saw it with his contingent of MP's and swore that it wasn't the missing "one":) Some of my best suppliers were that same MP detachment. My CO had a recliner inside his command tent, it pays to scratch each others back, pretty hard to complain about a non issue item that 'wanders' off. Any thing else said would be incriminating but a locker full of kitchen spices for use on a bunch of 'C' rats was always welcome fare:)
Posted by: Jack at July 27, 2009 12:06 PM
---
Mark, giggle I am so sorry. That is a
funny story though, all that work augh
and then to have that happen. I agree
you get an A big time for all that effort.
Posted by: Wild Thing at July 27, 2009 07:10 PM
---
Jack, I saw photos of that, it is amazing.
Thanks for reminding me, yesss totally cool
how they did that.
Posted by: Wild Thing at July 27, 2009 07:12 PM
---
Thank YOU! Priceless! God Bless our Marines, God Bless our Nation! Semper Fi! A Very Proud Marine Mom
Posted by: gratefulsix at July 30, 2009 12:16 PM
---
Hi Wild Thing, I hope you don't mind that I have added a link to your site from mine www.donaldstrong.com stongtalk page. Thanks, Don
Posted by: Don Strong at July 30, 2009 09:25 PM
---
Hi Don, nice to meet you. I don't mind at
all and wishing you all the best too with
your site and election. Thank you so much.
Posted by: Wild Thing at July 30, 2009 11:31 PM
---