« Some Fun With Our Troops ~ In Country | Main | A Life of Worth, Overlooked »
July 07, 2009
John Ziegler Podcast With Palin Spokesperson Meg Stapleton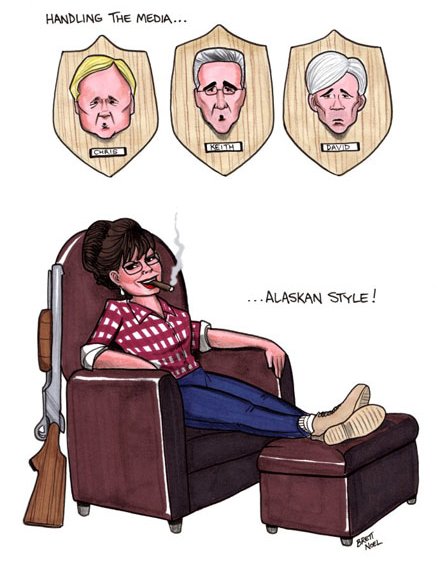 After joining her family on a fishing trip Monday, Gov. Sarah Palin granted interviews to each of four news networks, and CNN was the first to get its story on the web. Unfortunately, the article contains only one direct quote consisting of nine words from the governor out of a ten-minute interview. The rest of CNN's web report is mostly background and reaction from Alaska.
CNN's Story .....CLICK HERE
CNN will likely air video from its interview in short segments throughout the day, as has been its custom when interviewing Palin in the past. CNN reporters Drew Griffin and Kathleen Johnston did report that the governor said that she announced her impending resignation because responding to a series of politically-motivated ethics complaints was making huge demands in terms of state resources such as time and money. The meritless complaints have taken away from the job she wanted to do for her constituents. But we already knew this, so the only thing really new from CNN's interview that it has posted so far is a teaser in the form of this money quote from Gov. Palin:
"I am not a quitter; I am a fighter."
Fox News was another one of the networks which interviewed the governor, and that interview -- or at least a portion of it -- will air on "America's Newsroom" with Megyn Kelly and Bill Hemmer later this morning at 9:00 AM.

ABC was also granted an interview, and the network will show it on its "Good Morning America" program.
.

John Ziegler talks with Palin spokesperson Meg Stapleton about Sarah Palin's decision to resign as Alaska Governor
RIGHT CLICK......to hear this interview........

http://www.1260.am/programming/podcasts/popup/?ID=1864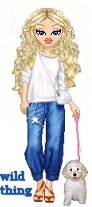 Wild Thing's comment......
John Ziegler talked with Gov. Palin's personal spokesperson Meg Stapleton about the decision to resign. Ziegler asked Stapleton about a report by NBC's Andrea Mitchell Friday that Gov. Palin was "through with politics, period." Stapleton told Ziegler, "Someone is misleading Andrea."
Posted by Wild Thing at July 7, 2009 05:55 AM
---
Comments
Let me mention that Don Young at large has been an institution in Alaska since 1959, spending so much time in DC that he is a Byrd like fixture there, he's not unlike some Democrats(Murtha) who bring enormous amounts of pork barrel moneys to his district. Sarah has been in Alaska with the exception of the McCain debacle and has served the Alaskan people directly, pushing through the gas pipeline deal and keeping the oil flowing, whereas Don has been tapping the national reserves for his natives since getting into office, at OUR expense. Sarah Palin sees that trend is wrong and instead of stealing taxpayer revenue to float a non productive state, she wants to do both, develop state resources for state and national independence, it goes against ingrained traditions from when Alaska was a protectorate dependent on government support and not a state. Palin is just struggling for independence like you and I in a society that treats us all like third world subjects to be suppressed.
Posted by: Jack at July 7, 2009 01:34 PM
---
Posted by: Rhod at July 7, 2009 03:59 PM
---
John Ziegler was on O'reilly last night and oreilly tried to intimidate him he laid him out. Ziegler is good he's the one who jump on that CNN twit and she cut him off.
If the left was not afraid of Sarah they wouldn't bother with her, she'd be just another small fry politician. But the attention she's getting constantly they are afraid as hell she is going to disrupt their status quo. hopefully she does more than that.
Posted by: Mark at July 7, 2009 04:44 PM
---
OMG Rhod, separated at birth. Po' 'ol jake has crawled under the sofa and won't come out.
Posted by: Jack at July 7, 2009 07:15 PM
---
Jack, thank you so much for that informtaion.
And about Sarah too, I agree.
Posted by: Wild Thing at July 7, 2009 07:40 PM
---
Rhod, LMAO oh my gosh, that is unreal
how similar. Hahahahahahahaha
Thank you Rhod!
Yes your right,they sure are afraid of her.
LOL that seperated at birth is going to be
in my mind all evening. hahahahahahahahaha
Posted by: Wild Thing at July 7, 2009 07:42 PM
---
Mark, that is so great, thank you for
telling me that about Ziegler.
Posted by: Wild Thing at July 7, 2009 07:44 PM
---
Posted by: Wild Thing at July 7, 2009 07:45 PM
---