« Obama Could Spend $23.7 Trillion to Fix Financial System? | Main | Congressman Mike Castle R-DE. Town Hall Erupts Over Obama's Birth Certificate »
July 21, 2009
Jerusalem The Eternal City of Israel ~ Petition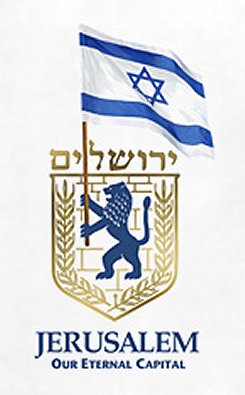 I have mentioned several times that I wish there was a way to let BiBi know I support his decisions and not to cave in to Obama.
A dear friend of mine that has an awesome blog Bare Naked Islam sent me a Petition that One Jerusalem has, that calls for maintaining a united Jerusalem under Israeli sovereignty.
Also be sure to check out her blog, she has tons of information about what Islamics our "peaceful" enemy is up to.
I signed the Petition and wanted to share it here with all of you. ~ Wild Thing
Here is what the Petition says:
United Jerusalem Petition can be found HERE..... One Jerusalem blog

JOIN THE ONLINE CAMPAIGN TO SAVE JERUSALEM AND ISRAEL FROM THE OBAMA ADMINISTRATION!

Friends of Jerusalem and Israel know that we are facing the greatest challenge of our lives.
Israel's enemies are emboldened by the conciliatory policies of the Obama Administration and by its antagonistic attitude toward the elected government of the State of Israel.
We have mobilized over 100,000 defenders of Jerusalem and Israel. As a community, we share information that is often not reported by the Media, we promote pro-Israel ideas and people. We bring to the public's attention actions they can take to help our cause.
By signing this petition, you will join our growing and vibrant community. Join today. We need your assistance!
I support a unified Jerusalem under Israeli sovereignty, to ensure free and open access for all people.
I support a unified Jerusalem under Israeli sovereignty, as an expression of the unique relationship between the Jewish People and its eternal capital.
I support a unified Jerusalem under Israeli sovereignty, so as never to return to the dark period of 1947-67, when Arab control over an artificially divided Jerusalem meant religious persecution, desecration of holy sites, and wanton destruction.
I support a unified Jerusalem under Israeli sovereignty, according to the current municipal boundaries, set in the wake of Israel's defensive 1967 Six Day War.
I support a unified Jerusalem under Israeli sovereignty, where Jews may enjoy the right to pray on the Temple Mount, the holiest site in the Jewish world.
Posted by Wild Thing at July 21, 2009 05:49 AM
---
Comments
Thank you Chrissie, signed and delivered. We need a petition to save the United States fercryinoutloud. Now if Sarah Palin would just get her self totally independent of the GOP maybe we can elect a CONSERVATIVE.
Posted by: Jack at July 21, 2009 09:53 AM
---
I read today she signed a Sovereignty Bill for Alaska, reinforcing the 10th Amendment for Alaska. So far only Alaska and Tennessee have signed this, Oakla homa and a few other are considering it.
Oh and I signed the petition too.
Posted by: Mark at July 21, 2009 02:01 PM
---
Just signed and forwarded.
Posted by: cuchieddie/DHS Suspected Terrorist at July 21, 2009 05:55 PM
---
Thank you everyone so much.
I wish also there would be a way
to contact BiBi, an office of his
or something and let him know we
disagree big time with Obama and
are all for BiBi.
Again thank you all soooo much
I hope they get a lot of people
doing this.
Posted by: Wild Thing at July 21, 2009 08:10 PM
---
Hi WT,
Thank you so much for posting the petition. It means a lot to me and the people of Israel to have your support. God Bless you and your readers.
Thanks, Bonni
Posted by: barenakedislam at July 23, 2009 10:55 PM
---
Bonni, I was so glad you told me about it.
You are awesome!!!
Posted by: Wild Thing at July 23, 2009 11:48 PM
---