« Cap and Trade: Will It Save the Earth? The Democrats Lie! | Main | Navy F18 Streaks Past Apartment Building »
July 17, 2009
Jackie Mason Speaks Out For Sarah Palin
Jackie Mason praises Sarah for putting principles before ambition.
.
Greta: Sarah Palin Easily Most Popular National Republican Candidate [FOX News]
.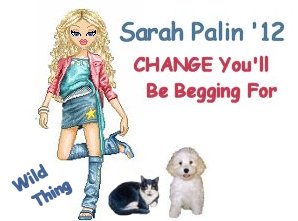 Wild Thing's comment.......
The look on his face as he ends with, "You lowlife bastards..," is precious. He's actually seething with righteous disdain for the Sarah-haters.
Americans love Sarah because Sarah loves America. I'm talking about the America we grew up in, that saved the free world, and that shines as a beacon of joyous freedom and sovereign independence for all the world to aspire to.
The same America that Obama and his Sarah-hating zealots feel they have to apologize for, and then somehow "change for the better."
Better than what? We're the best that there is, and Sarah is going to help us make sure that we keep it that way. I hope that, when she take office, she goes after all the traitors, theives and usurpers who have burned our Constitution.
Thanks, Jackie. For a Hollywood dude to talk like you takes real chutzpah!
Posted by Wild Thing at July 17, 2009 06:50 AM
---
Comments
Don't have to sell me. I love Jackie, he a no bull guy and calls it as he sees it. Where's the rest of the Jewish community? He's setting the example for all of us.
Posted by: Jack at July 17, 2009 07:43 AM
---
You don't have to sell me either. I started looking at Sarah Palin when you did your post on her going to have a DS son and have been a supporter ever since. Jackie Mason has it right.
Posted by: Bob A at July 17, 2009 10:56 AM
---
I do not want Romney, Huckabee or Gingrich. They all have baggage as compromisers and deal makers.
Sarah Palin is the one I want leading the Republican Party and the nation. Jackie Mason is right. She scares the opposition.
Posted by: TomR at July 17, 2009 11:06 AM
---
Jack, the Jewish community you speak of is very small. It consists of Jackie Mason, Mark Levin and me, Theodore's resident Jew. heh heh!
Posted by: cuchieddie at July 17, 2009 11:34 AM
---
One more cuchieddie, our beloved sister Lindasog:)
Posted by: Jack at July 17, 2009 05:39 PM
---
Mr. Mason is correct in what he says. The left is so afraid of her, and they know she will kick Obozos butt that's why they have been going apoplectic anytime she speaks.
Posted by: MrHappy at July 17, 2009 08:37 PM
---