« Change is Here, Change is Coming By Sam Webb Communist Party USA | Main | Democrats Block GOP Health Care Mailing »
July 23, 2009
Hundreds Ride Bikes for Captured Idaho Soldier
Hundreds of residents paid tribute to Bowe Bergdahl's love of bicycle's by biking to a candlelight vigil in his hometown of Hailey, Idaho. He was recently captured by the Taliban.

HAILEY, Idaho - More than 500 people attended a vigil for an Idaho soldier who was captured in Afghanistan by the Taliban.
The hourlong event Wednesday night was held in held in Pfc. Bowe Bergdahl's hometown of Hailey, in central Idaho. It started at the coffee shop where Bergdahl worked before enlisting in the U.S. Army in 2008, and ended at a nearby park.
The Idaho Statesman reports that family friend Jeff Gunter was one of several speakers at the event. Gunter said that when Bergdahl returns, he wants to take him "to the top of the mountains," so Bergdahl can look down and see all the yellow ribbons and signs hung up around town in his honor.
Bergdahl was serving with an Alaska-based infantry regiment earlier this month when he vanished. The 23-year-old appeared in a video released Saturday by the Taliban.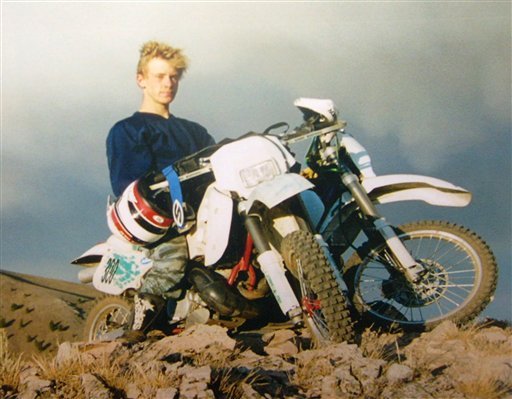 This undated photo provided by Bergdahl family spokesperson Sue Martin shows Pfc. Bowe Bergdahl during a motorcycle ride through central Idaho's backcountry. Bergdahl was captured on June 30, 2009 in Afghanistan, and appeared in a video released by the Taliban on Saturday, July 18. (AP Photo/Bergdahl family via Sue Martin)

AP's earlier story is below.
HAILEY, Idaho (AP) , To the rest of the world, Pfc. Bowe Bergdahl is the frightened soldier who appeared in a Taliban propaganda video after he was captured in Afghanistan.
The people of this Idaho mountain town have a more complete portrait of Bergdahl , that of a hard-working, mild-mannered, adventurous young man who rode his bicycle everywhere as he searched for a purpose in life before eventually setting his sights on the military.
Bergdahl, 23, dabbled in numerous ventures before joining the Army. He performed with the Sun Valley Ballet School. He was in the Sun Valley Swords fencing club, sparring in 2003 at the local renaissance fair with a buddy. He was a voracious reader who would frequently spend hours at a local library. He once crewed on a sailboat trip from South Carolina to California.
He also bounced between jobs, including two separate stints at a local coffee house, a period on an Alaskan fishing boat in Bristol Bay, and did construction before spending the summer of 2007 cleaning guns and stocking targets at the shooting club just down the road.
Bergdahl signed Army paperwork in June 2008 and went off to basic training in Fort Benning, Ga. He was deployed to Afghanistan in February, and he is now a prisoner of the Taliban.
What exactly happened isn't clear, with conflicting reports of whether he left his base near the Pakistan border willingly, or was taken. Secretary of Defense Robert Gates pledged Monday the military was doing everything it could to bring him home.
Meanwhile, those who knew this young man who traded the long blond hair of his youth for the crew cut of an Army private say he was unfailingly polite and hardworking, but clearly on the lookout for something to define his life.
"It was part of his adventurous spirit that carries on," said Blaine County Sheriff J. Walt Femling, who rented an apartment to Bergdahl in 2006, on why he joined the military. "Not only that, but he wanted to serve."
Bergdahl showed up at the Blaine County Gun Club in 2007, looking for summer work. He and manager Dick Mandeville got along well, with Bergdahl's duties including helping shooters on the trap fields, stocking targets and cleaning racks full of rifles.
"He was good every which way you looked at it," Mandeville said.
Bergdahl grew up about six miles west of Hailey, in a humble home with a weathered metal roof set back from the gravel of Croy Creek Road.
His parents, Bob and Jani Bergdahl, came here about 30 years ago for a reason, neighbors said: The seclusion of the high sage hills that flank their place would help them live in peace and quiet. Bowe and his older sister, Sky, were home-schooled. He received his high-school GED diploma from a local college. His father worked as a local UPS driver.
Bowe eventually got a job with Sue Martin at Zaney's River Street Coffee House. Not surprisingly, he showed up on his ever-present bicycle looking for a job.
"He had the opening shift. He got along really well with the regulars," said Martin, whose voice Monday was hoarse after enduring hours of interviews with out-of-town media. She was one of the few locals to speak on the record, a decision she made, in part, to take pressure off the camera-shy family.
At the cafe, he talked about the prospect of a military future.
His sister had married a graduate of the U.S. Naval Academy in Annapolis about eight years earlier.
Consequently, Bergdahl's blond hair went from long to short, a sign he was getting serious. Martin doesn't know exactly why he sought out the Army, but said he was always on the lookout for a new adventure. She spent two hours with the family Tuesday morning, and said they are upbeat.
"They are talking about things in terms of 'When Bowe comes home,'" she said.
In the three weeks since Bergdahl went missing in Afghanistan, much of Hailey tried to keep word of his captivity from leaking out to the broader public.
First, there was the privacy of Bob and Jani Bergdahl to respect.
Friends and acquaintances also feared a media furor could put his life more at risk.
"I was shocked when I found out," said Jim Spinelli, head of the Hailey Chamber of Commerce, who attributes locals' discretion to their longtime respect for the privacy of celebrities such as Bruce Willis, Arnold Schwarzenegger and Tom Hanks who call this central Idaho resort region their second home.
The circumstances of Bergdahl's capture on June 30 aren't clear.
As more and more Hailey residents now view the startling 28-minute Taliban video where a shaven-headed Bergdahl tells a captor he fears never being able to hug his family again, many want to do something , anything , to honor him and help speed his return.
Yellow ribbons are tied around trees all over town, and there are signs in virtually every shop window that plead for Bowe's return. A candlelight vigil is planned for Wednesday evening starting at Zaney's.
"We appreciate and take comfort in all the kind words of support we've heard," the family said in a statement Tuesday.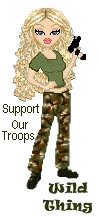 Wild Thing's comment............
Prayers for Bowe and his loved ones and his fellow soldiers.
Hailey, s also a place where residents all know one another, at least to say 'hi.' "So when something like this happens, it shakes us all up," said Rob Beck, a tree-cutter from Hailey who has known Bergdahl's father, a mild-mannered UPS delivery driver, for 15 years.

If you like you can email a message of support for PFC Bowe Bergdahl through the Blaine County Sheriff's office.
Posted by Wild Thing at July 23, 2009 05:46 AM
---
Comments
I've been through Hailey, it's a nice little town. What disturbs me is the possible desertion of this soldier, if so, what the hell was he thinking and why? Beyond that, what happened at the squad, platoon and company levels? If he were a replacement I could get my head around the issue, but this kid was a longer term member of the team. I won't speak for anyone else but I've felt almost every human emotion but my own death, you get a little fatalistic and take chances in the war zone. Good leaders look for the signs of depression and instability and their peers likewise keep tabs on the malaise, anything can trigger a foolish stunt, been there!!! The "Old Man" above covered my six more than once when I did something stupendously stupid. There is more to this than we are being led to believe. It sickens me that he is a captive under any circumstance, I pray for his safe and sound return. Regardless, he needs our support, not condemnation. Thank you for the link Chrissie.
Posted by: Jack at July 23, 2009 11:31 AM
---
Like Jack, I believe that there is a strange angle to this story. It will come out in time.
Meanwhile I just hope Pfc Bergdahl survives his capture.
Posted by: TomR at July 23, 2009 01:00 PM
---
I read somewhere, he was seen walking away from the base. This is all suspect.
As Tom says, hopefully this soldier will survive this to tell everybody the truth.
Posted by: Mark at July 23, 2009 06:17 PM
---
Jack, Tom and Mark. I feel the same way.
I saw a video of Peters and what he said
about this. I won't post it only because
we do not know for sure all the facts and
right now honeslty it does not matter.
First and foremost is to get him away from
the taliban alive and well and in one piece.
Then deal with what happened and why and if
he went AOL or ran away or flipped out or
whatever happened.
Meanwhile there are many questions but
the biggest one is to find him and pray
he is safe.
Posted by: Wild Thing at July 23, 2009 07:25 PM
---