« Sarah Palin Favorablitiy Ratings | Main | Cap and Trade: Will It Save the Earth? The Democrats Lie! »
July 17, 2009
D.B. Sweeney,Don Shula,Warrick Dunn,Leeann Tweeden,Bradley Cooper Entertain Troops in Afghanistan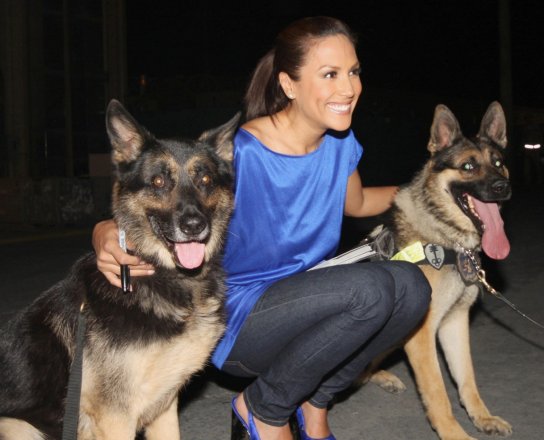 Sports announcer and model Leeann Tweeden poses with Ronny and Benzzi, patrol detector dogs, outside the Pat Tillman USO on Bagram Airfield, Afghanistan, July 15, 2009. U.S. Army photo by Capt. Michael Greenberger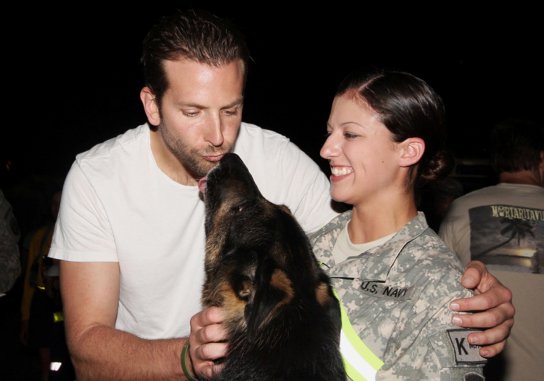 Actor Bradley Cooper greets Ronny, a patrol detector dog and his handler, Navy Petty Officer 2nd Class Gina Pronzati, outside the Pat Tillman USO on Bagram Airfield, Afghanistan, July 15, 2009. U.S. Army photo by Capt. Michael Greenberger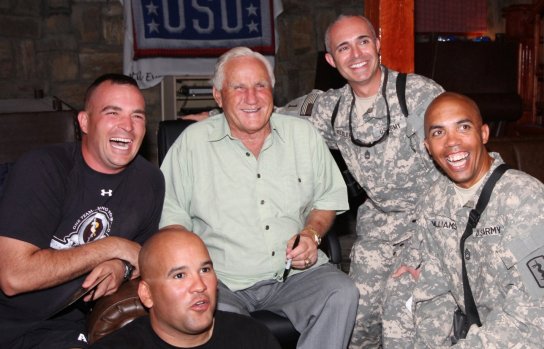 Former Miami Dolphins head coach Don Shula, center, poses for a photo with a group of servicemembers at the Pat Tillman USO on Bagram Airfield, Afghanistan, July 15, 2009. U.S. Army photo by Capt. Michael Greenberger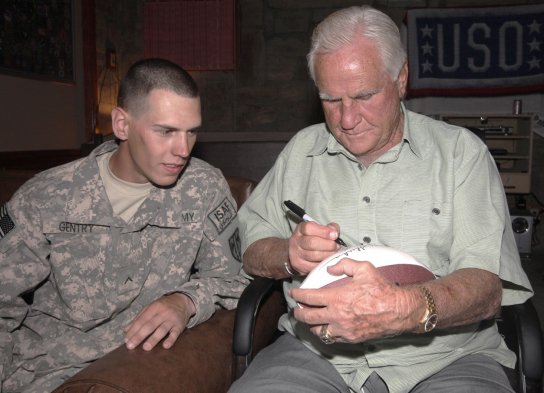 Former Dolphins head coach Don Shula autographs a football for Army Pvt. John Gentry at the Pat Tillman USO on Bagram Airfield, Afghanistan, July 15, 2009. U.S. Army photo by Capt. Michael Greenberger

.
Celebrities Entertain Troops in Afghanistan
BAGRAM AIRFIELD, Afghanistan
July 16, 2009
Celebrities stopped by here yesterday to entertain troops as part of the star-studded USO's Summer Troop Visit.
Navy Adm. Mike Mullen, chairman of the Joint Chiefs of Staff, and the celebrities are travelling throughout the U.S. Central Command area of operations to thank troops for their service and sacrifice.
The celebrities include actors Bradley Cooper and D.B. Sweeney, former Tampa Bay Buccaneers running back Warrick Dunn, National Football League Hall of Famer Don Shula, and sports commentator and model Leeann Tweeden.
The group's first stop was aboard the USS Ronald Reagan, an aircraft carrier currently under way in the Gulf of Oman. From the floating airport to the sands of Iraq to the hills of Afghanistan, the stars accompanying Mullen said they were excited about entertaining the troops deployed overseas.
"We feel like we want to give something back," said Shula, a well-known former Miami Dolphins coach. "We appreciate so much what our troops do, and we wanted to do something in return."
Travelling to different locations presents logistical challenges. Travel in Afghanistan is dangerous, and some of the outposts are so remote, the only way to reach them is by helicopter.
"The hardest part is getting the talent out to where they have to go," said Army Capt. Dena De Lucia, deputy chief of quality-of-life programs for U.S. Forces Afghanistan.
"Getting to remote [forward operating bases] means getting helicopters, and we got lucky this time because the 82nd Airborne graciously gave us two to use," De Lucia said.
Planning these types of trips can be as harrowing as planning an air-assault mission.
"It takes weeks and months in advance to plan something like this," De Lucia said. "It's a very arduous process. You have to contact camps and make sure they can support the visit, and make sure you can get to where they need to go."
Travelling throughout Afghanistan was difficult for the USO tour, but well worth it to both the troops they visited and the stars themselves.
"All of the places we go are really important, but the smaller locations are very austere, where they don't have hot showers or necessarily a hot meal every day," said Rachel Tischler, USO entertainment operations vice president. "So it's very special to bring that touch of home to those people that don't necessarily have those creature comforts."
Many of the hundreds that lined up outside the Pat Tillman USO here yesterday were delighted that the stars could break away from busy schedules to visit them.
"It's great to have the support of celebrities over here," Army Sgt. Linnea Biniak said. "Them being here and showing support for the troops definitely raises morale."
Inside the USO building, which is named for Pat Tillman, the ex-NFL player and U.S. Army Ranger killed in Afghanistan in 2004, the visiting celebrities struggled to give adequate attention to the servicemembers who had come to see them.
Rather than stay indoors, the stars decided to "walk the line" outside, where they could meet with more people and make sure everyone who came to see them received an autograph or personal photo.
In addition to the "grip and grins" pictures, ssome soldiers were given the opportunity to talk personally with celebrities. Army Spc. Jonathan Grizzard asked Sweeney about several of his films, including "Fire in the Sky," a 1993 film in which Sweeney plays a man abducted by aliens.
"That was the sweetest experience I'd ever had," Grizzard said. "I waited almost an hour, but I would have waited two hours -- it was totally worth it!"
"I've got several movies that people really responded to, and it's very flattering for people to bring up a movie that's 10 years old and talk about specific scenes," Sweeney said. "I kind of get to relive the process of making it, and it underscores what I think my role as an entertainer is, to help people forget their jobs for a little while and get through the day a little easier."
Elsewhere in the line, football fans shook hands and "mugged" with Dunn. Iraqi war veterans swapped stories with Tweeden from her last trip overseas.
Cooper was a big draw following his most recent hit film, "The Hangover."
Meanwhile, inside the building, Shula shared his most memorable moments with diehard sports fans eager for a glimpse of his Super Bowl ring and to get his autograph on their footballs.
Staying until well after 10 p.m., the stars made sure everyone had gotten what they'd come for before finally packing it in to prepare for another day of travelling to more Afghan locations the following day.
"It's amazing for them to come out here and represent the United States," said Air Force Master Sgt. Raymond Stone. "Not many people come out here, and I think it's great that they do it. They've got other things that they have to do, yet they've taken the time to come out here and show their support to us."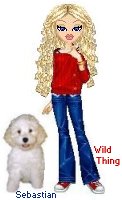 Wild Thing's comment........
God bless them for going to see our troops and huge God bless and keep safe for our awesome troops.
Posted by Wild Thing at July 17, 2009 06:48 AM
---
Comments
That brought tears, thanks WT.
Met my new neighbor yesterday, she and her one year old son, she left the dog, a Black Lab, outside on the porch, he was whining, I let him in. I prefer dogs to most people for company anyway, all were well behaved:) The boy isn't house broke though!!!
Posted by: Jack at July 17, 2009 07:30 AM
---
Many of you may not know this, but Chrissie and Bob Hope entertained me why I was a young man at Cu Chi RVN. I will never forget that show and love Chrissie so very much for her lifelong devotion to our troops. Nick, you are one lucky guy.
Posted by: cuchieddie at July 17, 2009 11:39 AM
---
Good to see Shula their. I started 'hating' Don Shula in 1968 the Second Bills-Dauphins game of the year. That team of Shula's beat the Bills twice a year for the next 12 years. He was one faantastic coach. It didn't seem to matter what the Bills did they could NOT beat Shula's Dolphins. 12 long frustrating years. It also seemed like whenever they came to Buffalo it was in balmy weaather and of course they won. That streak ended in 1980, finally.
It took almost an act of congress to get the Bills to beat the dolphins, Congressman Jack Kemp, former QB, County Executive, Ed Rutkowski, former Disaster QB and a couple of other people went to One bills drive and presented Ralph Wilson with a Mandate to Beat the Dolphins. By then all the big name dolphins had retired, and Buffalo finally prevailed. It was close though.
Of all the coaches, I respect Schula the most. To see him visiting the Troops along with That group does my heart good. I am really surprised any of these troops remember him. They do so his ever present mystique is still awesome.
Posted by: Mark at July 17, 2009 01:53 PM
---
Jack, I feel like that too, so many times
people aren't what they seem or well all
kinds of things.
Posted by: Wild Thing at July 17, 2009 11:44 PM
---
Posted by: Wild Thing at July 17, 2009 11:46 PM
---
Mark, thanks for sharing that.I had to smile
about the weather always being good when
they came to town.
Posted by: Wild Thing at July 17, 2009 11:48 PM
---