« Obama's Health Bill Might Direct Tax Money to Abortion | Main | A Vietnam Veteran Writes About the Traitor Cronkite »
July 20, 2009
Checking in With Our Military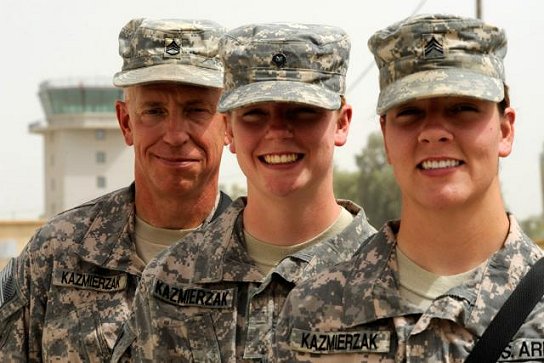 Army Staff Sgt. Larry Kazmierzak, 3-338th Aviation National Guard Unit, is accompanied by his twin daughters, Ashley and Kari Kazmierzak, at Forward Operating Base Diamond Back, Mosul, recently. The Kazmierzaks, who are deployed with the same unit and work in the same department, are on a one-year deployment to Iraq. Photo by Petty Officer 1st Class Carmichael Yepez, 1st Cavalry Division Public Affairs.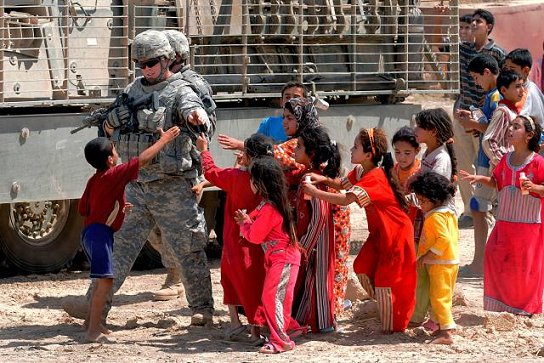 U.S. Army Sgt. Christopher Sommer, 56th Stryker Brigade Combat Team, attracts local kids while giving out pens as leaders meet with a shaykh near Abu Asif, June 25. U.S. Army photo by Spc. Neil Stanfield.

.

U.S. Army Field Artillery Museum Virtual Tour
In June, CannonArtillery.com attended the 2009 Fires Seminar and Trade Expo. While there, Gordon A. Blaker, director and curator of the new U.S. Army Field Artillery Museum, was kind enough to show the CannonArtillery.com team around 234 years worth of Army artillery artifacts. View this week's video featuring the experimental mule-cannon display below.
Posted by Wild Thing at July 20, 2009 05:45 AM
---
Comments

Now that's quite a family serving together, I hope all come through this unscathed.
Don'tcha just hate it when those bully soldiers torture little kids like that?
I wrangled horses and mules all one summer , that tale about the mule brought tears of laughter. I rode one who would try to 'scrub' you off her back by squeezing between two trees, a sharp wrap 'twixt the ears and she tried other schemes. Yet you could be 10 miles from camp and the old hussy would go straight 'home'. Smart animals both.
Posted by: Jack at July 20, 2009 12:09 PM
---
Our National Guard troops are doing an exceptional job. That is so different from Vietnam where the Guard was a haven for those avoiding Vietnam.
Mules were used by the Army in the mountains of Italy and in the China-Burma-India theaters during WWII. Merrills Marauders ulsed them very sucessfully.
Glad to see the Army has an Artillery museum. Must be at Ft Sill, Oklahoma.
Posted by: TomR at July 20, 2009 02:01 PM
---
Jack, LOL I laughed at the Mule one too.
The guy kept a straight face, did a good
job and that made it even funnier.
I was impressed to know they have an
Artillery Museum, I am so glad.
Posted by: Wild Thing at July 20, 2009 06:51 PM
---
Tom, thank you for that about the Mules
I never knew that.
Posted by: Wild Thing at July 20, 2009 06:53 PM
---