« Obama Booed at All-Star Game and Laughs As He Says "We're Out of Money" | Main | "Sarah Palin, political genius" by Willie Brown a Democrat »
July 15, 2009
Best Ever,Tractor Square Dance

.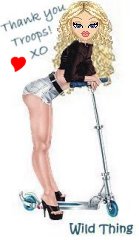 Wild Thing's comment........
LOL this is great, I never saw anything like this before.

.... Thank you GM Cassel for sending this to me.


GM Cassel AMH1(AW) USN RETIRED
US Navy
1973- 1993


Posted by Wild Thing at July 15, 2009 06:47 AM
---
Comments
LOL Chrissie, that's some close order drill GM Cassel. They're awesome!!! Got to admit those long dresses scare the heck out of me around a tractor.
I like tractor pulls too, I've worked for John Deere and Farmall dealers, this old tractor mechanic enjoyed that. I missed the local pull this year it was held on memorial day.
It can get in your blood. http://www.youtube.com/watch?v=djkHZU_m-3E
Posted by: Jack at July 15, 2009 11:02 AM
---
Out here in the 'sticks', aka the 'Wilds' of Pennsylvania, we have tractors driving down the street. Between them and the Ahmish clogging the roads its tough to navagate down the road with a real car.
Posted by: Mark at July 15, 2009 06:04 PM
---
Jack, giggel I thought it was too. I
never saw anything like that before.
That video is amazing, thank you Jack.
That one took it all the way to the
man with the Flag. Tah dah! What fun.
Posted by: Wild Thing at July 15, 2009 07:59 PM
---
Posted by: Wild Thing at July 15, 2009 08:02 PM
---