« In Country Afghanistan and IED Information | Main | Sgt. Leon Lashley Letter About Henry Louis Gates »
July 31, 2009
Anthony H. Cordesman Says "This War Needs To Be Taken Seriously" Please Listen Obama!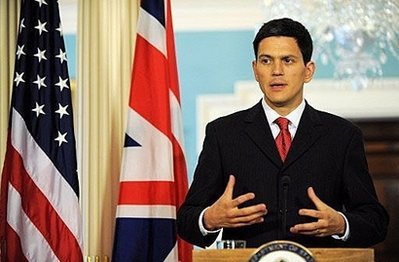 Britain Will Stick with Afghan Combat Mission, says Envoy
British Foreign Secretary David Miliband said Wednesday that his country is determined to carry on with its combat mission in Afghanistan despite a rise in casualties and skepticism in domestic opinion polls. Miliband discussed the Afghan situation and related issues with Secretary of State Hillary Clinton here in Washington.
Miliband says the Afghan conflict is in a "tough phase," but that Britain intends to work through the difficulties, side-by-side with the United States as Afghanistan approaches historic elections next month.
"We know that this is a challenge that is not going to be easily resolved in a short period of time," said Hillary Clinton. "But we believe that we are pursuing a strategy, both military and civilian, that holds out promise for achieving our principle objective - that is to destroy, dismantle and defeat al-Qaida and their allies in the syndicate of terror that has unfortunately taken root in Afghanistan and spilled over into Pakistan."
Clinton and Miliband stressed the importance of the August 20th Afghan presidential election - for reaffirming the democratic ideals for which the war is being fought and opening the way for a new Afghan government to share more of the security burden.

.

Anthony H. Cordesman
This man, Anthony H. Cordesman, gave an awesome speech and much of it is in the article above. He really lays in on the line including the corruption in the government there and also says this war needs to be taken seriouisly.
I hope you get a chance to watch the video. It really is worth it. They do not have this particular one at YouTube so I can only put the link here for you to CLICK ON LINK HERE FOR VIDEO AS SEEN BELOW IF IT DOES NOT WORK FOR YOU.
I will try to post the embedded code for the video. If anyone has trouble with my blog let me know and I can take the video off. Sometimes videos that are not YouTube or Live Leak mess with the code of my blog. Thank you.

Anthony H. Cordesman, the Arleigh A. Burke Chair in Strategy at the Center for Strategic and International Studies, discusses the war in Afghanistan.
More US Troops May Be Needed in Afghanistan, says Pentagon Advisor
A member of the strategic assessment team working with the new U.S. military commander in Afghanistan says the U.S. government and its allies need to be more realistic about what is needed to win the Afghan war, and he says that may include more troops.
Senior Washington analyst Anthony Cordesman of the Center for Strategic and International Studies says the United States and its allies need to take the Afghanistan war more seriously. He says they need to be honest about the security and development problems they have allowed to fester in recent years, and about the resources that will be needed to reverse the situation.
"This war has been fought without resources, but above all without realism," he said.
Cordesman is recently back from Afghanistan, where he joined other experts on a team advising the new U.S. commander, General Stanley McChrystal, on how to move forward. Speaking to reporters Wednesday, Cordesman declined to speak directly about the strategic assessment team's deliberations, but he suggested he believes more U.S. troops are needed.
"If you don't provide those resources and additional brigade combat teams, if you do not, I think, effectively move the Afghan security forces toward doubling them. I think unless we're prepared to commit those resources. If we somehow believe that a civilian surge of 700 people and tailoring our force posture to the views of a completely different set of strategic priorities, this is going to win, the answer is no, it's going to lose," he said.
But Cordesman said policymakers in Washington should not limit General McChrystal's options in advance. Rather he says they should wait for the 60-day report the new commander will provide next month, based partly on the assessment in which Cordesman participated. He said the military experts are working hard on the question of how many U.S. troops are needed in Afghanistan. And he says it is particularly important to significantly increase the number of competent Afghan troops.
The analyst was sharply critical of the latest Pentagon report on the situation in Afghanistan, saying it does not provide an adequate assessment of the country's insurgency. He said U.S. intelligence services need to focus on that. In addition, he says the U.S. government needs to deal with what he called the corruption and power brokering in Afghanistan, and must bring integrity to the aid system and work with allies to get more military and civilian help from them.
Cordesman says some allies are not honest about their contributions or are not willing to recognize the seriousness of the situation and the need for more effort to fix it. He described the international aid effort in Afghanistan, now in its eighth year, as being conducted as if it were in its first year, and having little impact.
"What should be an integrated civil-military effort and a focus on winning the war in the field, is a dysfunctional, wasteful mess focused on Kabul and crippled by bureaucratic divisions," he said.

.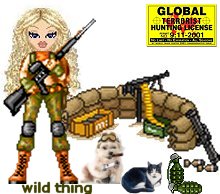 Wild Thing's comment.....
Well good for British Foreign Secretary David Miliband and shame on him too. The other day I posted how he said they wanted to pull out, they had 10 of their troops killed this last month and wanted to pull out. Now they have decided to stick it out and stay and fight along side our troops.
All of you at this blog and myself included have all been saying this war needs to be taken seriously and the enemy to be taken seriously. How even the wanting to rename it to some political correct name is BS and yet another way of not calling it like it is. and what this is all about.
Posted by Wild Thing at July 31, 2009 05:48 AM
---
Comments
UK Useful Idiot Watch:
Meet David Milliband, Foreign Secretary

"Islam is an enemy towards no one and a friend towards all. Islam is a creed of peace…"

Brown-nosing expert Milliband
* Born in London, David Miliband is the elder son of Polish-born Marion Kozak and the late Belgian-born Marxist theoretician Ralph Miliband. (A son of a commie who became a labour hack. No surprises here.
As Foreign Secretary, Milliband has pleaded for Turkish entry to the European Community.
Abject groveling and embarrassing Dhimmitude on display:
Milliband offers Apologies to Muslims for Invading Iraq, Grovels Even Further by Claiming "Islam is a Creed of Peace and an Enemy to no one"…..
Make no mistake:
* Islam is an ideology of perpetual warfare against unbelievers and the enemy of all peoples*
Bukhari:V9B84N59 "Allah's Apostle said, 'I have been ordered to fight the people till they say: "None has the right to be worshipped but Allah." Whoever says this will save his property and his life from me.'"
"There's a big difference between kneeling down and bending over…"
(Zappa quote)
Unfortunately for all of us, Milliband doesn't only bend over, he lies down like a bitch…
Foreign Secretary David Miliband addresses Muslims attending Friday prayers at the Madni Jamia mosque, Bradford.
By Tom Smithard from the Yorkshire Post thanks to ZIP
*
Foreign Secretary David Miliband has told Yorkshire Muslims that the Government made "mistakes" in invading Iraq – but called for their support in rebuilding the war-torn country.
Posted by: Lynette in Australia at July 31, 2009 08:10 AM
---
If the obama administration will not at least vocally support the demonstrators in Iran, I fon't see how it is going to do what is right or neded in Afghanistan.
Cordesman makes a lot of points. However, they could apply to any military situation we have been in the past 50 tears. Too much corruption, too much bureaucracy, too much misdirection and too few troops.
Posted by: TomR at July 31, 2009 01:46 PM
---
Lynette, thank you so much for all of
that.
What a GREAT line this is to describe him
and a lot of our people too.
"Unfortunately for all of us, Milliband doesn't only bend over, he lies down like a bitch…"

Posted by: Wild Thing at July 31, 2009 07:10 PM
---
Tom, good point, that says a lot. Obama
could care less about those students
and citizens in Iran protesting.
Thank you for your input about the speech
Cordesman made. Your right it could fit
any war we have been in. I never heard of Cordesman before.
Posted by: Wild Thing at July 31, 2009 07:17 PM
---